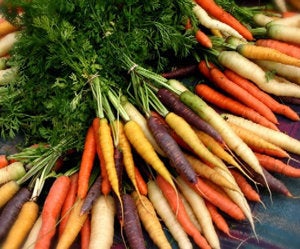 "Certain death," 90 mph winds, phone outages and everything else Hurricane Ike brought to Houston couldn't deter my Texan grandmother from reading a recent blog post I made announcing a new dietary decision:
One day a week, I'm giving up meat.
The Intergovernmental Panel on Climate Change has asked it, I think the UN said something about it, and plenty of stories and sites go on and on about how big the carbon footprint of meat is. So my grandmother emailed, mid-category 1 hurricane, to tell me she's concerned for my health, because she thought I said I was going veggie full-time -- gotta have enough protein.
Well, don't worry there, the other six days a week still look the same for me, but I'm trying out the prescription the IPCC has given us all, and in the process I'll be trying out the vegetarian offerings at some of New York's restaurants, then relating my experiences through the eyes of an omnivore here.
This week, I took my girlfriend out to Counter, a sort of fancypants vegetarian restaurant that I'd heard about first while researching a fairly involved sustainable beer project last year. Counter has an extensive list of organic beers. But this was a welcome-back. A nice date. So we started with an organic, carbon-neutral pinot noir that was good enough for this uncivilized palate.
(The real trouble, incidentally, came when I later had a few Guinnesses at a show later; never mix carbon-neutral wine with imported beer. The hypocrisy hangover is not pleasant.)
While we enjoyed a tasty cheese plate, I looked at the menu and found a satisfying range of difficulties for the novice vegetarian. I went for the very simple vegetarian paella. I like paella. I understand it. Hell, I can make paella. Take some rice and some other stuff and stack it up. No problem. Low-stress decision for this veggie newbie.
My girlfriend, who is a vegetarian, one-upped me by getting a raw marinated vegetable terrine. When it arrived, it turned out to be three attractive triangles of food: thinly sliced squash encasing sun-dried tomato pesto, herb puree, nut cheese (a.k.a. vegan cheese) and bitter greens.
The paella came in a shape I didn't expect -- it was inside a sort of dough and looked like a pot pie, no pot. I cut into it and found rice with plenty of vegetables I couldn't readily classify any more specifically than "tasty." It was exactly what I expected -- paella with no meat. I couldn't finish it because we'd had so much of the sustainable, rennet-free cheese, but it was a good meal.
I think we'll go back sometime, and there are more advanced vegetarian things for me to try. All in all, a very nice, pampered maiden voyage for the new IPCC-approved diet. I did miss meat -- in fact, I had meant for the day before to be meatless, but I had succumbed very late in the day at a Latin American restaurant around the corner to nullify the whole thing. Point is, I hadn't had much meat in two days, and it made the return to my normal eating habits over the weekend a bit sweeter.
Suggestions for next week?
This week's vegetarian vocab word: rennet-free
A food that is rennet-free lacks certain enzymes commonly found in cheese. The enzymes, according to the Vegetarian Resource Group, come from butchered cows, so it's a vegetarian no-no, though a lot of people seem not to know about it.
Related
Popular in the Community