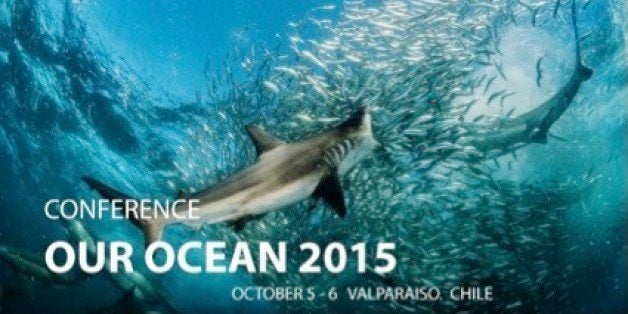 The use of a singular word for describing the Ocean as "Our Ocean" relates to what the scientific community has determined: that oceans are interconnected, forming a single global maritime space. Chile wishes to look at a series of threats that affect the Ocean as a whole, hosting the second "Our Ocean" Conference October 5th and 6th in Viña del Mar, Chile.
At the first "Our Ocean" Conference, which was held in Washington in 2014, Chile made the commitment to adhere to the United Nations Fish Stocks Agreement, which is an international instrument allowing greater regulatory power in the high seas adjacent to Exclusive Economic Zones. In addition, the creation of a new policy that combats Illegal Fishing will allow us to work more on this issue.
This Conference focuses on action. It seeks to create proposals and solutions looking at illegal fishing which is one of the main factors contributing to overfishing; marine pollution by plastic products (there are around 8 million tons of plastic at sea at the moment) ocean acidification; as well as, the importance of creating more and improved Marine Protected Areas, along with better administration and management plans.
The upcoming conference is global, bringing together more than 400 experts and leaders from more than 90 countries. Prince Albert II of Monaco; the Secretary of State John Kerry; the General Director of FAO; and the European Commissioner for Fisheries, among others.
Chile seeks to encourage voluntary governmental and institutional commitments that we believe will generate a virtuous circle -- leading to further progress at future conferences.
Chile would like to add three new topics to the concept of "Our Ocean": First, international governance of the seas, where global issues should be addressed from a United Nations perspective. Secondly, to highlight the role that communities of Oceanic Islands can play -- identifying examples how these groups can develop resilient and sustainable relationships with the ocean. Thirdly, the initiative of "Ocean Champions" brings different actors together to protect the ocean.
The "Our Ocean" Conference takes place two months before the COP21 Paris. Therefore, it comes within a context in the international agenda where a new globally legally binding climate agreement will be adopted. I hope that the conference contributes to emphasizing the dynamic between climate change and ocean sustainability.
Chile has devoted great efforts to maintaining and enhancing its contribution to ocean health. As a country with one of the longest coastlines in the world, we are acutely aware of the need for ocean sustainability, inspiring us to do more.
*As a broadcasting tool, National Geographic pledged their support for our initiative via streaming. In addition, the Website www.nuestrooceano.gob.cl will provide instant information and streaming on different aspects of the conference.
Calling all HuffPost superfans!
Sign up for membership to become a founding member and help shape HuffPost's next chapter