Korety Mori regrets the tears that got in the way of saying "Thank You!" to the Hogan Family and American Savings Bank on being named a winner of this year's Nonprofit Plan Competition. The manager of the newly formed, Cultural Wares did say, "The ocean brings us together. Thank you for understanding our needs." Those words captured the community-empowering spirit of all the winning projects in the competition organized by the Hogan Entrepreneurial Program at Chaminade University.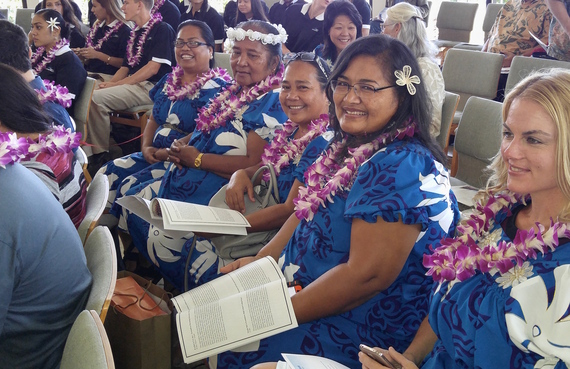 Executive Director, Josie Howard (second from right) and the Cultural Wares team in newly sewn dresses reflecting their kinship with the ocean.
Each inspiring business plan met a local need or offered ways to be better stewards of the planet. All reflected a genuine effort to apply entrepreneurial thinking to improve people's lives.

Bringing computer education to Waiʻanae High Schools
First prize winner, Purple Maiʻa Foundation's High School Coding Project will deliver culturally-responsive computer science education to the Waiʻanae Coast where no schools offer AP-level schooling in this subject. The $14,000 they won will go towards training teachers, and creating a safe, inspiring studio where students can receive world-class, self-paced technology instruction and mentorship. The long term aim is to enable Hawaiians and Pacific Islanders to become coders and web and mobile developers. The relatively high starting salaries for these jobs could mean a leg out of poverty for many families.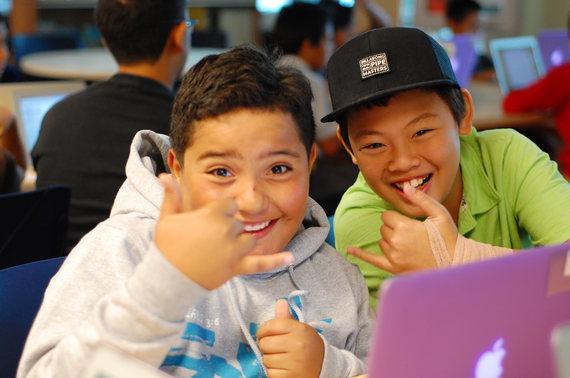 Purple Maiʻa Foundation aims to give middle school students like these two who attended a mobile app workshop earlier this year access to computer science education when they are in high school.

Empowering Micronesian women
At the heart of Cultural Wares lies hope: hope of empowering a group of Micronesian women who are expert seamstresses but have no access to the means of production. The second prize of $10,000 will help them buy sewing machines. Their business plan says "We are not simply selling clothing. We are selling a statement of strength, determination, and the will to succeed." Their entrepreneurial effort aims to combat negative stereotypes about Micronesians who came to Hawaiʻi under the Compact of Free Association (COFA) after their traditional farming and fishing were disrupted by United States' military activities. Cultural Wares is spearheaded by We Are Oceania (WAO), a new program of the Partners in Development Foundation (PIDF) whose mission is to advocate for Micronesians in Hawaiʻi.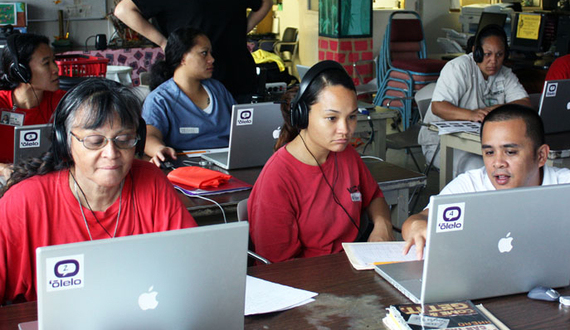 Equipping incarcerated women with video production skills
Ōlelo Community Media and the Women's Community Correctional Center (WCC) in Kailua will invest the third prize of $5000 in new edit systems to provide on-site training in video production skills. Commenting on their win, Larson Medina, Recreational Specialist at WCC who collaborated with Ōlelo on developing the plan, described what this prize could mean to the women. "Gaining useful vocational skills will help them build "bridges" back into society," he said. The project is consistent with Ōlelo's mission of strengthening island voices and advancing community engagement.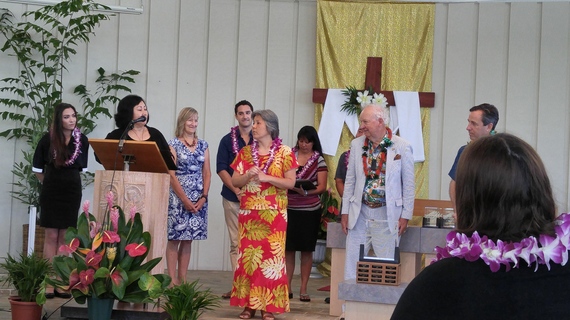 Kristine Pagano (center) of the Georgia E. Morikawa team uses sign language to convey her thanks as Ed Hogan, benefactor of the Hogan Program, and competition co-sponsor Richard Wacker, President/CEO of American Savings Bank look on.
Addressing the isolation of deaf seniors
Building bridges could just as easily be one way of describing the entrepreneurial efforts of the Georgia E. Morikawa (GEM) Center to enable seniors who are deaf, hard of hearing and suffering from additional disabilities communicate with their care-givers. Winning the fourth prize of $3000 will help the GEM Center reach out to assisted living facilities, adult residential care homes, community care foster family homes, case management agencies, and adult day care centers. The GEM Center will offer various tools including communication boards, assistive listening devices, alert alarms with strobe lights, videophones and CapTel phones to empower seniors and their families. These tools will help seniors communicate and slow the deterioration in their health that springs from the heartbreaking inability to make their wishes clear.

An abundance of head and heart
Choosing the winners was a tough process for the panel of judges as each of the eight finalists had earned their place by offering a truly worthwhile project that touched both head and heart. And that, says Hogan Program Director, Dr. John Webster is exactly what the competition strives to recognize.
"We look for projects that address a clearly defined need and will deliver a tangible social return," he said.
The four remaining finalists each received a cheque for $1000.
The Bee Team from Kauaʻi has established over 50 successful, pharmaceutical-free bee colonies through their volunteer hive removal services and have provided cold-pressed honey free to hospice patients and others in need. They believe that Kauaʻi could become a hub to help re-establish wild honeybees globally.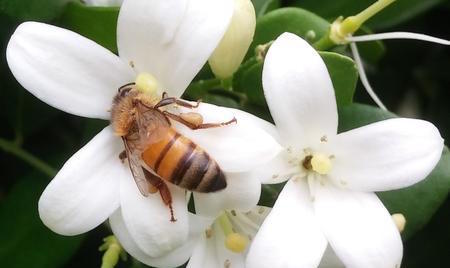 The volunteer Bee Team is driven by the realization of how dependent our food supply is on the vital pollinating work that bees do.
The Hawaiʻi Nature Center: Exploring Kawainui: Waterbirds, Wetlands and Watersheds is designed to bring environmental field programs for school children to Windward District middle schools. They provide a STEM-related learning opportunity for local students.
The Ho`okumu Foundation Pepe`e Program aims to provide Native Hawaiian entrepreneurs with training and technical assistance to compete for government contracts at the local, state and federal levels.
P.A.R.E.N.T.S. Inc.: ScreamFree Parenting Interactive Online Curriculum
is dedicated to strengthening families by providing resources and advocacy to create a cycle of positive parenting. They believe online parenting classes will help those with scheduling conflicts and will also provide privacy to those who are too embarrassed to seek training.
The Hogan Entrepreneurial Program is funded through generous contributions from the Hogan Family Foundation. This Nonprofit Business Plan Competition, the seventh so far, has also enjoyed the support of the American Savings Bank for several years. Since its inception in 2003, nearly a quarter of a million dollars has been given to more than 50 nonprofit winners from among the 300 plus entrants to the competition.
Calling all HuffPost superfans!
Sign up for membership to become a founding member and help shape HuffPost's next chapter