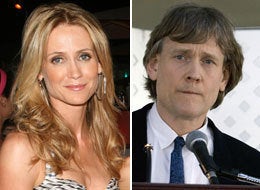 Kelly Rowan, best known for her role as the mom on "The O.C." has given birth and split from her fiance, billionaire David Thomson, Canada's richest man. Details are sparse:
"Kelly Rowan gave birth to a happy and healthy baby girl in Los Angeles on April 28," says the spokesperson. "Mom and daughter are doing great."

According to the rep, Rowan recently split from her fiance, Canadian businessman David Thomson.
In March, Page Six reported that Rowan was sequestered in Canada:
Kelly Rowan is "in the final weeks of her pregnancy," says a Canadian spy, but is being forced to remain undercover in Montreal because her billionaire boyfriend, David Thomson, is "horrified of any publicity."
At the time of their engagement, in June 2007, they claimed they would marry by the end of the year. Thomson chairman David Thomson is a divorced father of three. His wife was reportedly pregnant when they split, just before he paired up with Rowan.
Related
Popular in the Community