Whether it's Jim pranking Dwight or Michael Scott saying, "That's what she said," the jokes on "The Office" have led to some memorable TV moments. Still, subtle jokes are sometimes the most satisfying.
In Season 5, Episode 9, "Frame Toby," Jim (John Krasinski) buys his parents' house for Pam (Jenna Fischer). While showing it to her, they come across a picture of a clown that Jim can't seem to get off the wall.
Congrats, Jim and Pam! It appears you finally got it down!
In Season 7, Episode 19, "Garage Sale," while Kevin (Brian Baumgartner), Darryl (Craig Robinson) and Andy (Ed Helms) play a board game based on the TV show "Dallas," you can clearly see the clown picture in the background. Jim and Pam are selling it at the garage sale.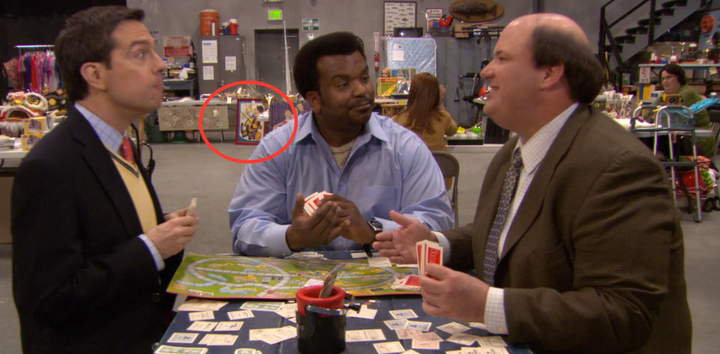 The Redditor told HuffPost, "It was just one of the little things I noticed while rewatching the show. One of my favorite parts about the show is all the small things the producers have put in the show like this."
Another Redditor timeless9696 pointed out that a moment where Jim and Pam say they got the picture off the wall is apparently in a deleted scene. 
There's a chance the scene was originally included in the episode when it aired in 2011, as at least one review mentions Jim and Pam having the clown picture. (It's unclear if the reviewer just saw the picture in the background at some point.)
Netflix, which gives many people the option to watch "The Office" nowadays, told HuffPost there can be changes from when episodes aired to what winds up on the streaming service:
We get the episodes from the distributor; if there have been any changes between the TV airing and what we received there could be change, like for other series adding or removing censorship.
The scene where Jim and Pam mention the picture isn't in the version on Netflix. If anything, the supposed deleted scene confirms the pictures are the same and that this is an eagle-eyed spot by MichaelMan122.
When it comes to jokes, "The Office" clearly wasn't clowning around.
REAL LIFE. REAL NEWS. REAL VOICES.
Help us tell more of the stories that matter from voices that too often remain unheard.
BEFORE YOU GO
PHOTO GALLERY
'The Office'-Themed Prom Proposals