A huge moment for "The Office" came during a heartbreaking moment for Pam. She and Jim have been enduring some strain in their marriage ever since he moved part-time to Philadelphia to pursue his sports marketing start-up. When he couldn't make it home for their daughter's dance recital, he asked her to film it on her phone.
Unfortunately, Pam got a call during the performance and didn't get the video. What she did get was a big art project that she'd been hoping for. She was excited to share this news with Jim, but he'd just lost a deal and was a little short.
When he found out she'd screwed up the recording of the recital, he flipped out on Pam. She didn't even get to tell him her news. After she hung up, she turned to the documentary crew for support.
"What am I doing wrong? she asked Brian, the guy with the boom mic. It was clear in this exchange that she'd become close with the crew over the past nine years.
It was a shocking moment, though, when the cameraman turned and showed the mic guy as he came over and consoled Pam. Despite all the things they have captured on the show, they decided to turn off the cameras in this emotional moment.
The final season of "The Office" continues every Thursday at 9 p.m. EST on NBC.
TV Replay scours the vast television landscape to find the most interesting, amusing, and, on a good day, amazing moments, and delivers them right to your browser.

Related
Before You Go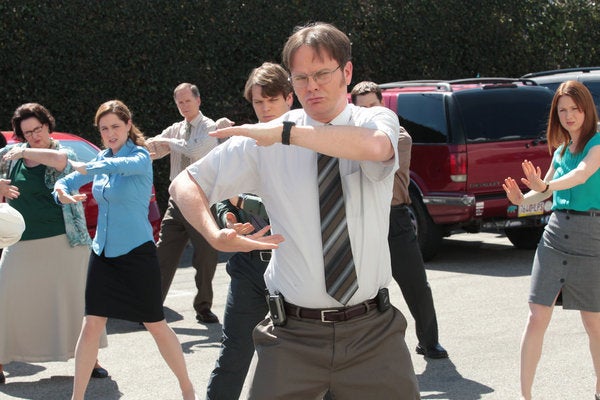 The Office Season 9 Photos
Popular in the Community