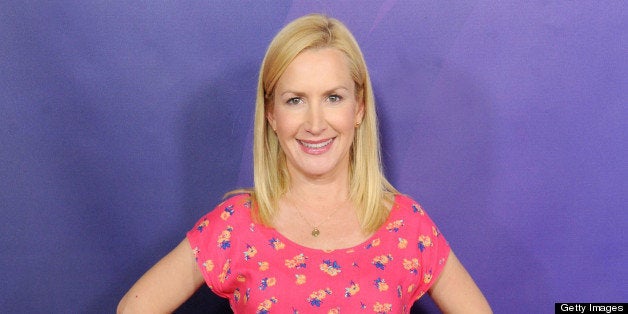 Angela Kinsey (Angela) took a few minutes to talk to The Huffington Post via phone on Tuesday to discuss her character's relationship with Dwight (Rainn Wilson), what fans can expect from the finale, and whether or not Michael (Steve Carrell) will show up to watch the Dundler Mifflin couple say their "I do's."
What will you miss most about playing Angela?
Well, I think I'll miss the bitch -- just the license to be prickly. It was great. I hope everyone would agree that it's definitely not my norm, so it was fun to get the chance to be someone a little pricklier than what's socially acceptable.
What do you think kept Angela from Dwight for so long?
Pride and fear -- things that hold a lot of us back in our real lives. She loved Dwight, and then he killed her cat Sprinkles. That cat meant the world to her. And he didn't understand how that hurt her, and she felt like, "Well, you must not really know me if you think this is something I'll be OK with ever." So then, I think she revenge-dated Andy. I don't think she ever loved Andy. I think Andy's just looking for love anywhere, which is a recipe for a disaster. I think she always thought Dwight was the one, but they sort of blew their moment.
Then, she met the senator, and there were so many things she liked about him: She liked the idea of moving up in the world; she liked the social status that the senator brought; let's face it, Dwight is kind of awkward publicly [so] she liked having the cache and going to the openings of the mall. She didn't love him, but I think once she makes a commitment, she sticks with it. So she was in it until there was nothing to be in anymore. Then she could be really honest, and I think she really felt the heartbreak of not having Dwight. I think that's what she was trying to tell Andy when she ran out in the parking lot before he pooped on the boss' car. But you can't be afraid to tell people when you're wrong.
What do you think Angela and Dwight's baby will grow up to be like?
I think he's going to grow up to love beets, farming and paper. And probably cats!
Do you think his personality will be more Dwight or Angela?
He'll be a rule-follower, because Dwight and Angela love rules. I could see him at West Point or something. And they both love serving their country.
I know John Krasinski and Jenna Fischer have said they had this immediate onscreen chemistry. Did you feel that way about Rainn Wilson?
Totally. We gave each other crap from Day 1. I think John and Jenna had this really lovely chemistry, whereas Rainn and I had this lovely spat. We were both like, "No, you're an idiot!" "No, you are!" And then we'd crack up and have to make out. So like I say, he's seriously one of my favorite people that I've ever met. I love him. I call him my favorite tall weirdo.
What's it like playing a character with your own name?
It's weird. When I was out and about at the beginning of the show, Rainn and I were on the sidewalk filming a scene and cars were driving by and someone yelled, "Angela! Dwight!" They yelled Angela first, and I quickly whipped my head around and said, "Oh my God, I think I know that person." And Rainn goes, "Oh my God, they yell your name. That must really trip you up."
Did you know from Day 1 that Angela and Dwight were going to get together?
No. You know, so much is revealed to us at table reads. I'll never forget the table read where we found out that Dwight and Angela were hooking up at Jim's barbecue and we were like, "No way! Oh my God!"
Were you excited?
Of course! Because it opens up a whole other world to the character. How will she be in an office relationship? How will it affect them? I would read about all those secret meetings and how they thought they were being so sneaky. There were so many layers. I remember the table read we were at when we all read that Oscar was gay. I think that was four seasons in, and we were like "Oh my God! That's brilliant!"
What was the last day on set like for you?
Oh God. Gut-wrenching. Just absolute waves of emotion. We were laughing in one moment and crying the next. There was so much anxiety building up to that last scene. We knew all day. There was a lot of crying and hugging.
I have to ask. Will Michael Scott make an appearance in the finale?
Well, I would certainly be the last person to tell, wouldn't I? Because I'm very chatty. I'm not going to comment.
Don't you think fans will be disappointed if he doesn't show up?
Yeah, I do. And I would say that I feel like Greg Daniels wrote a love letter to the fans. So I think the people who have loved this show are going to be happy.
What do you hope viewers get out of the finale?
I hope they feel that they get to say a real goodbye to this world and that they have an idea of who these people will be and what they'll be doing. There are going to be a lot of laughs, not just tears. I mean I'm going to be crying -- ugly crying! -- but there's laughter mixed in. And awkwardness. It's really what our show does best.
The series finale of "The Office" airs on Thurs., May 16 at 9 p.m. ET on NBC.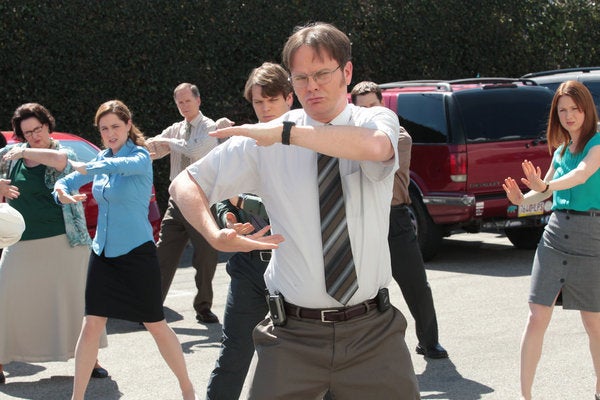 The Office Season 9 Photos
Related
Popular in the Community