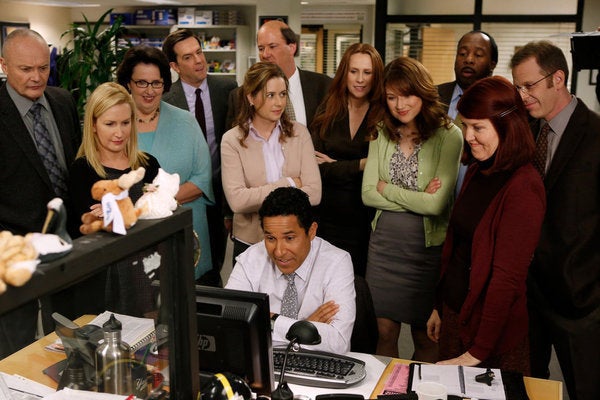 "I think the fans are going to be very happy," Angela Kinsey told TVLine at the show's finale party. "When we read the finale ... I was laughing and crying, and I think that's all you can hope for, to laugh and cry. I actually think there's a lot of laughs."
Showrunner Greg Daniels previewed that the finale would be "big," and said that he intended to "beg NBC" to allow him to supersize it to give fans plenty of bang for their buck.
"There are so many great characters that we all really cared about, so the biggest task was finding a story structure where they could have stories inside of it that would pay off and fit it all into the time frame," Daniels recently told EW. "These characters have been in my head taking up room for 10 years … so it was personally important to me that I figure out what their end and closure was."
Star Rainn Wilson had nothing but praise for Daniels' finale script, telling TVLine, "Greg Daniels, our showrunner … has a really deft touch with dealing with real, deep and truthful emotion and just absurd wackiness. He balanced both of those very well in this final episode."
"The Office" airs Thursdays, 9 p.m. ET on NBC.
Related
Popular in the Community