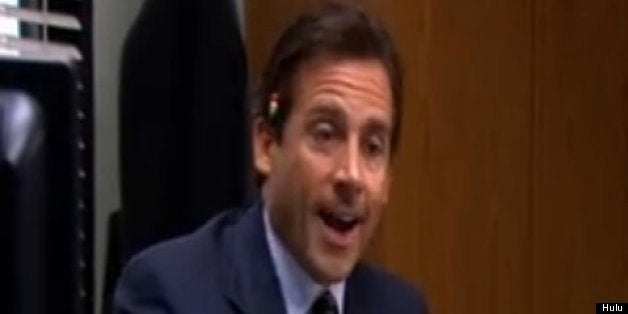 For many comedy fans, Thursday night will be a sad one, as "The Office" comes to an end. In honor of all the awkwardness we've been subjected to thanks to Michael, Dwight, Andy and the rest of the gang, we thought we'd offer a list of office faux pas we've picked up on over the years.
Here are six things "The Office" taught us about work life:
Do Beware Of The Mass E-mail: In this clip, Michael accidentally sends a racy photo intended for one recipient to the entire office, but he's not the only one to have made this mistake. Workers everywhere and even major companies like JPMorgan have been publicly shamed after accidentally firing off a mass e-mail.
Never Embarrass Yourself At An Office Party: We all know what it's like to get a bit too sloshed from an office party open bar, like Michael does in this clip (and if you say you don't, you're probably lying). To make us all feel better, here is a compilation of people who seriously embarrassed themselves at an office holiday party.
Don't Label Your Employees (Literally): One of the major hinderances to workplace diversity is that white male managers often find it difficult to communicate with employees who don't look like them, according to a recent survey of about 700 managers at major companies. This is a phenomenon Michael demonstrates in this clip about "Diversity Day."
Avoid Engaging In Violence At The Office: In this clip, Andy breaks what is perhaps the number one rule to keeping your job: Avoid violence. Still, there are apparently real life managers who go around punching walls at the office, if one anecdote in this Politico takedown of New York Times Executive Editor Jill Abramson is to be believed.
Try Not To Be Too Aggressive: Sometimes being too aggressive at the office can put you in a awkward position as Ryan demonstrates on this sales call with Stanley. It may prove to your advantage to be an introvert at work anyway, recent studies have found.
Calling all HuffPost superfans!
Sign up for membership to become a founding member and help shape HuffPost's next chapter
BEFORE YOU GO
PHOTO GALLERY
8 Biggest Career Mistakes Of 20-Somethings