What will the workplace of tomorrow look like? At Work Awesome in New York last month, we pulled together four thought leaders with Amol Sarva from Knotel who are working on building the offices of the future.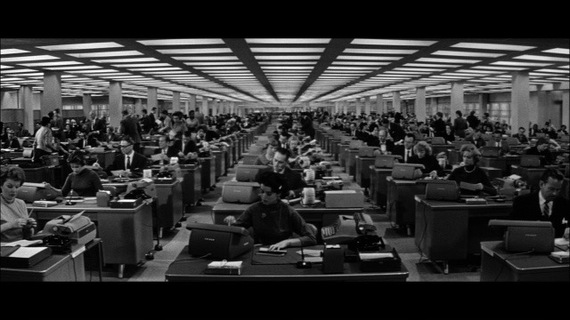 The office as a spreadsheet, from The Apartment (1960)
Building Buildings The New Way
Knotel is putting offices up all over New York--mainly by taking over floors and buildings from traditional office companies and making them modern. Amol Sarva, the CEO, pointed out how much the way people work has changed--laptops not file cabinets, headphones not speakerphones, FaceTime not Board Meetings, WFH not rows of typing secretaries. The office has to change too doesn't it?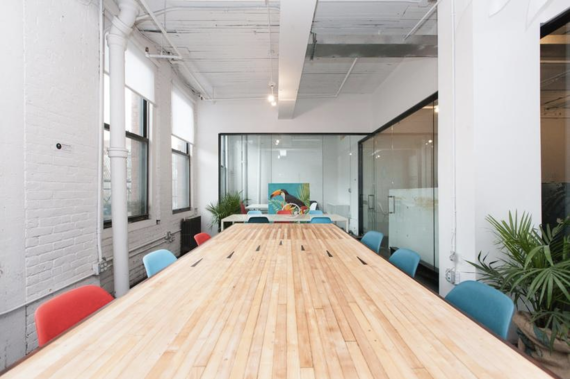 Knotel, part meeting room, part bowling alley.
It's a Showdown Between Office and Your Couch

For Sara Armbruster, VP of strategy, research and new business innovation at Steelcase, the most successful workspaces will be ones that produce thoroughly engaged employees--which in turn creates a resilient organization. In addition to creating great spaces for work, these future offices will cater to employees' physical, cognitive and emotion needs. But in an age where employees are increasingly working from home, it can be difficult to encourage folks to come to the office in the first place. The solution? Companies need to provide things at the office that workers can't get elsewhere (e.g., free snacks, wellness opportunities and access to tools and technologies). Beyond that, companies need to provide spaces designed for focus and attention, as well as those designed for collaboration. As technology continues to evolve, more and more work-related tasks (e.g., booking flights or scheduling meetings) are taken care of by AI. This trend should allow the workers of tomorrow to increasingly spend their time on high-order human functions--like breaking out into brainstorming sessions with a small team.
The Only Constant Is Everything Changes

David Mandell, CEO of PivotDesk, believes that--despite what the media and unicorns like to say--there's no one-size-fits-all approach to how an office should be designed. Needs can change over time--even within a single organization. While open office layouts are becoming increasingly popular, Mandell cautions organizations about adopting this approach on a full-scale level. Open workspaces, he says, create a "culture of the masses." If you don't fit in, you're very uncomfortable. Just like organizations, different individuals have different needs. Beyond that, Mandell believes that companies are finally getting over the notion that they need their own dedicated workspaces. "We've seen companies get funded because they're sharing space with the right person. We've seen companies that have been purchased because they've been sharing space." But it's not about sharing space with anyone. You have to find the right match.
Can You Point Me To The Bumping Room?

Scott Cohen, a co-founder of New Lab, believes in the power of sharing spaces. When different organizations come together under the same space, they're able to leverage the shared resources of the place. When designing workspaces, it's critical to consider sound. Workers need to be able to hear what's going on around them. But they also need to have access to private rooms or areas that allow them to really dig down into their work. Offices need to allow workers to do different things every day--like exercising or bumping into people you don't often see just to switch things up.
The Office Is Your Meatspace Social Network

Will Price, an architect at PARC Office, believes it can be difficult to throw a bunch of people from a bunch of different companies into an office and hope it works out. How are workers supposed to know who the person next to them at the coffee machine is--or even if he or she works for the same company? To solve that problem, Price and his team built a quasi-social network to connect workers who happen to be showing up to the same office every day. Aside from the human aspect of tomorrow's workspaces, the physical aspect is also important. Rooms need to be versatile enough to serve multiple purposes.
We thought Work Awesome was, well, pretty awesome. Interested in checking out what was covered in the other panels? Head over here to see the full group talk ideas.
You also may want to follow these Twitter accounts: Amol (@amol), Knotel (@knotel), Work Awesome (@awehq), Sara (@saraarmbruster), Scott (@scottbcohen) and David (@dgmandell).
This post was written by Amol Sarva (@amol) and Justin Reynolds (@umxoxi).
REAL LIFE. REAL NEWS. REAL VOICES.
Help us tell more of the stories that matter from voices that too often remain unheard.