Before the series finale of "The Office" on Thursday night, NBC took a look back at the show's nine-season run with a special, "The Office Retrospective," and fans got a look at John Krasinksi and Jenna Fischer's audition for the roles of Jim and Pam from a decade ago.
"What are you copying right now? What is that?" Krasinski as Jim says in the video. "I'm working. I don't know if you're working, but I have work to do," Fischer retorts as Pam.
"As soon as Jenna walked in, she was exactly what I imagined the part to be. I remember very vividly, I turned to her and said, 'Just so you know, you're gonna get the part,'" Krasinksi remembered. "And she's like,'That's so crazy, 'cause I thought you're gonna get the part.'"
Fischer said she knew she had chemistry with Krasinski from the moment she met him, and that chemistry lasted for a whole nine seasons. The actress noted that when she and Krasinski go out to dinner together, they get approached by fans hoping they've finally gotten together in real life. Unfortunately for "The Office" fans, both are married and not to each other.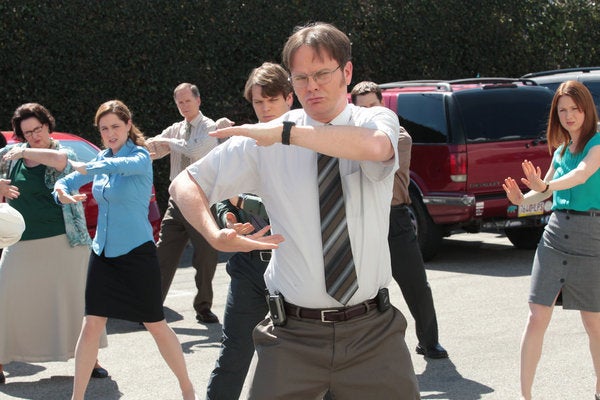 The Office Season 9 Photos
Related
Popular in the Community