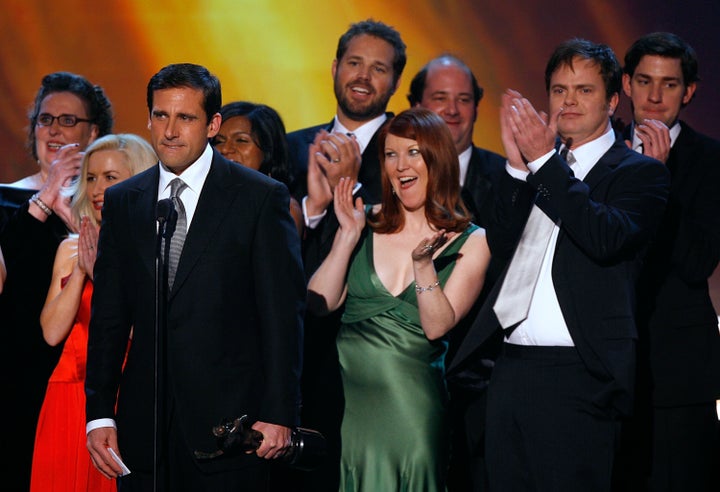 A year's worth of guesses, speculation and intrigue comes to this: nothing at all.
Once Steve Carrell announced last summer that he was leaving "The Office" following the now-finished season, the world wondered who would replace him as manager at Dunder Mifflin. A guest star-packed finale saw a parade of potential new hires, and of the interviewees they brought in, James Spader, as Robert California, netted a job -- but not as manager.
Instead, California will named CEO of Dunder Mifflin, and while he'll have a heavy presence on the show going forward, the question of whom the producers would bring in to take Michael Scott's place was still up in the air. As it turns out, there will be no new cast member at all.
"They didn't just want to bring in a new Michael Scott, there's not an attempt to fill those shoes," Spader told Entertainment Weekly. "That is something that I think they're allowing a certain amount of flexibility on, not unlike the end of last season. The show is very balanced right now and they want to utilize the ensemble cast."
Whether that means there will be any new manager remains to be seen -- there has been speculation that it may be Jim, Dwight or Andy -- but Spader teased at what to expect from California.
"He's a sort of strange guy, and his enigmatic qualities are a good thing," he said, later adding, "He doesn't have an office, really, he catches a desk where he can. Already we've also gone out on locations."
Earlier, Brian Baumgartner, who plays Kevin, told E! Online just what he thought of California.
"He scares me," he laughed. "It's great. "The energy he has is so totally different. The writers have done really a great job. He has these demented arguments that on the surface make no sense, but he's talking, and suddenly and you're like, 'Oh yeah, that's right! That's right!'"
REAL LIFE. REAL NEWS. REAL VOICES.
Help us tell more of the stories that matter from voices that too often remain unheard.