Someone give these newlyweds a Dundie Award!
In honor of "The Office" series finale on Thursday, Redditor Paul Williams (username xCaptainObviousx) posted photos Wednesday of his Dunder Mifflin-themed wedding. The nuptials, held in New York in 2010, featured paper flowers, "beet garden" escort cards, character-themed tables, "Serenity by Jan" candles, a Michael Scott photobooth and place cards made out of yogurt lids.
Williams' wife, Lacey, told HuffPost Weddings that she and Paul started dating shortly after "The Office" began airing in the U.S. They watched every episode and got engaged shortly after Jim and Pam got engaged on the show. Paul even proposed in the rain outside Lacey's car, just like Jim and Pam.
"We knew we wanted to do something fun and different for our wedding because we are quirky people," Lacey said. "Since not everyone watches "The Office," everything I did that was related to the theme, I still wanted it to look interesting, so even the guests who didn't get the reference wouldn't just think it was strange."
Check out the photos below, and watch the couple's parody of the show's opening credits in the video above.
The series finale of "The Office" airs on Thurs., May 16 at 9 p.m. ET on NBC.
Click through the slideshow below to see photos from season nine of "The Office."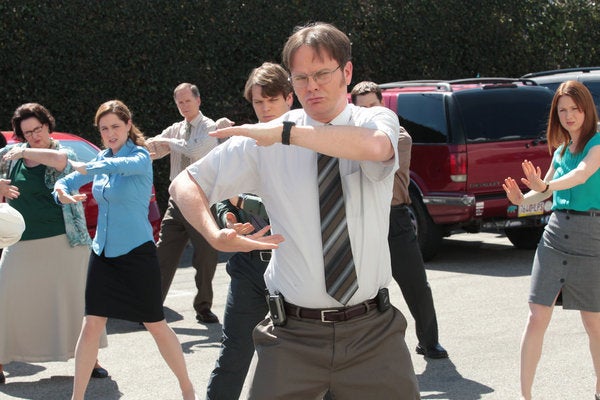 The Office Season 9 Photos