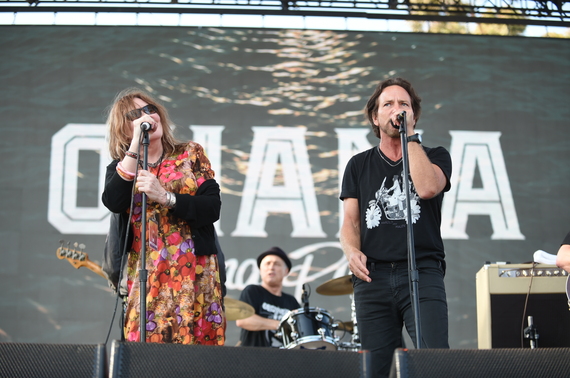 When I was a young person during the 1990s, my buddies and I enjoyed attending rock festivals. The decade was a golden era for such events, with yearly tours such as Lollapalooza, OzzFest, the Warped Tour, Lilith Fair, H.O.R.D.E., and the Further Festival. Southern California music fans will remember immensely popular concerts such as the KROQ Weenie Roast (still going strong), San Diego Street Scene, and Hootenanny.
When I saw the announcement for the Ohana Festival, which took place August 27-28 at Doheny State Beach in Dana Point, Calif., I was intrigued. This is because of the festival's mission to benefit a public good, in this case preservation of a state beach beloved by local surfers.
Music that tackles social or political issues has always impacted me. Bad Religion's catalogue led me to think deeply about societal ills years before I dedicated my professional career to the social sciences. Ozzy Osbourne's oft-overlooked 1986 album The Ultimate Sin is one of my favorites, partly because of the Ozzman's stance against nuclear proliferation. Rush addressed LGBTQ acceptance in its 1993 song "Nobody's Hero," breaking barriers at the time in the macho world of hard rock.
Music, and by extension music festivals, as artwork have a special opportunity to highlight and assist special causes. Neil Young each year holds a benefit concert for the Hillsborough, Calif. Bridge School; Live Aid in 1985, raised funds for the Ethiopian famine; and Ohana helped raise money for the San Onofre Parks Foundation. San Onofre State Beach, located in northwest San Diego County, has been a sacred location for Southern California surfers for generations. Its foundation provides public education, preservation, and protection for San Onofre and San Clemente state beaches.
According to Steve Long, founder of the San Onofre Parks Foundation and adviser to the board, the foundation offers a K-12 program in which 2,000 kids visit each year, including a camping program for inner-city children. His organization is responsible for lectures, a small visitors center, educational panels, and public awareness and outreach programs. "State parks are the second largest provider of public education in California behind the school system," Long said. The foundation's biggest need is to expand its ability to offer services to more kids.
Additionally, San Onofre is located on Camp Pendleton and leased from the U.S. Navy. That 50-year lease expires in five years and Long shared that his organization's goal is to have a dialogue with the Marine Corps to ensure a lease renewal and make the park accessible to future generations.
In explaining the reason for partnering with the foundation, festival organizer John Reese of Synergy Global Entertainment stated, "They are associated with California State Parks and they do awesome work in the local beach communities. The artists were all ocean lovers, so it was important for us to give back to Mother Earth and the local community."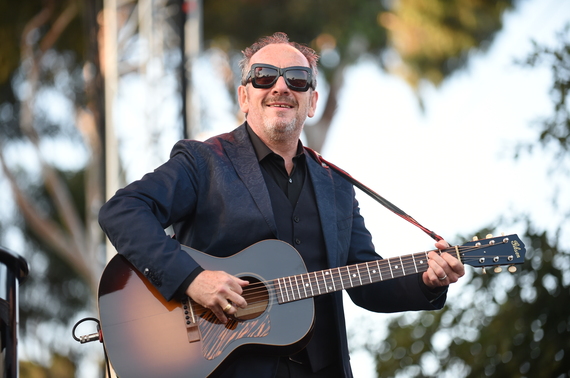 The event featured eclectic acts such as Eddie Vedder, Lana Del Rey, Elvis Costello, and Band of Horses. However, the highlight for me was the iconic L.A. punk band X. The group, soon to celebrate its 40-year anniversary and performing with all original members, stormed the stage like a voracious wolf hunting prey in a postapocalyptic wasteland. X's energy and fury on stage is always unmatched, as the group ripped through classics and deep cuts.
"I love festivals that have a point. I love festivals that are not curated by committee," said vocalist and bassist John Doe. "There's definite style to each day [of the Ohana Festival] and it's not just a rubber stamp of a bunch of other festivals." Doe is no stranger to backing social causes. He, X bandmate Exene Cervenka, and Blasters founding member Dave Alvin supported aid for El Salvador as members of the Knitters in the mid-1980s.
It is mindboggling that X will celebrate its 40th anniversary next year. "We're the last punk rock band standing," said Doe, who recently released a book titled Under the Big Black Sun: A Personal History of L.A. Punk (Da Capo Press). "There's nobody else in the punk rock world from '77 that still has the original members, still plays all the time."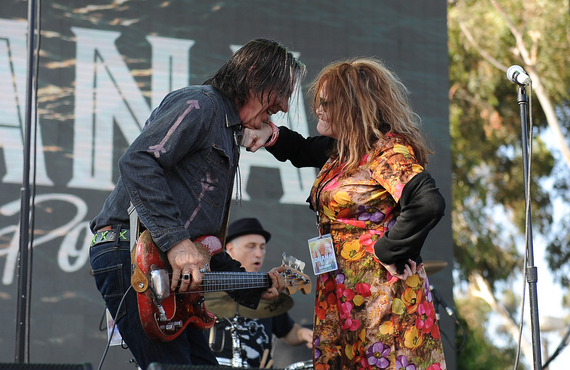 'Ohana is the Hawaiian word for family and is often associated with helping those in the extended community. Rock 'n' roll, as with other art forms, can draw attention to important causes, it can bring people together during this sometimes-turbulent life journey, and it can transcend.
Calling all HuffPost superfans!
Sign up for membership to become a founding member and help shape HuffPost's next chapter