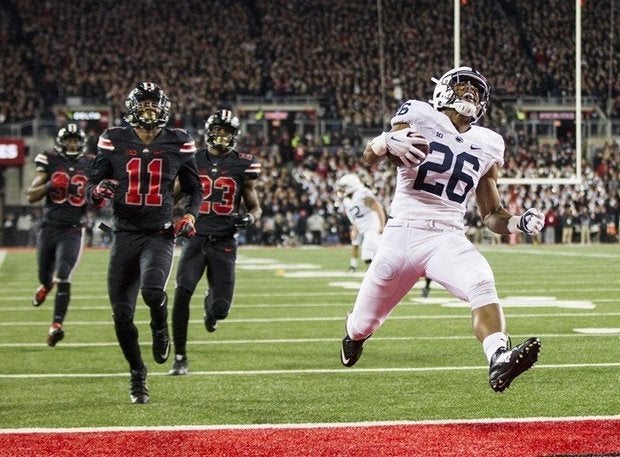 Pundits and Ohio State boosters have managed to convince college football fans, cable pundits, and the College Football Playoff committee that the Buckeyes should be the first team ever to not play in a conference championship and make the National Playoff anyway.
Good for them. The performance of so-called "legacy" programs in college football has long been as much a function of a team's marketing strategy and its accumulation of various types of style points as anything else. The Buckeyes are entitled to milk this for as much as they possibly can; every other team in college football would do the same if it could, and those other legacy programs (such as Notre Dame) with an opportunity to do so as well already do.
The problem is, this year Ohio State's case to receive special treatment isn't nearly as strong as it has been in other years, the media's repeated insistence to the contrary notwithstanding.
We've heard a lot of loose talk about how many ranked teams each playoff contender has beaten, and it's "loose" inasmuch as that metric seems to change depending upon which team is under review. For Ohio State, the ranking of defeated foes at the time the game was played has been used as a key indicator of quality wins; hence, the conventional wisdom that Ohio State had "three top ten victories" on its resume even before the Oklahoma Sooners finally cracked the CFP Top Ten two weeks ago.
Meanwhile, for a usually strong but finally "non-legacy" program like Wisconsin, which also beat three teams ranked in the top ten at the time those games were played—and now has a chance, in the Big Ten Championship Game, to win a fourth—the rules appear to be reversed. In speaking of Wisconsin's chances of making the College Football Playoff if they win the Big Ten in Indianapolis on Saturday, ESPN analysts have consistently insisted that it is the current ranking of a team that matters in assessing the Badgers' victories. That's how the now-conventional wisdom about Wisconsin—that it has just "one top 25 win" on its resume—came to be.
So let's level the playing field.
Let's talk only about where teams were ranked at the time a given game was played—which, after all, is the scoring system ESPN itself uses in its team overviews. (The ranking of a team when a game is played is recorded, and is not amended to reflect subsequent movements up or down in the rankings.) A more compelling reason to use this metric is that, lest we forget, a team that's ranked now might well have been terrible early on in the season, when it played a current College Football Playoff contender. So the CFP committee can't merely use its own Week 14 rankings to assess the value of each team's victories—it has to consider the strength of each team at the time the games were played.
When we use this metric to look more closely at the Buckeyes' season, we come away surprisingly underwhelmed.
First, it must be said that the Buckeyes played a non-conference schedule that has been hyped to a point that's become embarrassing for all concerned.
Ohio State's first win this season was an out-of-conference victory against a Group-of-Five Bowling Green squad that started the season 1-8. That start—among the worst in all of FBS—is relevant because it emphasizes how weak a team the Falcons were at the time Ohio State beat them handily in the Horseshoe.
Ohio State's second win this season was an out-of-conference victory against another Group-of-Five team, Tulsa. One might be tempted to overestimate the significance of this victory because of the fact that Tulsa ended the season 9-3.
That's misleading for several reasons. First, and perhaps not surprising given Tulsa's home conference, the Golden Hurricanes best win all season was an in-conference victory over a Memphis team that went 7-4 against FBS opponents. Unlike most any other team you could find with a 9-3 record, Tulsa was able to avoid playing two of the best teams in its conference (South Florida and Temple). That said, the Hurricanes did play the two other strong teams in its conference, Navy and Houston. It lost both games.
So while the Tulsa win was "fine," it doesn't add particularly much to Ohio State's resume. All it tells us is that Ohio State can convincingly, on its home field, beat a slightly above-average American Conference team. The relevance of that fact to determining whether Ohio State should be the first non-conference champion to ascend to the National Playoff is unclear.
But Ohio State also beat Oklahoma! you say.
We know how good Oklahoma is now—indeed, it's all Ohio State alumni can talk about—but how good were they when the Buckeyes beat them comfortably in early September? Fortunately, that's an easy question to answer: just look at the other games Oklahoma played during the early part of the season. So how good was Oklahoma in early September? Well, they were good enough to lose—by two scores and at home—to a Group-of-Five squad. While the team they lost to, Houston, is now No. 24 in the CFP rankings, that nice fact for Oklahoma (and, by extension, Ohio State) doesn't change the fact that the Sooners simply weren't that good in early September. We know, for instance, that during that part of the season they were good enough to play an incredible first half on their home field against Louisiana-Monroe--that's Louisiana-Monroe, everybody, not Louisiana State—and play the Warhawks to a 17-17 draw in second-half scoring. (The Warhawks ended up 4-7 in the Group-of-Five Sun Belt conference.)
So how did Ohio State fare in the Big Ten? Given that the Big Ten was the nation's strongest conference this year, surely their resume in-conference seals their bid for a spot in the National Playoff?
Well, let's start with the bad and/or underwhelming, as there's plenty of it.
At home, Ohio State managed to beat unranked Northwestern by just four points.
On the road, Ohio State managed to beat unranked (and now 3-9) Michigan State by one point.
Of Ohio State's eight conference victories, six were against teams with a combined 19-35 in-conference record.
The Buckeyes avoided altogether an 8-4 (No. 22 AP) Iowa team and an 8-4 top 40 (USA Today/Coaches' Poll) Minnesota squad.
They lost to Penn State in a game in which they outplayed the Lions—a fact that almost makes makes the loss more rather than less troubling. Looking inside the stats of the Penn State loss, it's not clear that the Buckeyes excelled in any area: they were 9-for-22 on third downs, averaged a workmanlike 4.2 yards/carry, and managed just 5.7 yards/pass. The fact that the Lions played absolutely abominably (2-for-13 on third downs; 3.3 yards/carry; 34% pass completion; only 22 minutes of ball possession) but won anyway isn't somehow a feather in Ohio State's cap. In fact, it makes the loss that much more puzzling—and troubling.
Okay, but what about those key victories against Wisconsin and Michigan, two teams that are still in the top ten nationally? (Unlike the now-unranked Nebraska team that Ohio State and Wisconsin both beat as the Huskers were busy losing three of their last five games.)
Those two victories—both as narrow as could be, inasmuch as each was a one-score, overtime victory—were nevertheless impressive, to be sure.
Does it matter that Ohio State was losing both games heading into the fourth quarter?
Sure it does. The CFP committee has long said that they look at "game control" along with many other far more esoteric data-points, and Ohio State was controlled, not controlling, for 75% of both of its "marquee" wins. That's unusual for a "marquee" win—usually we see the winning team having clearly outplayed its opponent. That's not the case with the two wins Ohio State is banking on in trying to make CFP history this Sunday.
Moreover, those now-ubiquitous complaints about the officiating in The Game are real. And genuinely concerning.
Beyond the question of whether officials properly spotted the ball after Ohio State's fourth-down attempt in overtime—and whether the officials erred again by not even measuring for a first down on the spot they did make—there's the matter of a stunning disparity in penalties. Michigan? Seven penalties for 59 yards. Ohio State? Two—for six yards.
A look inside the game stats helps explain why Ohio State was losing in the fourth quarter and could easily, with a different spot during that potentially game-ending fourth down in overtime, have lost the game and been out of the playoff discussion altogether. The Buckeyes went 3-of-16 on third downs, passed for an anemic 124 yards, lost the time of possession battle, and needed an astonishing 50 rushing attempts to achieve 200 yards on the ground (final total 206, for a 4.1 yards/carry average). So no—this was not a dominant performance at home. And again, many feel it's a game Michigan would have won with better officiating.
A trip inside the team stats of the Wisconsin-Ohio State game is just as revealing.
And it matters—as should Wisconsin win the Big Ten Championship on Saturday while the Buckeyes are sitting at home watching the game on TV, it's the Badgers that (among other Power Five conference champions) OSU will be compared against.
The game at Camp Randall resulted in an Ohio State victory, to be sure, but anyone who watched that game or even looks at the box score today will see that these two teams could not have been more evenly matched. And it's not simply the obvious fact—that the game ended in overtime—that demands this conclusion. The two teams were almost exactly even (to the point of uncanniness) in first downs, third-down efficiency, total yards, passing yards, rushing yards, turnovers, penalties, and time of possession. The only daylight between them? Ohio State was slightly better on fourth down (2-2 as compared to the Badgers' 0-1) and the Badgers were far more efficient on the ground (5.1 yards/carry, as compared to the Buckeyes' 4.1).
So when Ohio State boosters are curiously reticent about peeking inside the now-conventional wisdom (per ESPN) that the Buckeyes have the best resume "by far" in the nation, now you know why.
Is it a decent resume? Yes.
Is it as good as advertised (indeed over-advertised)? No.
Is there a very compelling case to be made that the winner of the Big Ten, whoever it is, should be in the CFP playoff ahead of the Buckeyes? Absolutely.
If Penn State wins, it would be a conference champion with a head-to-head win over the Buckeyes. Meanwhile, Ohio State's three near-losses in their last five games—against Northwestern, Michigan State, and Michigan—would, and should, be a flashing warning light to the CFP committee that Ohio State is not the dominant team the pundits and some others are insisting they are.
If Wisconsin wins, it would by then be not only a conference champion, but a team with four top ten victories. The Badgers' two losses—both by a single fourth quarter-or-later score—would be to top five teams (both at the time and still).
One final point about Wisconsin: the Badgers are in the opposite situation as Ohio State in terms of their "best" wins, inasmuch as they beat ranked teams when those teams were playing well rather than poorly. While Michigan State ended the season with a lousy record, Wisconsin beat them handily at a time when the Spartans had just defeated No. 18 Notre Dame. Meanwhile, Ohio State edged the Spartans by a single point when Sparty was in its demoralized, no-bowl, end-of-season iteration. Wisconsin's win against then-No. 5 LSU is just as strong today as it was in September: LSU is ranked No. 7 in the FPI, No. 21 in the FPI, and its four losses were by an average of just 5 points—to four teams all currently ranked in the Top 15. Ohio State and Wisconsin both beat Nebraska at around the same time, when the Huskers were in the top ten in late October/early November, but the Buckeyes' win was much more convincing. There's just one problem with using the Ohio State-Nebraska game as a differentiator between Ohio State and Wisconsin: in the Ohio State game, Nebraska lost its starting quarterback and biggest playmaker in the second quarter. At the time, the score was 14-3 Ohio State. We can't know what would have happened if Tommy Armstrong hadn't been carted off the field with a scary injury that clearly spooked his teammates. In any case, that untimely injury is undoubtedly a key data point in what remains Ohio State's most convincing win of the year.
So: Ohio State may well make the playoffs. Or it might not. But it does college football fans a disservice to overturn the tradition of conference championships meaning something without first scrutinizing—in exacting detail—the game-to-game resume of a team poised to break with both expectation and tradition.
About the Author: Seth Abramson is an assistant professor at University of New Hampshire, the series editor of Best American Experimental Writing (Wesleyan University Press), and the author of six books, most recently the three books of The Metamodern Trilogy (Metamericana, BlazeVOX, 2015; DATA, BlazeVOX, 2016; and Golden Age, forthcoming from BlazeVOX in January of 2017). From 2001 to 2007, he was an attorney with the New Hampshire Public Defender.
REAL LIFE. REAL NEWS. REAL VOICES.
Help us tell more of the stories that matter from voices that too often remain unheard.