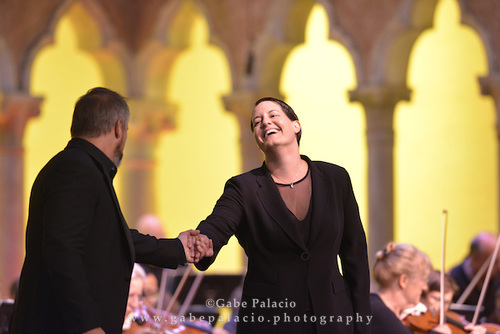 I am always pleasantly surprised that Fidelio (1814), Ludwig van Beethoven's only opera and one that some consider a slog, runs less than three hours with one intermission. And I was even more pleasantly surprised at the sensational performance it was given at Caramoor last Sunday which was easily the most exciting, enjoyable concert I have seen come from the Venetian Theater.
Beethoven long wrestled with the composition of Fidelio, an ode to marital love about a woman who disguises herself as a man in order to free her husband, a political prisoner, from the prison where he is being unlawfully held. While this performance was cast to perfection from top to bottom, the success of Sunday's presentation was due in no small part to the incredible Leonore of Elza van den Heever, her first performance of the part. Statuesque and wielding a sizeable, gleaming voice, van den Heever, known primarily to New York audiences for her performances of Elisabetta in Maria Stuarda and Donna Anna in Don Giovanni, commanded the stage from her first entrance. In Beethoven's majestic, sometimes-bombastic music, she never feared to play with dynamics and spun layered meaning out of every word of Joseph Sonnenleiter's libretto. Her portrayal delivered majorly in both vocal power and restraint and was elevated by sensitive acting in this semi-staged presentation. And the b-flat when she exclaims, "Tödte erst sein Weib!" ("First kill his wife!"), revealing her true identity to her husband and the prison guards, was full-throated, spot-on, and one of the most thrilling moments I've experienced at the opera.
The role of Florestan, Leonore's husband, is curiously short; he only appears during the second act and even then doesn't have much to sing. At the outset, a ringing G-natural as Florestan emerged from the darkness seemed a promising start, especially considering that Paul Groves's shift into heavier repertoire is a more recent move for a singer who cut his teeth on Gluck and Mozart. And while much of his performance was sung with a both powerful and elegant voice, he repeatedly found himself out of steam as scenes ended. This left him grasping for high notes and struggling to measure up against van den Heever's vocal and physical gravitas.
Speaking of gravitas, Kristinn Sigmundsson brought that in spades as Rocco, the jailer that oversees the prison. His elegant bass manages to be authoritative but not declamatory and nicely anchored many of the ensembles (the Act I quartet was especially ravishing). And as his daughter Marzelline, Georgia Jarman, now liberated from the need to carry the show as she did in Aureliano in Palmira, sang with an unexpectedly polished, full-bodied voice and a charming demeanor in the best performance I have heard her give to date. Equally charming was her Aureliano co-star Andrew Owens as Jaquino, her would-be suitor. In this smaller role, Owens' small but spirited tenor also seemed much more at ease and it showed in his physicality. Alfred Walker as Don Pizarro, the governor of the prison, sang forcefully but with an easily-produced, resonant bass-baritone that was especially effective during the angry outbursts called for in the part. Xiaomeng Zhang's short appearance as Don Fernando showed off an elegant bass voice.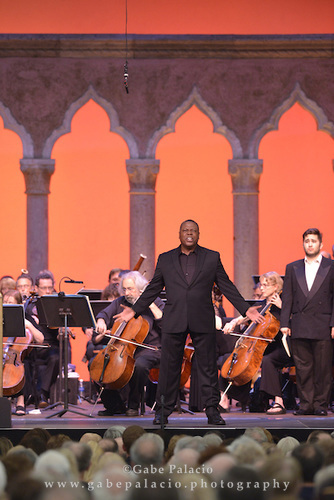 In his debut with the Bel Canto Opera at Caramoor, maestro Pablo Heras-Casado led a vigorous, forward-moving performance that coaxed taut, nuanced playing from the ever-splendid Orchestra of St. Luke's and committed singing from the principals and chorus. The chorus, composed of Caramoor's Bel Canto Young Artists, of course, sang Beethoven's tricky music with ease, beauty, and unflagging power.
It was that same group of young artists that presented, under the thoughtful direction of Rachelle Jonck, a delightful evening of Beethoven lieder selections just the week before. In an eclectic program bookended with folk songs and interspersed with pieces performed in translation, the young artists lit up the Spanish Courtyard on an especially breezy night.
Performing in groups, the artists sang songs and ensembles (ending with a rousing "Auld Lang Syne" that even got the audience involved) with distinction. In a duet with mezzo Elena Snow, baritone Thomas Lynch lent introspective meaning "Constancy," a piece with lyrics by Robert Burns. In a cycle of unrelated arias, soprano Courtney Ruckman showed off not only an attractive voice with a rich lower register and glinting upper register, but the unique ability to build a complete emotional arc throughout a song. Her performance of "Sehnsucht" ("Longing"), with a lengthy text by Goethe, showcased that talent with the melancholy parts of the song receiving the same attention as the flirty and joyful parts. Tenor Cameron Schutza, performing "An die ferne Geliebte," the only complete song cycle of the evening, displayed introspective sincerity and interesting use of dynamics across his 7 songs. Andrew Munn's sonorous bass and sensitive phrasing were put on particularly good display in a fun song with text from Goethe's Faust. And in the final selections of the evening, Benjamin Robinson showed off a sweet if not especially pliant voice in several folksongs with English texts. The ever-talented and ever-supportive Jonck accompanied the singers on the piano for each song, and some songs even saw the incorporation of cello and violin played by Sarah Rommel and Danbi Um, respectively.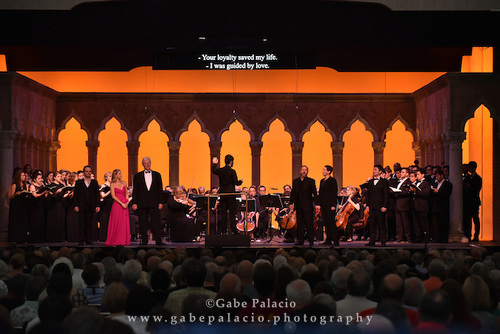 It was a delightful evening that served as a pleasant reminder that mainstage opera performances are not all that Caramoor does to support opera in the 21 century. And watching these young artists at this stage in their development is just as rewarding as a great Fidelio.
All photos by Gabe Palacio
Related
Popular in the Community