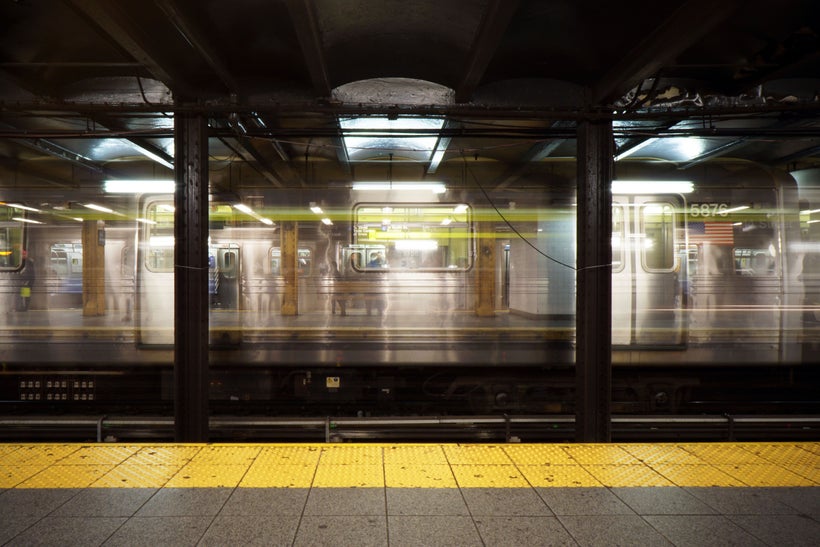 There's a weird thing that happens when you grow up around a lot of anger. You end up feeling like a cow that's allergic to milk. You have this thing coarsing through you, that you produce. And it's also the thing that destroyed you, that made you toxic; and therefore toxic to others. So, you reign it in.  You make sure the thing that poisoned you doesn't leak out and poison others. But then that makes you feel weak, because you're holding yourself in check all the time. Which is dangerous.  It's dangerous for angry people, scratch that, it's dangerous for me to walk around feeling weak.  Which I did for a long time.  It's dangerous because any part of us that we do not own doesn't go away, it becomes autonomous. Think of a family with five kids. Four of the kids are loved and cared for.  The fifth for whatever reason is locked away and ignored.  Which kid is going to do the most harm?  Exactly. That one is the poisoned milk. 
Years ago I had an apartment on the Upper East Side of Manhattan. My family lived on Long Island so, after a visit with them, the way back into the city was the Long Island Rail Road which would drop me off at Penn Station. From Penn, I would catch an E train, transfer to the 6 and be back at my 94th and Third apartment. The problem is that the E train is like Shemp from The Three Stooges. It will show up from time to time, but not with the regularity of the other trains on the same line. Mo, Larry, Curly, always there. But, Shemp? It's a crap shoot.  
Any part of us that we do not own doesn't go away, it becomes autonomous.
So on a ‪Sunday evening, wearing a backpack and carrying a heavy duffel in my hand, I got to the subway to see the signs posted on all the turnstiles: No E trains at this station. Effing Shemp.  I could stay and take the C train to the Upper West Side, transferring to a cross town bus.  But it was late, I was tired and those bags were getting heavier every moment I stared at the No E sign. I just wanted to get home, plop on my couch. I decided to lug my bags up to street level and hail a cab, which was a big move. Back then money was much more of a concept than something I actually had.  
When I got to 8th Avenue, rain had started to come down on the taxi line that ran all the way around the corner, continuing onto ‪31st street. Umbrella-less, I took my place at the end of all those waiting as the taxi line refused to move. And then it rained harder. Water was running down my back and my jeans stuck to my legs. But on this night, the taxis refused to come. So when I could feel the squish of my socks in my sneakers, that was my cue to head back in side to Penn, and take the C to the Upper West.  
I waited for the subway, holding my soaked through bags, as other people on the platform took glances at the guy who looked like he had just emerged from a carnival dunk tank. 
A guy finished an entire 12 inch sub before the train finally pulled into the station and we all got on.  I rode the subway uptown seven stops until I got out at ‪96th street; soaked, exhausted, and dying to hop onto a cross town bus.  It was officially a down pour now as I stood under the bus stop over hang and stared west down ‪96th street, trying everything in my power to will a bus to come. Nothing. 
My shoulders burned from holding my bags so they wouldn't hit the slippery concrete, and you could feel the peripheral vision of the few others waiting, wondering who would be the first to cave, say screw it, and hail a cab. This came with its own dilemma though, because to hail a cab meant to leave the overhang and step out into this now bibilical storm which was raining sideways down Central Park West.  
The E train is like Shemp from The Three Stooges. It will show up from time to time, but not with the regularity of the other trains on the same line. Mo, Larry, Curly, always there. But, Shemp? It's a crap shoot.  
 I was done. I stood on the corner with my bags somehow on one arm, while my other arm shot out like an enraged diner trying to signal a check from a waiter.  A few off duty cabs drove by before one stopped about twenty feet away.  I was almost to my cab when some guy cut in front of me and reached for the door to the car that was going to deliver me to dryness.  I felt a switch inside of me go off.
"HEY!" I barked. "THAT IS MY CAB!"
The next thing I knew I was towering over an elderly man. He jerked around to look at me, white hot fear living in his eyes. 
"I'm sorry, I'm sorry!" He said, backing out of the way almost shaking. "I didn't know, I didn't know." He gestured toward the cab and apologized again. I could tell immediately he had never seen me, and honestly thought this cab was his. 
"No,no," I mumbled. I couldn't find the words. I pointed towards the cab, when finally, "you take it," came out. 
Shortly after that another cab came by, I got in, and less then ten minutes later I was walking up the steps of my building. I walked in, threw my sneakers in the sink and felt a dam break. I was now sobbing in the middle of my apartment. Every so often I would hear the words, I'm sorry, come out of my mouth.  I wasn't thinking about the E train. I wasn't thinking about the taxi line outside of Penn.  I wasn't thinking about how long I had to wait for the C train, and I didn't give a shit about trying to hale a cab on the west side. The only image I cared about was the old man who I had put fear into, and I was trying to stop crying but I couldn't. 
"I'm sorry," I heard myself say again. 
Krista Tippet said anger is what pain looks like when it shows itself in public.  I had definitely made a public showing of my pain, but worse than that I had put it into someone, frightening them in a way that I had felt frightened a long time ago. It can be a life altering moment when you see yourself inflict the same pain onto someone else that you not only endured, but that made and shaped you. We swear that we will never do it, but we do; almost always. 
Anger is what pain looks like when it shows itself in public.
This is the part where I'm supposed to say something like, "Today I'm a lot less angry." or, "I've really gotten that side of me under control." But that would be embarrassing, not to mention wrong. That fifth kid that was locked away in the closet, ignored, is now running the show. He's a beast at the gym, sees a ton of patients every week and always has an opinion about something. In truth, he's a lot to keep up with. Ironically he was never the problem. My belief that he was poisonous from the beginning was. 
REAL LIFE. REAL NEWS. REAL VOICES.
Help us tell more of the stories that matter from voices that too often remain unheard.
This post was published on the now-closed HuffPost Contributor platform. Contributors control their own work and posted freely to our site. If you need to flag this entry as abusive,
send us an email
.