 Are there animal crackers in your soup? Do you get a secret thrill when you hear someone refer to former President Bill Clinton as "the big dog?" Do you think your cat actually understands (or cares) what you're saying?
For thousands of years, animals have been a constant presence in the lives of humans. Whether they be hunters or haunters, whether they serve as sources of food and amusement or companionship, animal spirits are a constant presence in literature and life.
From wolves to whales, primitive cultures worshiped the spirits of powerful animals. Today, we worship characters that turn into werewolves and wolverines.

Take a look at how anthropomorphism has become a common factor in team mascots, advertising icons (Tony the Tiger, Toucan Sam, Crunchosaurus Rex, and Trix Rabbit) and animated feature films such as The Lion King, Kung Fu Panda, Yogi Bear, and Finding Nemo. Better yet, think about the role played by such fictional animals as Kermit the Frog, Barney the Dinosaur, Mickey Mouse, and Scooby-Doo in educating our children.
Then think about a whale. Don't think about Monstro (a cartoon character). Forget about freeing Willy from captivity.
Think about a big white whale like a Migaloo or an albino sperm whale that has become the unhealthy obsession of a delusional sea captain. A fearsome rather than cuddly creature whose legend lives on 160 years after its story was first published by Herman Melville.
Think about the kind of epic storytelling required to tell the whale of a tale known as Moby-Dick. Then try putting it to music.
The first thing you'll want to know about Jake Heggie's brilliant operatic treatment of Moby-Dick (which received its world premiere at the Dallas Opera on April 30, 2010 and was co-produced by the Calgary Opera, San Diego Opera, San Francisco Opera, and State Opera of South Australia) is that during its recent run of performances in San Francisco the opera was recorded in HD format and will be broadcast in 2013 as part of the PBS series of Great Performances. Together with librettist Gene Scheer and stage director Leonard Foglia, Heggie has done a masterful job of reducing 800 pages of Melville's novel to an accessible contemporary opera whose 60-page libretto fills the theater with a sense of magic, mystery, and the hypermasculinity of men at sea.

The crew of the Pequod in whaling boats during Moby-Dick
Photo by: Cory Weaver
Not only has Heggie created a great storm scene (which can easily hold its own against Verdi's storm scene in Rigoletto, Rossini's storm scene in The Barber of Seville, Britten's storm scene in Peter Grimes, and Beethoven's storm scene in his Symphony No. 6 "Pastoral" he has created a score of cinematic breadth, whose arias are hauntingly robust and dramatic. Just listen to the opera's brief overture for a sense of how carefully its composer handles mood, themes, and a growing sense of dramatic momentum.
Last year I had the opportunity to sit in on a master class Heggie conducted with voice students at the San Francisco Conservatory of Music during which he showed a remarkable generosity of spirit to young musicians attempting to interpret his art songs. Whereas some contemporary opera composers see the voice as merely another instrument, Heggie genuinely loves singers and wants to give them the best support imaginable.
It's rare to see a contemporary composer interacting with music students in such a setting, but Heggie (who lives in San Francisco) is a man of astonishing sensitivity when it comes to coloring a phrase and finding its true meaning. In the following video clip, David Perry interviews Heggie on his popular Comcast program, Ten Percent on LGBT TV.
From the opening moments of the production, Gavan Swift's lighting and Elaine J. McCarthy's visual projections lay a heavy artistic footprint on the action. What seems like bubbles rising to the ocean's surface give way to a sky full of stars until a sailing ship looms into sight. Much of this is seen from the waterline, either through the exhausted eyes of young Greenhorn (Stephen Costello) who is adrift on Queequeg's coffin or, perhaps, through the eyes of a belligerent bull whale. The following preview clip from the Calgary Opera's production gives a taste of how McCarthy's projections heighten the performance's dramatic tension.
Moby-Dick calls for a massive ensemble effort, which was immensely aided by the work of San Francisco Opera's chorus master, Ian Robertson. While there are hearty supporting roles for Talise Trevigne (Pip), Matthew O'Neill (third mate Flask), and the ever garrulous Robert Orth (second mate Stubb), Heggie's score also features some glorious writing for the opera's four male leads.
Starbuck (baritone Morgan Smith) and Queequeg (bass Jonathan Lemalu) have the kinds of meaty arias that male soloists yearn for. The tenors, however, face some genuine challenges. In the following interview, Jay Hunter Morris discusses the intense personal appeal of singing the music Heggie composed for Captain Ahab.
Likewise, tenor Stephen Costello (seen below in the opera's finale) has some riveting moments onstage.
Helping to frame the dramatic experience along every step of the journey through Heggie's score were conductor Patrick Summers (who has helmed the world premieres of all of Heggie's operas) and set designer Robert Brill, whose creative solutions for moving the action back and forth between the ship's decks and the water make brilliant use of a jigsaw-puzzle approach to putting the Pequod onstage.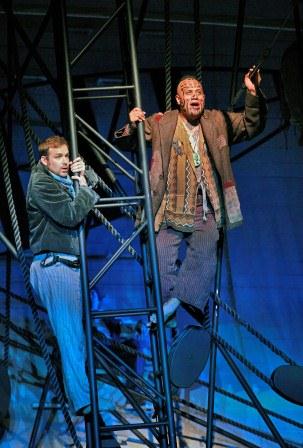 Greenhorn (Stephen Costello) and Queequeg (Jonathan Lemalu)
aloft in the Pequod's rigging (Photo by: Cory Weaver)
Many an attempt has been made to transform a great American novel into a vibrant piece of opera/musical theater ( New York's Public Theater just premiered Michael John LaChiusa's adaptation of Edna Ferber's 1952 novel, Giant). Whether one considers John Harbison's adaptation of F. Scott Fitzgerald's novel, The Great Gatsby, Carlisle Floyd's version of the John Steinbeck classic, Of Mice and Men, Stephen Paulus's version of James M. Cain's crime novel, The Postman Always Rings Twice, Benjamin Britten's adaptation of Paul Bunyan, or William Bolcom's adaptation of the 1899 Frank Norris novel, McTeague, Heggie's Moby-Dick seems destined for a longer and healthier life on the world's operatic stages. Not only is it a marvelous evening of musical theater, it is a marvel of modern music.
REAL LIFE. REAL NEWS. REAL VOICES.
Help us tell more of the stories that matter from voices that too often remain unheard.