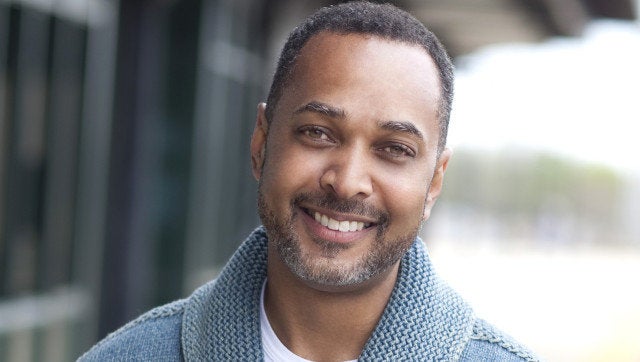 Craig Williams walked through the gates of Eden Cemetery, the oldest African American cemetery in the U.S., one fall day in 2007. Even though the Collingsdale, Pa., cemetery contains the bodies of several black luminaries -- including civil rights leader Octavius Valentine Catto and opera singer Marian Anderson -- Williams didn't come for any of these big names.
He was there to see John Taylor, the first African American to win Olympic gold.
Taylor was a college graduate and a star athlete, recognized for his success even by then president Theodore Roosevelt. But in 1908, the same year he medaled at the Olympic games in London, he died of typhoid pneumonia.
And with his death, much of Taylor's story was lost.
Since then, his Olympic feats and much of what we know about his life have been relegated to history books and university archives. Even in this famous cemetery where he is buried, Taylor's legend remained unknown. An index card in the cemetery's file helped Williams find Taylor's grave -- where his family's tombstone leaned crookedly in the unkempt grass.

"They weren't aware that he was buried there," Williams said. "Subsequently they have absolutely recognized that he was someone to be remembered but he was lost in history. It's not a reflection of the cemetery, but a reflection of society and culture and how someone can be forgotten."

Who is John Taylor? He was a member of the 1908 Olympic relay team. He won a gold medal in the 1600 meter race. He was an Ivy League student who graduated with a degree in veterinary studies. His stride measured 8 feet 6 inches, the longest of any runner at the time. His 49.1 seconds time in the 440 yard race broke the world's interscholastic record. Four years later he did it again with a time of 48.6 seconds.

In 1908, The New York Times called Taylor the "world's greatest negro runner."
But so little of his legacy is known today. Williams, 44, wanted to change that.

His journey to Taylor's gravesite that day, which he'd later have restored, was the culmination of years of tireless research.

Williams, a building contractor, first heard about Taylor in 2006 while refamiliarizing himself with Jack Johnson, the first African American world heavyweight boxing champion. He stumbled upon Taylor's name on a list of African American firsts and realized he had never heard of him before.

Instantly, Williams said, he was intrigued.

"I've always been curious about history, in spite of the fact that I majored in business and went into the construction business in my father's foot steps," Williams said.

Williams began his research in 2007 in the archives at the University of Pennsylvania, Taylor's alma mater. Williams was able to find his grades -- Taylor was a student the university's Wharton business school -- and the statistical history of his athletic career as a track and field runner. Taylor was also a member of Sigma Pi Phi, the first black fraternity.
The Free Library In Philadelphia and archives of local newspapers helped Williams find the birth and death dates of Taylor's family. He discovered his father was a newly freed slave and an entrepreneur. The more he uncovered about this mysterious Olympic legend, the more he realized how significant Taylor's life was.
What Williams would go on to discover about Taylor's largely forgotten story became the groundwork for his first book, "The Olympian," a historical fiction based on Taylor's life.

"This son of freed slaves graduates from an Ivy League, goes to the Olympics and in the same year he dies of typhoid pneumonia. What a year. When I understood those elements of the story I knew that it would be a great tale," Williams said.

Williams says the most significant gap in Taylor's history was when he withdrew from the Wharton School after only a few months. He later reentered the university as a student of the veterinarian program and graduated with a doctorate. This enigmatic moment would become the opening for "The Olympian."

"Here he is attending the university and his athletic career came to a halt. And there was no record of why. He's at a crossroad and his journey to the games could come to a halt. He needs to figure out how to get back into school, go to the London Olympics and win that medal," Williams said.
Since there were no diaries of Taylor or his family, much of Williams' writing process involved trying to create a realistic account of life as a young black man in 1908. For the geographical setting of the novel, Williams was inspired by old photographs of places like the Philadelphia Zoo, which he imagines would interest Taylor as a future veterinarian. Taylor's father is portrayed as a caterer, a job that newly freed slaves would commonly take, according to Williams.
Williams created a fictional father-son relationship that was greatly influenced by the generational differences between a father growing up in slavery in the South and a son who never knew what that type of captivity was like. In the novel, Taylor and his father are divided between the differing ideals of Booker T. Washington and W.E.B. Dubois, two prevalent black leaders of their time.

"I portrayed the father to be more aligned with Booker: A very conservative 'be happy that things are as good as they are' ideal," Williams said. "Dubois was more aggressive and I thought that would appeal to a younger man who never knew slavery."
Despite growing up a century apart, Williams said he can relate to Taylor's life. His father is also an entrepreneur and, as a second generation contractor, Williams has helped his father's construction business grow. He considers his father one of his heroes and he has afforded him many opportunities in his life. Williams imagined a similar dynamic between Taylor and his father. He sees Taylor' elaborate gravestone as an example of successfully navigating the world as an African American man.

"One thing important for me was to try to allow John to be John, and not a mouthpiece of my perspective today. That wasn't quite realistic. Back then the consequences of being yourself totally were very serious," said Williams.

In "The Olympian," Taylor experiences significant racial prejudice, despite his accomplishments, in the mostly white athletic world. In the book, Taylor is deemed a "credit to his race" and his fellow athletes blatantly disrespect him. But even amongst the hate, discrimination and intolerance, Taylor had two key supporters -- his coach Mike Murphy, and president Teddy Roosevelt, who personally congratulated him for his win.

"Taylor seemed to glide through a world that for many other people, there were just walls," Williams said.

It took Williams three and a half years from the initial conception of the book to self-publishing it -- just two years too late for the one hundredth anniversary of Taylor's legendary feat. When Williams heard the summer Olympics was returning to London this year, he got a second chance to share Taylor's story.

"Putting the book out, my main goal was to be taken seriously and to offer something that people could enjoy. Something that wouldn't result in a resounding 'thank you Mr. Williams, please go back to construction and build something and leave the writing to the writers," he said.
Taylor's biggest fan isn't ready to put down the pen just yet. Williams is still searching the history books for information on his next heroic tale. This time a Roman general has his attention.

"It's an adventure story. The kind that I would enjoy as a 12-year-old boy and still do today."

PHOTO GALLERY
John Taylor, The First Black Gold Medalist
REAL LIFE. REAL NEWS. REAL VOICES.
Help us tell more of the stories that matter from voices that too often remain unheard.