As the Olympic spirit in Canada grew to a fevered pitch my sister and I decided to cross the country and head to one of the world's greatest ski and snowboard destinations, Whistler Blackcomb. Nestled deep within British Columbia's majestic mountains, Whistler is just two and a half hours from Vancouver and the drive is absolutely breathtaking on the Sea to Sky Highway.
As long-time downhill skiers, we set out to expand our horizons and give cross-country a go, ending our weekend with a beginner's snowboard lesson. We stayed at The Crystal right in the heart of Whistler Village, perfectly placed and only paces away from the Whislter gondola and myriad restaurants and clubs. Glorious blue skies, warm temperatures, exquisite dining and fresh snow epitomized the weekend, offering up a fun-filled lead up to the incredibly exciting 2010 Olympics.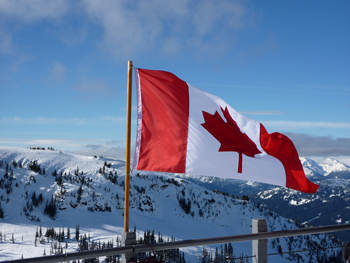 The Canadian Flag flies high at the top of Whistler Mountain
We arrived in town in time to catch the emotionally charged 2010 Olympic Flame Handover Ceremony and celebrated with thousands of excited Canadians eager to root for their country. Steve Podborski, a former Crazy Canuck, had the crowds cheering as he skied the flame into the celebration site and handed it off to community cauldron lighter Tyler Allison, a Whistler local and 2012 Olympic hopeful in mountain biking. I couldn't think of a better way to kick off a long weekend in Whistler!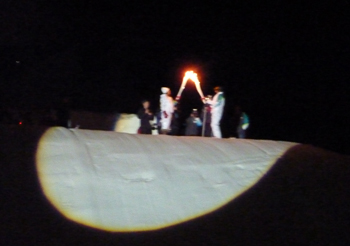 Photo courtesy of Mallorie Bronfman-Thomas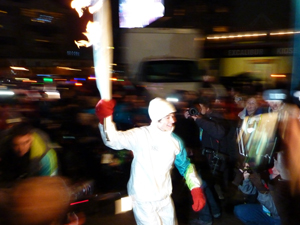 Photo courtesy of Mallorie Bronfman-Thomas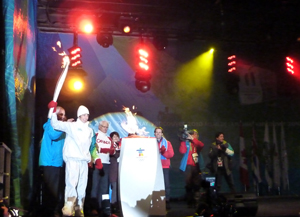 The Torch Ceremony in Whistler Village on February 5th
Photo courtesy of Mallorie Bronfman-Thomas
After the ceremony we made our way through picturesque Whistler Village to Araxi, the town's finest restaurant and a long-time advocate of using local and organic ingredients. Executive chef James Walt prepared a scrumptious 6 course meal for us, tantalizing our tastebuds with every offering and accompanying each dish with beautiful wine pairings. My favorite dish of the evening was the Qualicum Beach Scallops with vanilla bean parsnip puree and prairie mustard seed and maple vinaigrette - lying on a delicious bed of sweet puree the scallops were melt-in-your-mouth delicious. The Ricotta and Truffle Gnocchi and Sweet Onion Veloute were other epicurean stars that night, however it's hard to pick favorites - everything at Araxi is of the finest quality and is always executed with brilliant precision and thoughtful sophistication.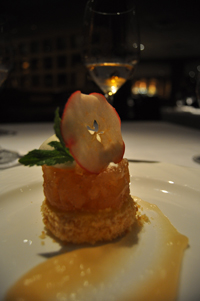 Photo courtesy of Mallorie Bronfman-Thomas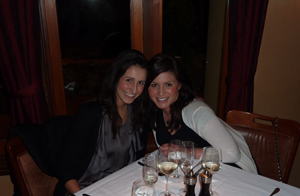 It's been a few years since I've strapped on my skis so we decided to go cross-country skiing at Lost Lake on our first day in the snow. We were blessed with beautiful blue skies and warm temperatures - lovely conditions for skiing around the lake. While we went mid-afternoon, Cross Country Connection informed us that they're also offering night skiing, making it even easier to get to NiX, the outdoor theatre of snow and ice running through to February 27th.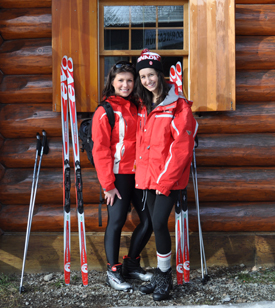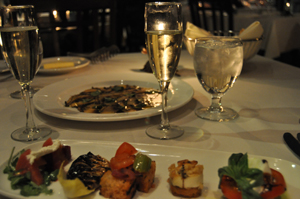 Photo courtesy of Mallorie Bronfman-Thomas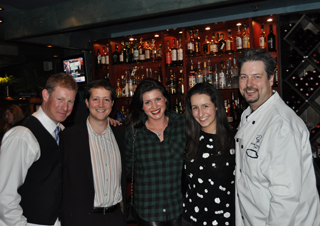 Steve de Wolf, Luc Trottier, Marissa Bronfman, Mallorie Bronfman-Thomas, Jeremie Trottier
With cross-country under our belts, albeit with a few tumbles, my sister and I felt ready for a day of downhill on Whistler mountain. Blessed to have the sun gods on our side again, breathtaking views of snow-capped mountains accompanied every run we took. Whistler Blackcomb is constantly rated as some of the best skiing in the world and it's easy to see why - there are a plethora of runs for skiers and snowboarders at every level, from forgiving greens to exhilarating black diamonds. Olympic aversion was definitely evident on the mountain, there were thousands fewer than usual; it made for a great day of skiing but is a real concern for tourism. Although we only skied Whistler, the new recording-breaking Peak to Peak Gondola makes it easy to ski both mountains in a day. Having skied until all the lifts had closed, we made our way down the mountain and into Whistler village, ready to rest and relax with fellow skiers on a heated outdoor patio.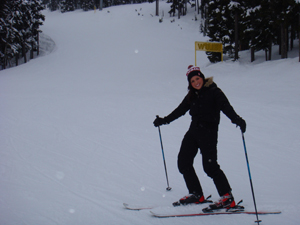 Photo courtesy of Mallorie Bronfman-Thomas
I love skiing but wanted to see what this snowboarding phenomenon was all about so my sister and I strapped in for our first day-long level one snowboard lesson with a group of other beginners. Having already been warned of the painful 3-5 day learning curve, we were prepared for things to be tough... and they were! Everything about snowboarding is so different from skiing, from the single wide board to the position of your body. Nevertheless, our group made impressive progress throughout the day, eventually being able to make it down the so-called bunny hill with turns (and the inevitable spills, of course). I'm still hurting from the lesson but I'm glad I gave it a shot - it was fun to try something new on the mountain.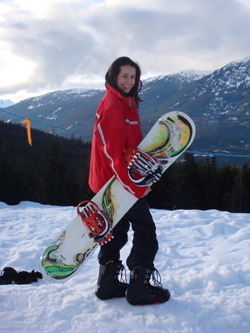 My sister Mallorie demonstrates how to hold a board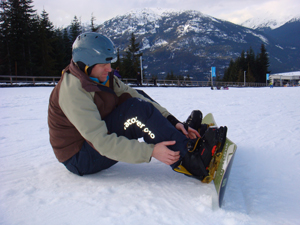 Andrew Elgee straps in for his last run of the day
Photo courtesy of Mallorie Bronfman-Thomas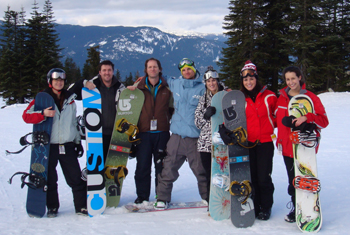 Our beginner's snowboarding group on Whistler Mountain
It's hard to argue that there's a better ski resort in the world than Whistler and it's even harder to end a vacation there. Whistler is world-class all the way - whether you're looking for mountains of fresh powder, exquisite regional cuisine or a vibrant and pulsating nightlife - this town has it all. For decades only snow-seeking Canadians and clued-in Internationals made it to Whistler but as the 2010 Olympics descend upon this beautiful mountain town, the whole world will see this glittering jewel in Canada's snow-peaked crown.
Stay tuned for more 2010 Olympic adventures in Whistler B.C.!
For more information about Mallorie Bronfman-Thomas's fabulous photography, contact her at m.bronfmanthomas@hotmail.com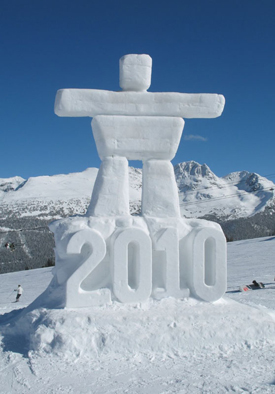 Calling all HuffPost superfans!
Sign up for membership to become a founding member and help shape HuffPost's next chapter