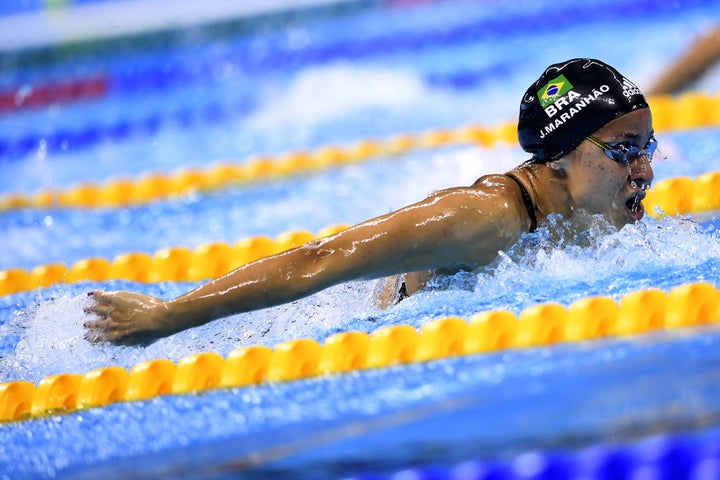 Traumatized by memories of abuse she suffered when she was nine years old, Brazilian Olympic swimmer Joanna Maranhão became afraid of the water. Now back in the pool, she helps run an NGO to protect children from sexual violence.
At 17 years old, Brazilian swimmer Joanna Maranhão had already broken records by taking fifth place in the 400 meters at the 2004 Olympics in Athens, at the time the best ever Olympic result for a Brazilian female swimmer. It was also the first time in 56 years that a Brazilian woman had made it to the finals in any Olympic sport. Maranhão was Brazil's biggest hope in the pools. But only four years later, her performance began to suffer and, for a while, she was even afraid to get into the water.
When a journalist asked her what was happening, Maranhão explained that she was dealing with the trauma of having been sexually abused by a former coach when she was 9 years old, in 1996. The revelation in the media led to more distress, when Maranhão's alleged abuser sued her and her mother for slander. But her story also helped strengthen the country's anti-child sex abuse law and motivated Maranhão to launch an NGO to help prevent the sexual abuse of children before it starts.
"I didn't intend to tell about the abuse," she says. "I was very naive, because it was during an interview. [But] I was releasing myself and revealing it to the public, because every time I would talk about it, I felt lighter."
By the time Maranhão's story came out, Brazil's statute of limitations on sexual abuse had expired: The law gave abuse victims 16 years to initiate legal proceedings, but once a victim turned 18, they had only six months to file the complaint. She could get no justice for the trauma she had suffered. But her former coach was still able to sue her and her mother for libel, slander and defamation. (The proceedings have been suspended for an undetermined length of time.)
The abuse left psychological scars that made it difficult for Maranhão to have intimate relationships with men. In 2006, she tried to kill herself. In 2008, she got married and then divorced a year later. Now married to judo athlete and 2007 world champion Luciano Corrêa, Maranhão still has issues with sex, but says Corrêa is patient and supportive. "I would never force myself [to have sex with him]," she says. "I am the owner of my body and only who I want can touch it, and in the way I want. When I was 9, I couldn't decide that."
When Maranhão eventually shared her story with the rest of Brazil, that sense of relief she felt came with the motivation to push for change. A year after she revealed her abuse to the press, she campaigned to extend Brazil's statute of limitations for sexual violence. In 2012, then-president Dilma Rousseff sanctioned the Joanna Maranhão Law, which states that the statute of limitations for sexual abuse against children only begins when the victim turns 18.
"When I first went to the senate, in 2009, I told them, 'I hope you approve this law because, besides all the benefits it brings, it's bringing meaning to my story,'" she says. "Now my story makes sense – somehow it shows that it is possible to live, despite the trauma."
Maranhão had helped make it easier for children to hold their abusers to account. After that, she launched an initiative to help stop the abuse before it starts. With a group of friends, she created Infância Livre – or Free Childhood – in 2014. Originally the idea was to help low-income children deal with the impact of abuse, giving them legal and psychological support. "But the demand was almost zero, because people are silent about it," says Maranhão. In Brazil, 70 percent of the victims of notified rapes are children, according to a report by the Institute of Applied Economic Research (IPEA), based on ministry of health data. Of the abusers, over 24 percent are the child's father or stepfather, and 32 percent are a friend or acquaintance. Because many young abuse victims are targeted by people close to them, they are afraid to speak up.
So Infância Livre turned its focus to prevention, using school sex education classes to teach children how to recognize abuse – such as the difference between a good touch and a bad one – and what to do to stop it. Whenever Maranhão is on a break from her training, she speaks to students herself. "I talk to children from preschool to the last grade of high school. Because, in general, this subject is not discussed in families. It wasn't in mine," she says.
And when she's not swimming or talking at schools, Maranhão is replying to the messages sent to her NGO's Facebook page, people sharing their stories of sexual abuse with her. "When I open the messages and I can't help the person, I fall apart," she says. "If it is legal question, I refer them to a lawyer. But what we get most are adults unburdening."
It was unburdening that finally helped Maranhão get back into the pool. In August, she participated in her fourth Olympic Games. She didn't make it to the finals, but says she will keep competing in 2017. "I think: 'Why not?' Swimming is something of which I choose to have good memories. It's where I've had the most traumatic experience of my life, but it can also bring me positive things."
Calling all HuffPost superfans!
Sign up for membership to become a founding member and help shape HuffPost's next chapter