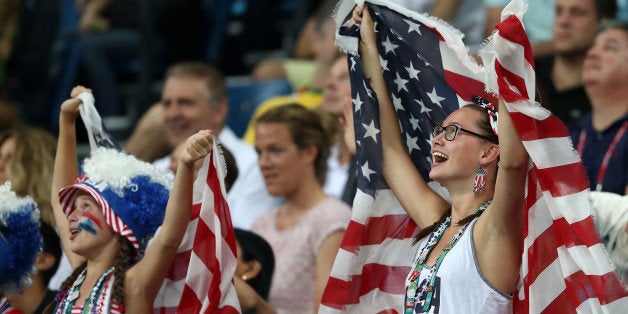 Dear NBC,
We know what female fans want.
If you haven't seen it yet, here is a quote you should see from NBC's CMO John Miller:
The people who watch the Olympics are not particularly sports fans. More women watch the games than men, and for the women, they're less interested in the result and more interested in the journey. It's sort of like the ultimate reality show and miniseries wrapped into one.
(Let us guess, tied up in a pretty, pink bow for this one-size-fits-all approach to women?)
For a network that thinks it has put together the perfect Rio 2016 package for all of us female non-sports fans, it sure has done a stellar job of hiring announcers who have insulted us:
I guess the only real form of punishment for their crime of being painfully out of touch is that their highly coveted audience of female non-fans is simply not tuning in. Not to the delayed Opening Ceremonies or the delayed primetime coverage, either. (Their ratings for the first Saturday night of the Olympics were off by 32 percent from 2012; Opening Ceremonies were down 28 percent.)
Dear NBC: We here at The Relish (who all happen to be women, by the way), have a few words of advice:
1. Give us the journey and the results. Yes, we women want it all.
2. Understand that we watch sports like ALL fans watch sports: LIVE (even if we have to do it with our friend's cable login on an app... or just by refreshing Twitter and considering updates online "spoilers").
3. You should also understand that we watch our sports live with our phones in our hands or our laptops on our, well, laps -- so we can comment, react, share and post. (Did you know that, according to Pew Research, 80 percent of women are active on social media, compared to 73 percent of men? Women are especially dominant on Facebook, Instagram and Pinterest. Maybe you could have offered that up to your sponsors.)
4. Give us commentators who are well-informed and entertaining, and who don't continue to make sexist comments about the athletes (see above). Maybe like Mary Carillo right here. (Thanks, Deadspin.)
5. Treat the Olympic athletes -- who have worked their entire lives for this moment -- with respect by covering their sports like sports.
6. And treat the people (including the women) at home watching the same as you would other sports fans. It's all we really want.
P.S. The one thing that makes us think you might be figuring us out after all? This:
REAL LIFE. REAL NEWS. REAL VOICES.
Help us tell more of the stories that matter from voices that too often remain unheard.