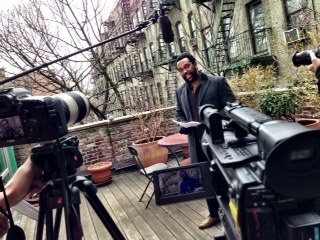 Five months before the tragic verdict in State of Florida vs. George Zimmerman, my personal paradigm on race shifted in a Brooklyn bar as I encountered the poems and performance of Roger Bonair-Agard.
The brilliant and full-bodied wail carried in this Brooklyn-born griot's poems -- that I see him as citizen, as black poet, as human being -- reached me at an emotional depth no prose of any kind on the subject of race ever has before. First came these lines: "...this / is no threat -- this / is a love trumpet / [. . .] we have things to say. We / are worth your time. We / love you -- lean in -- this / could save your life." Then a stanza in which he asks me to know him by loving what he loves caught hold, and prepared me to absorb the fact that at age 44, after a childhood in Trinidad and Tobago and more than a quarter-century here in the country of his birth, Bonair-Agard feels so "devalued on sight" that he must, by turns, ask for and demand recognition of his own personhood.
In the midst of that buzzing crowd, I also felt my scaffolding of assumptions about the state of race relations in 2013 falling down around me. All these months later, the poet and I now each a year older, I am still making sense of this deconstruction, and working to build a new and shared paradigm.
Part of this work had me spending time with the poems in Bury My Clothes (Haymarket), Bonair-Agard's third collection, now longlisted for this year's National Book Award for poetry. Though Bonair-Agard is finishing an M.F.A., he came up in the poetry slam world and is one of its veteran national champions, as well as a founder and artistic director of the louderArts series in New York. He is only the second poetry-slam champion to get a National Book Award nod, and could be the first to win.
I will leave it to the poetry critics to discuss matters of meter and verse, but I encourage people beyond poetry's usual draw to pick up Bury My Clothes. This is poetry for the national discourse, and the narrative and ideas deserve discussion as well as the form. The collection contains a multitude of rhythms and fusions and beats intellectually and viscerally with rage and love, violence and tenderness, humor and sensuality -- with all that's made a poet and a man. Most importantly, however, these odes and outcries offer the closest way in which we who are not on the receiving end of insidious and blatant forms of racism can encounter the very real pain that still exists in 2013.
Another part of the work to build a new paradigm was about getting personal. Soon after that epiphanic evening in Brooklyn, and long before President Obama made his impromptu remarks following "The Verdict" urging Americans to talk to each other across racial lines, Bonair-Agard and I began a months-long and frank conversation about race and privilege in our era.
Getting beyond the platitudes that keep us polite but socially-segregated and finding ways to deactivate the verbal landmines buried just below the surface of race relations is arduous work. It's not that I thought we lived in a "post-racial" America because this country elected Barack Obama twice. Intellectually, I understood individual and institutionalized racism are both still shameful realities, but like probably a majority of (I imagine) moderate, liberal and progressive whites who might be open to nuanced discussions of race, I optimistically focused on the progress that's been made rather than the work yet to be done. In the face of climate change, wars, foreclosures, gun violence, government shutdowns and myriad personal challenges, I allowed my forty-something self to maintain a comfortable remove from the current and very real institutional biases and injustices endemic to the original sin of U.S. history -- slavery.
This admission comes from someone who, in her twenties, helped to found a nonprofit to offer under-served urban youth greater access to education and economic opportunities and lived on the ungentrified 1990's Harlem/Morningside Heights border. I share this not as some attempt to gain allyship cred, but to illustrate that when I couldn't see how to individually have any impact on the intractability of racial injustice, I averted my gaze and hoped generational demographic shifts and my empathy and votes would be enough.
It was no longer possible to look away when Bonair-Agard was at the mic, mainlining into heart and soul the plaintive and powerful words of a black man loping down my block with the "shadow of hood" against his face:
" . . . I want
you to see me and look in my eyes
and kiss me on both cheeks
and love
what I love--know me
I am a man--I'm an American
too"
Love what I love, and know me. This poetry inspired me to examine how I became a person who, like so many, decried racist acts and demonized the obvious racists, while believing that racial inequity is someone else's problem to solve. Just as Woody Guthrie said of his guitar, "This machine kills fascists", I came to think of Bonair-Agard's poetry -- his "love trumpet" -- as an instrument with the power to help us kill racial injustice.
There are no easy answers, but blacks and whites of conscience are speaking past each other today about race, if they speak at all. There are works of art, however, in which the level of craft, the message and the messenger's own backstory somehow combine to offer a society's social conscience precisely what it needs at a certain moment. Bury My Clothes is one of those works of art, at a time and in a country where a 17-year-old boy in a hoodie can be gunned down while walking home from 7-Eleven, and the man who killed him is not only acquitted, but then goes and celebrates with the manufacturers of the gun he used.
Related
Popular in the Community