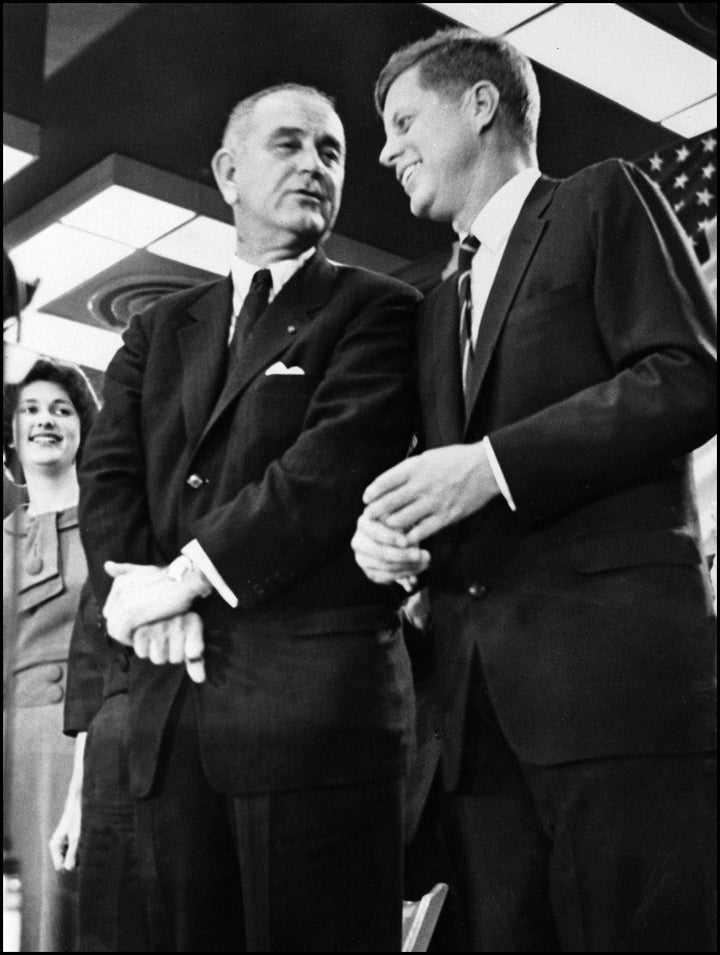 Robert Caro says he doesn't pay much attention to what reviewers write about his books, but he paid plenty of attention to what one reviewer wrote about The Passage of Power, the fourth and latest volume of his monumental biography of Lyndon Johnson.
And that's not just because of what former President Bill Clinton wrote in the May 6 New York Times Book Review, but because Caro felt that Clinton understands better than anyone what he was writing about.
"It was fantastic," Caro said when I asked what it's like to have his book about LBJ reviewed by one of LBJ's successors. "Although it sounds disingenuous, I don't care that much about reviews. But I did care about this one because I felt [Clinton] knew the problems that I was talking about and... his opinion was something I should listen to."
He added, "When they said Bill Clinton was going to review your book, I didn't believe them. Then I said that's one I'm really going to be interested in reading. And then when it came out so fabulously favorable... Some of the lines in there were wonderful."
Clinton's laudatory review also helps explain why Caro insists he has no regrets about spending 38 years writing about the life and times of one person as he has in The Years of Lyndon Johnsonseries -- with one more to go.
Actually, the 76-year-old Caro says his latest book about Johnson, a 736-page tome that chronicles his unhappy time as vice president and sudden accession to the presidency after John F. Kennedy's assassination, are not about one person, but about the exercise of political power.
"People say it's one subject, but I don't regard these books as being about a man," Caro said during a recent book promotion visit to Washington. "I never had the slightest interest in writing a book just to tell the story of a great man. What I'm interested in is political power -- how it really works."
For example, Caro said his first book, The Power Broker, a 1974 Pulitzer Prize-winning biography of New York City urban planner Robert Moses, "was really a study of urban political power, not what you call a textbook ... not an idealized thing, but what's the raw naked essence of urban political power?"
Then he decided to write about how power is exercised on the national scale, which is why he chose Lyndon Johnson as his next subject.
The first volume, The Path to Power, was published in 1982 and covers Johnson's early life in Texas until his failed bid for the U.S. Senate in 1941. The second, Means of Ascent (1990), ends with his election to the Senate in 1948, while the third, Master of the Senate (2002) -- which won Caro a second Pulitzer Prize -- covers LBJ's years in the Senate and his dominating rule as Majority Leader.
"The third book was about power in the Senate, it's about Lyndon Johnson, but it's also about power in the Senate," he explained. "The second book was really about a stolen election, negative campaigning, and the first was a book about rural politics. This book is about Lyndon Johnson but it's also about the presidency in a crisis, this huge crisis, after Kennedy's assassination." The book portrays Johnson favorably, crediting him with taking charge after Kennedy's assassination and bringing to fruition much of JFK's legislative agenda as well as enacting his own Great Society program.
That leaves one more book, which Caro says he'll begin writing after taking a year off to recharge his batteries, part of which he'll spend in Paris with his wife and longtime collaborator Ina. He says it will take two to three years to complete, but based on his past experience and fanatical devotion to research and rewriting, it could easily take twice as long.
And those who hope Caro's final volume will boost LBJ's legacy and reputation better brace themselves because it probably won't, since it will critically examine the issue that consumed Johnson and drove him from office in 1969, the war in Vietnam.
"The next volume is going to be much darker," Caro said. "The big question in the next book is how did Vietnam happen to this very smart man? I've done a lot of work on that. I've spent months and months, probably more than a year in the Johnson Library going through the minutes and notes of the various meetings where the Vietnam decisions were made and I'm not satisfied myself that I quite get it. I mean, I have to think about it more. How this man who had the surest touches made such an incredible blunder."
"I don't know if you've read this book, but at the end you'll see how much he cared about the War on Poverty. And for him to sacrifice what he really cared about, which was to help poor people and particularly poor people of color, to sacrifice that in the war, I'm not satisfied at this moment. His presidency is not a presidency of triumph. Yet the things he tried to do on the domestic front are worthy of being remembered more vividly than they are today."
Nevertheless, Care isn't about to predict how his final book will treat LBJ until he's completed further research.
"If I learned anything in writing about Johnson and Robert Moses, it's that you don't really know what's happened ... until you look into the documents and interview people. If you read the New York Times for the Johnson-Kennedy years, and you read what was actually happening, and now you have the minutes of the meetings and interviews and telephone calls, this is like the shadow of the substance, and there's truth in it, but it's not really what was happening."
So the lesson for biographers and historians, I asked, is to go to the original sources and documents?
"Yeah, and the lesson is this -- if there's anything I've learned, I don't feel like commenting on things that are happening right now, because in my heart, I feel from my own experience, I don't know what's happening."
That applies equally to the present occupant of the Oval Office as it does to LBJ, he said. "I have a higher opinion about President Obama's accomplishments than a lot of people do. I felt he inherited quite a mess that we can hardly remember because he took care of it. But I'm not writing about Obama."
When I asked Caro, perhaps imprudently, if he lives long enough to write another book after he's finished with LBJ, what the subject would be, he responded, "That's the one question I'll take a pass on. It's a biography, but I'm superstitious. I feel if I say who it is, I won't get to it."
Calling all HuffPost superfans!
Sign up for membership to become a founding member and help shape HuffPost's next chapter