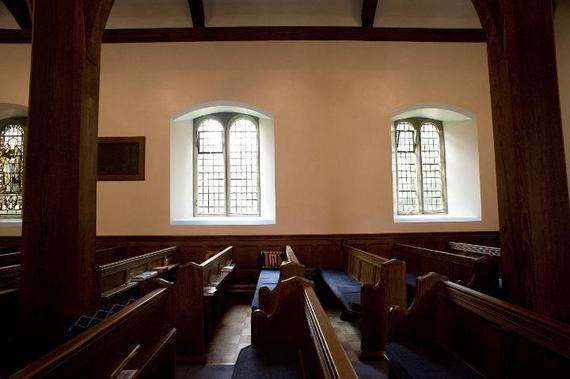 Photo credit: Empty church pews by EasterStockPhotos.com
For decades, I lived out the expectations of performance-based Christianity. I have lived through the lies we tell non-believers. We say, "Come just as you are," but the implied rest of that sentence is, " ...and you have about two weeks to get your act together before we'll expect to know how much you'll be tithing and what ministry you'll serve."
We tell outsiders, "All you must do is call on the name of Jesus and you'll be saved." (Isaiah 1:18) But we fail to tell them the rest of our story, "...and then the real work starts. There's sanctification, confirmation, and New Member's class. You'll need to get baptized (both water and the Holy Spirit), and before long you will need to choose which committee you'd like to join."
One friend calls it the church's version of the welfare system. The modern-day pharisees, determining who gets a free ride and who doesn't. It's okay for the new guys to be themselves or to have a bad day. They're still the new kids on the block. But those who have chosen the life of a Christ-follower should know better. No more free rides. Christians have work to do. We don't have time for bad days.
We have created a culture of people who are more concerned with the external demands of running an organization than the work of Grace in our internal lives. Why does God's love and forgiveness include terms and conditions once we have prayed the Sinner's Prayer? We've set up this system of beliefs to get us to Heaven, but we are miserable as Hell here on earth.
As an interpreter, my job is to analyze words for meaning. No one is listening to what you're saying, they are listening to what you mean. I hurt for those who are sitting in the pews, baptized as teenagers, and now barely holding on. I am crushed for the Christians seeking sanctuary on Sunday morning, who instead find one more obligation they must meet. The Christians who need a holy place to come, lay down their burdens, and simply rest.
Evangelical Christianity isn't that simple.
A friend describes a season in her life where her most faithful act was pulling into the church parking lot. She had only the courage to show up one more week. If any other expectations had been placed on her during that season, her faith would have crumbled to dust.
I long for the day when the Church universally says, "Just show up." I long for the Church to echo the words of Christ, who said, "Come to me, tired ones. Come to me in your dysfunction. Come to me with your disappointment. Come to me and bring your exhaustion with you. Come to me without production or pretense and rest." (My paraphrase, obviously.)
Here in the buckle of the Bible Belt, I have been pleasantly surprised over the past couple of years to see the Church grow more accepting of alternative lifestyles. I have heard messages both from the pulpit and in private conversations welcoming those with same-sex attractions. While I'm thankful churches are moving in that direction, I can't help but wonder, what about our own? Can we welcome Christians back as well? Can we echo the heart of Jesus to those who have been desperately trying to win the love of God, to earn their salvation or at least the approval of church leaders? Can we offer acceptance and peace to them, too?
Earnestly, tenderly, Jesus is calling, calling for the Church to welcome back Christians.
Popular in the Community