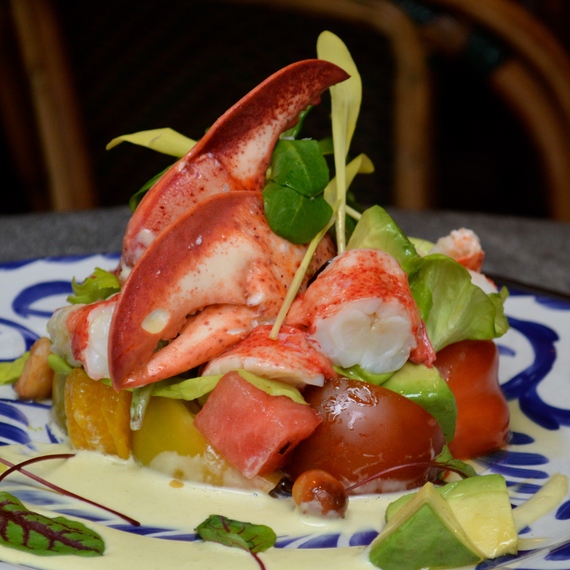 I'm not hating on the classic lobster roll or surf n' turf, but lobster deserves to be more than a sandwich stuffer or co-star to filet mignon. Cue: Watermelon. This crunchy, irresistibly sweet (if you buy it in season) fruit is the perfect counterpoint to lobster's tender meat. I've paired these two ingredients in a summer salad for an easy dinner. All that's missing is a glass of rose. Or better yet, frose.
Serves 2
What You'll Need:
2 ea. Heirloom Tomatoes, quartered
2 Tbsp. Pickled Shallots, plus residual brining solution
½ cup Cubed Watermelon
1 ea. Avocado, cubed
¼ cup Macadamia Nuts, toasted and crushed
Pinch Mixed Herbs (tarragon, parsley, celery, basil)
1 cup Mesclun Lettuce
1 cup Butter Lettuce
1/2 ea. Orange, segmented and chopped
½ ea. Lemon, freshly squeezed
¼ cup Extra Virgin Olive Oil
2 lb. Lobster, boiled and shelled
Pinch Sea Salt
Pinch Corn Shoots, for garnish, optional

For Pickled Shallots:
Makes 1 cup
½ tsp. Chopped Dill
Pinch Red Pepper Flakes
2 Tbsp. Honey
½ cup Extra Virgin Olive Oil
½ cup White Balsamic Vinegar
4 ea. Shallots, thinly sliced
How to Make it:
1. Toss together heirloom tomatoes, pickled shallots, watermelon, avocado, macadamia nuts, herbs, lettuce, orange, lemon juice and oil; season to taste.
2. Slice lobster tails into ½" medallions, leaving the claws intact.
3. Divide salad between two plates and top with lobster. Garnish with more oil, sea salt and corn shoots.
For Pickled Shallots:
Whisk together all ingredients except shallots; add shallots and refrigerate for 24 hours.