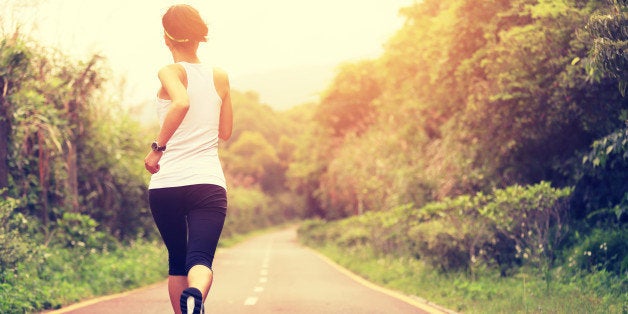 If you can't beat fear, just do it scared. Glennon Doyle
My oldest daughter is a miniature version of me -- she feels to the extreme and will often tell me she's scared when faced with new situations -- trying to avoid whatever it is that is new or a challenge. I used to tell her: Don't be scared -- be brave! But the longer I run, the more I have come to realize: fear, doubt, worry -- are all emotions that come with being human. And while I no longer dwell in those feelings or resist them, I accept them. I let them come--and then I release them.
And now I tell my children: It's OK to be scared. It's OK to worry -- but let's not get stuck there. Let's not hold on to those balloons so tightly that we can't see past them. Don't hold on for so long that we let those feelings hold us back and stop us. Let's face those things that scare us anyway. Show up scared. Show up filled with doubt. Show up not ready. Just show up.
And the longer I run the more I realized there is one balloon we shouldn't hold on to. The most blatant of all lies we tell ourselves and some of us dangerously choose to believe. Some of us hold on to that balloon so tightly we can't see any of the others. And it stops us from ever getting to the start line.
When I toed the line for my double marathon at midnight July 2014 I was with about 40 other ultra runners-- I was filled with doubt. Even though I trained for almost a year for my 52.4 mile race and I had already completed a 50 mile race in May of 2014, I was as ready as I could be, and yet that's not what I told myself.
Instead, when I got to the start line I looked around me, at the runners who looked confident and sure, strong and capable -- I told myself the first of a series of lies: You aren't strong enough.
When the majority of the runners gradually got farther and farther ahead of me -- with only a handful of runners behind me -- the lie grew bigger: You aren't good enough.
As midnight turned into the early hours, the whole city seemed to be sleeping except for the the forty of us closing in on the first 26.2 miles with still another 26.2 to to go--I never felt so alone in my life and the lies continued, the one I believe we tell ourselves that does the most damage to our hearts--it stops us from living life as we are meant to live it:
Hadn't that lie been what I had been telling myself my whole life? In Honor's classes in high school. In college. As a first year teacher. In mom's groups. As a writer. I felt like my whole life, up to that race had been me wrestling with the feelings that I don't belong.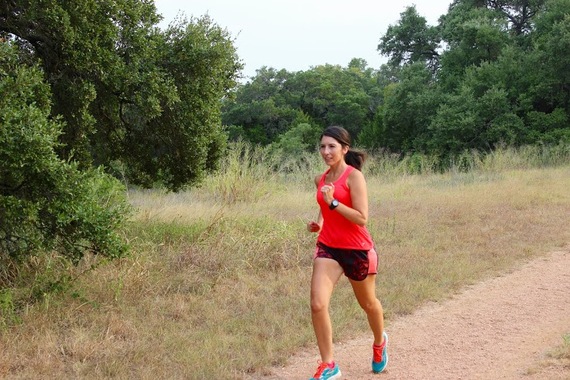 But miles change you. It's not the physical distance of ultra marathons under my feet that did it -- it wasn't the strength in my legs, the endurance of my lungs that can carry me for runs that last hours, no, it was that I finally caught my balloon, the only one I think we should never release -- belief in myself. The longer I run, the more I realized: I belong.
Some of us are born with a natural confidence -- a way we carry ourselves that makes us appear sure and confident. Capable and strong enough.
I have never been that person. As a child I always doubted myself and I grew into a woman who has always been timid -- cautious and careful. And while I believe we are created on a spectrum, I believe we can teach ourselves the gift of believing in ourselves. And it starts with the gentle reminder:
The longer I run, the more the heaviness of doubt lifts from my heart. When I start doubting my ability to run 100 miles. When I start to question my place in this world, I remind myself, I belong.
I hope my children learn this lesson much sooner than I did. Because it's taken 37 years and thousands of miles for me to realize: I belong in every place my heart longs to be in this world. I can show up scared. I can show up worried. I can show up doubting my ability -- but I will never again show up timid and uncertain of my place in this world, wherever my feet may take me, where I belong.
And so do you -- no matter what start line you decide to toe. You belong there.
Nicole Scott writes about faith, family and her love of running at MyFitFamily.com.