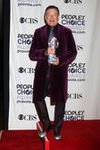 Robin Williams was a comic genius, but a stirring dramatic actor, as well.
When I heard of William's death, I felt shock and grief along with the rest of the world. Thinking back on his career, it struck me that his range was unique. It's rare to find someone who is brilliant in both comedy and tragedy.
The first time I realized William's penchant for drama was when I saw the movie, "Good Will Hunting," in 1997. He deserved his Oscar for best supporting actor.
In the film, Will Hunting (Matt Damon) is a janitor at M.I.T. who has a gift for mathematics. With the help from a psychologist named Sean (Williams), he's able to reach his potential.
Williams was completely believable as Sean, an earnest counselor determined to set Hunting free from his past.
Hunting's file reveals he was brutally beaten by his foster parents. In a touching scene, Sean keeps repeating "It's not your fault. It's not your fault. It's not your fault." We watch how Sean uses the words as a mantra to boldly approach Hunting, refusing to back off until he breaks through. Hunting eventually let's down his defenses and cries.
I considered William's performance an anomaly, a departure from the zany comic. He was gifted at making us laugh and cry.
Williams was a complicated man who experienced the full throttle of emotion, from hilarity to despair.
As we say goodbye to this beloved artist, we can keep him close, a touchstone, as we remember to show compassion for others in a struggle.
REAL LIFE. REAL NEWS. REAL VOICES.
Help us tell more of the stories that matter from voices that too often remain unheard.