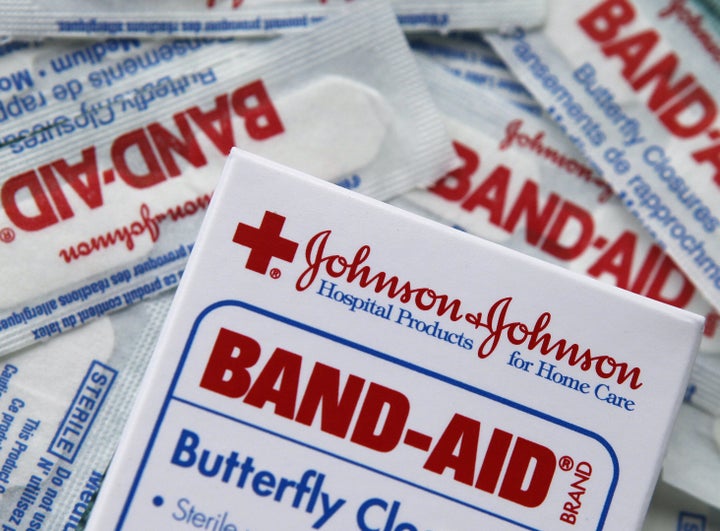 Don't you hate it when you nick your finger on a sharp edge or skin your knee on a rough surface? Of course, scrapes and scratches are some of life's most frustrating annoyances. Fortunately, there are Band-Aids for such mishaps.
Each year, consumers buy more than 1 billion strip bandages, though few give a thought about the Band-Aid's origins. The modern bandage dates back to the 1920s -- the early days of Johnson & Johnson. Interestingly, the Band-Aid wasn't developed by one of the healthcare company's scientists or medical professionals, but a cotton buyer instead.
Hoping to ease the discomforts of his accident-prone wife, Josephine, Earle Dickson created pre-made bandages by affixing pieces of cotton gauze on an adhesive strip. Whenever his wife nicked her finger, she simply trimmed a new bandage from the strip and placed it over her wound.
For 90 years, Band-Aids have been a staple of J&J's business. Today, they account for a significant portion of the company's $1 billion-a-year wound-care division and are used the world over. For his clever idea, Dickson became a prized contributor inside the company and a business folk hero everywhere else. To many, his work epitomizes the value that one employee can provide.
Ever wonder how many Earle Dicksons might be on your payroll? There may be more than you think. The truth is many professionals don't consider or even know what some of their colleagues do. Given how busy managers are, it's understandable. It's also unwise given how valuable their contributions can be. If you fully appreciated the value of everyday workers, you might think twice about how to equip, train and reward them. Just ask FedEx founder and chairman Fred Smith.
In a recent company blog, Smith shares a remarkable story of one unsung hero who made an important and improbable contribution to FedEx during its earliest days. Then, a group of financiers was invited to tour the company's facilities. Afterwards, they declined to make an investment in FedEx -- at least initially. The following day, one investor changed his mind. Smith asked why.
"Here's what he told me," Smith writes. "'When we were leaving the hangar, we noticed how clean everything was -- you could eat off the floor ... And then we saw the gentleman, a partially disabled janitor, who was responsible for taking care of the place. We talked it over and decided if this type of excellence is supported at the very front-line level, then FedEx was a company that we were willing to invest in.' What a difference that FedEx janitor's excellent work made."
How can you ensure that your company is benefitting from such excellence at all levels of your organization? Start by taking a look at its critical underpinnings -- your culture, process and technology, especially. They all matter when it comes to getting the most from individuals contributors. Take culture.
To ensure that you're benefitting from the best thinking of your workers, you need to create an environment in which employees feel encouraged to share their ideas and observations. When WalMart told workers it wanted to hear from them, they responded in droves. Some ideas were grandiose, while others more mundane. But even humble ideas were taken seriously -- and for good reason. The worker who suggested turning off the lights inside vending machines found in WalMart store break rooms? He saved WalMart more than $1 million in annual energy costs.
While creating a collaborative culture sounds simple, it isn't. Some organizations have a cultural reluctance to discuss what's not working. Others are not structured to benefit from cross-functional cooperation. Still more are too command-and-control oriented to take input from the field. If you hope to maximize the contribution of each worker, then you must address these issues head on.
After establishing the right environment for individuals to contribute more fully, you also need to create formal processes for analyzing their inputs. This means committing to something more than an "employee suggestion" box.
Today, many organizations have formalized programs that reward employees for contributing ideas and suggestions. State governments including Wisconsin do, and so do corporations such as P&G. The programs they have identify specific steps employees can take to get their ideas vetted and measured. Some programs provide mentoring support while others feature mechanisms that can help employees tap additional resources or seek financial assistance to pursue their ideas.
If you're wondering whether these processes produce much in the way of gains for organizations, consider the experiences of technology giant Siemens. Over the past 100 years, the German conglomerate estimates that it has implemented 1.5 million employee suggestions, which have resulted in $4 billion in savings.
To help employees scale and improve upon their ideas, organizations need to equip them with proper technology and encourage them to put it to work to the fullest extent possible. This goes for expensive knowledge workers and sanitation engineers, too. Imagine if FedEx's janitor lacked the tools to keep the company's facilities spic-and-span. If he had, would he have been so motivated to excel at his job? Fred Smith is glad he doesn't have to ponder that question. So are the executives at Best Buy who provided Matt Dickinson the technology he needed to monitor the company's online parts auctions in 2007.
One day back then, Dickinson noticed a discrepancy between how much Best Buy actually paid for parts and what one supplier was supposed to receive for them. Given Best Buy's collaborative culture, he immediately notified the manager responsible for the relationship with the supplier about the problem. When he noticed the problem again, Dickinson leveraged his IT tools to determine the full scope of the issue. When he suspected fraud, he engaged the company's legal department, which had extensive processes for dealing with this type of issue.
In the end, Dickinson uncovered a sophisticated scam perpetrated against the company by an inside employee and an outside contractor. Last year, both were given lengthy jail sentences. All told, their scam cost Best Buy more than $30 million. It would have totaled far more had it not been for the work of one individual contributor, who was enabled by Best Buy's evolved culture, process and technology.
When companies make wise investments in these areas, they can create a foundation of excellence that can bring out the best in everyone. For a manager, there is no higher calling.
REAL LIFE. REAL NEWS. REAL VOICES.
Help us tell more of the stories that matter from voices that too often remain unheard.