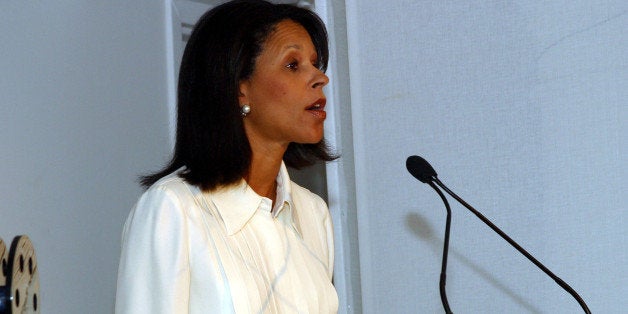 Is there one place you choose to honor with your full attention? Our "Sacred Spaces" series explores where your phone is unwelcome. From the mundane to the truly unique -- from yoga class to family dinner to your bath tub -- we are spotlighting the environments where you are truly unplugged. Want to share your own? Send us your story here.
I've been taking ballet all my life since I was very young, and while I did spend time during high school as part of a company, it has mostly been a lifelong hobby. As an undergraduate [at Howard University], at Harvard Business School, and as I moved to different cities -- Denver, Boston, Detroit, New York -- I'd always find a ballet studio. It just brings me so much joy to dance.
To me, a sacred space should really be where you can practice something that brings you pure joy. And something that helps you celebrate what it is to be human. In this case, ballet is all about the human body and what you can do with the human body in a graceful way.
Something about having the barre, the wooden floor, the pianist, the instructor, made me feel as though all else was outside. It became this sacred space. And though it was a place that was all my own -- where I could challenge and test myself -- it was also a collaboration with others, because truly you dance together, not by yourself.
Everyone who is there has opted in simply because they love ballet and they enjoy dancing. So there's something about being with the like-minded women (and some men!) who are there with me.
The truth is, that during class, I never looked at my phone. But one time I did and it became a reminder for how sacred the space should really be. My boss emailed me, during the break, between the barre and the floor exercise and I had just decided to check my email. Email draws you in and there's always some action item -- something that triggers a response.
For the rest of the class, it made it much more difficult to concentrate. Remembering the exercise, going across the floor. That one email check pulled into class what I should be doing after class. I lost being in the moment, being present and the joy faded. I realized that I had invaded my sacred space with technology.
And though I didn't typically look at my phone, once I set up the rule that I would not look at my phone for those 90 minutes, it became a new form of self-discipline and a gift to myself of 90 minutes in which everything else can wait.
Bonita Stewart is Vice President of Partner Business Solutions at Google. As told to Meredith Melnick. This interview was edited and condensed for space and clarity.