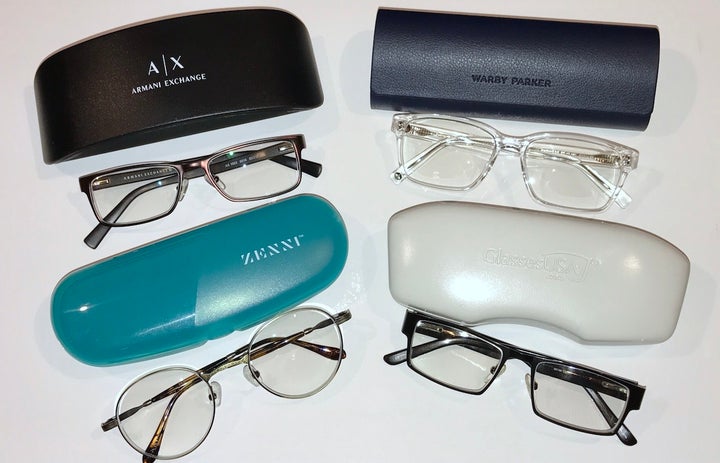 No matter how fashionable – or not – we consider ourselves, we all try to avoid wearing the same outfit every day. We regularly change our shirts, our pants, our suits, our jackets, our shoes, our hats, even our belts.
But for some reason, despite their obvious aesthetic contribution to our external self-expression, we consider donning glasses less a fashion statement and more like trauma.
There are likely two reasons for this bespectacled avoidance. One, we only get a new pair of glasses when we need a stronger prescription, which indicates aging. Two, glasses are expensive, often $500 or more.
But would you treat glasses as another fashion accessory if you could buy them for the same price as a pair of shoes?
You can, if you buy your new eyewear online.
Glasses bought online can be far cheaper than buying them from your optometrist, less than $75 for a complete pair, if you shop carefully and take advantage of sales or promotional discounts.
If glasses can be bought online so inexpensively, why are frames – merely thin strips of plastic or metal, if that much, with a couple of tiny hinges – so insanely expensive when bought from an eye doctor or physical eyewear store? This excellent Forbes piece from 2014 describes Luxottica, the company that produces around 80 percent of frames for just about every prominent brand. With this kind of monopoly, Luxottica can control and maintain absurdly high frame prices.
Optometrists then have to finance their costly medical practices – office space rental, medical equipment, personnel – which adds to frame and lens prices.
Online glasses vendors avoid these high markups and so can offer complete glasses for geometrically less than an optometrist or other physical eyewear store.
Buying Glasses Online Drawbacks
As with clothes, there are two drawbacks to buying glasses online: look and fit in the real world.
While many eyewear sites let you virtually preview how your prospective frames will look when perched on your proboscis, the process is aesthetically imprecise. In other words, the reality often fails to match the virtual.
Even if you're satisfied with how your online-purchased glasses look in reality, the preview can't predict how your specs will actually fit. Even using precise measurements, which we'll get to in a second, your new virtually-bought glasses can turn out to be uncomfortably tight, annoyingly loose or simply ill-fitting, regardless of the stated measurements.
Understanding this aesthetic and fit impreciseness, all online eyewear sites include liberal, no-questions-asked, we-pay-for-shipping return policies, usually 30 days.
How Buying Glasses Online Works
First and foremost, you'll need your prescription. If you haven't had your eyes checked in a while I'd recommend doing so, then ask the optometrist for your prescription.
All eyeglass shopping begins with picking out frames for either men, women or children. You can choose from: material – plastic/acetate, metal, rimless and mixed; shape – square, rectangular, round, oval and other variations; and, color. Sunglass frames often are listed as a separate category, and some sites let you further narrow your frame search by price range or frame brand.
I haven't run across a site that lets you delineate between standard one-way temple hinges and more flexible double-hinges, but look for this handy attribute listed in the frame description.
Before you pick a frame, you need to know your eyeglass size – small, medium, large, extra-large, sometimes petite, narrow or wide, depending on the site. In addition, all frame listings include lens height, lens width, temple (the hinged stems that sit on your ears) and bridge measurements (the nose piece), all expressed in millimeters.
Your current specs may have their size embossed inside the left temple – lens width, a square, then bridge width and temple length. If not, measuring your current glasses will give you an idea of the measurements you need.
Confusing and Costly Lens Choices
Then there are the lenses.
You'll be asked to choose your prescription type: standard prescription, bi/multi-focal and progressive (no-line bifocal). Reading glasses and contact lenses are sometimes also offered. Since bi-focal and progressive lenses require a greater lens height, some fashionably narrow frames may not work, although sites often don't warn you in advance of this pre-requisite.
Once you pick your frame, you'll need to pick the type of lens. If your prescription is minor, you can opt for standard lenses. But if you're blind as a bat, you'll want thinner polycarbonate lenses.
Thinner lenses are counter-intuitively labeled with higher numbers; for instance, 1.50 index lenses are thicker than 1.74 lenses. These numbers refer not to density but to their refraction index – "how much the lens bends the light that enters it," according to this excellent, if overly technical, explanation from Zenni Optical.
Each vendor offers a variety of lens index choices, coatings and treatments such as UV, anti-scratch, anti-reflective and transitional – glasses that turn into sunglasses when exposed to sunlight.
Not only can these indexes, coatings and treatments be confusing – Zenni lists 31 different options ranging from $27.95 to $195 – but their costs can quickly pile up. Fortunately, most sites recommend what lenses are best based on your prescription, which you input online during the ordering process.
Once ordered, you'll likely get your glasses within 2-3 weeks, complete with a hard shell case and a wipe cloth.
You'll want to browse online eyeglass sites to get a sense of pricing and available frame styles. I bought glasses online from each of these five sites:
Its name is not false advertising – the bulk of the non-branded frames on this "doctor-owned" site are just $39 and range only as high as $89. Best of all, this is the only site I found that lets you "re-lens" – fit your old frames with new lenses, at no extra cost.
· Hundreds of sub-$50 frames
· Buy new lenses for your own old frames
· Simplified lens selection
· Blue anti-glare coating option
· Slightly pricier multi-lens and coatings options
As long as you don't need bifocal or progressive lens, you'll easily be able to buy a complete set of glasses for less than $50. While its low-price frames are great, 39dollarframes' unique re-lens option is the best reason to buy glasses here.
Glasses.com lets you create a 180-degree 3D model of your face so you can virtual turn the preview image to see your bespectacled face from different angles.
· Best representative 180-degree virtual try-on
· Stylish frames from premium brands including Armani Exchange, Coach, Oakley, Michael Kors and Ray-Ban
· Insurance information link on front page
· Expensive frames from chichi brands including Armani Exchange, Coach, Oakley, Michael Kors and Ray-Ban (hey, one man's ceiling…)
· No frames less than $79
· Virtual try-on not available for all frames
Shopping at glasses.com feels the closest to shopping at a virtual a LensCrafters or Pearl Vision, thanks to its sleek site, frames from a wide variety of well-known brands, its more realistic 180-degree virtual try-on – and it's slightly higher pricing.
As soon as you virtually enter glassesUSA.com, you're smacked with multiple discount offers, and you'll be bombarded with sale promotions throughout and even after your purchase. Once you maneuver past the multitude of special deals, you'll find a wide selection of brand name and no-name frames at a wide variety of prices.
· Wide variety of frames styles and pricing, both name brand and generic, at a wide variety of prices
· Premium frames are clearly labeled
· Unending discounts and sales
· Order includes wallet prescription card
· Grays out frames considered inappropriate for bi-focal or progressive lenses
· Limited sub-$50 selection, no sub-$20 frames
· A new promotional email nearly every day
· Static virtual try-on (straight-on view only)
· Have to search for insurance information
glassesUSA.com offers the widest variety and value in nearly every aspect of eyewear buying, but only a few dozen frames for less than $50, none for less than $20 – although, with numerous available discounts, you can easily finagle a complete pair for less than $100. Just be prepared for an onslaught of while-shopping and nearly daily after-purchase promotional emails.
While not the cheapest online vendor, Warby Parker avoids name frame brands and instead offers its own unique and fashionable designs. This fashionable outlet operates around 60 physical retail locations (at which service is fabulous) along with its online presence. Instead of a virtual try-on preview, you can get up to five frames sent to you for home try-on, and the company pays for shipping both ways.
· Complete single vision glasses start at $95
· Fashionable, inexpensive frames designed in-house
· Retail locations for adjustments, returns
· No virtual try-on preview
· Not all frames available for home try-on
· Progressive lenses adds $200 to price
At-home try-on ensures post-purchase satisfaction, but it adds time to the buying process and it lacks the instant gratification that virtual try-on provides. Considering its creative lens styles, I'd recommend WP for fashionistas, and for those who also have access to a physical store to get the best of both real and virtual worlds. For an extra $200, I don't recommend Warby Parker if you wear progressives.
Zenni makes its own frames. By cutting out the monopolistic middle man, it can offer the lowest glasses prices online, including hundreds of sub-$20 choices for men (but, oddly, not for women or kids). Zenni also is the only one of the four vendors with a UV "blue blockers" lens coating option, designed to reduce irritation from staring at a smartphone, computer screen or TV for long hours.
· Hundreds of sub-$20 frames
· Any prescription glasses can be turned into sunglasses
· UV "blue blocker" lens option
· Static virtual try-on (straight-on view only)
· Dizzying array of lens options
· No insurance information
Since it makes its own frames – and lots of them – Zenni Optical is the best site to stock up on complete pairs of fashionable glasses for less than $75, even with progressive lenses and without searching for special discounts. But I couldn't find an insurance option, so you might have to pay for them yourself.
Related
Popular in the Community