Named one of Latin America's 50 Best Restaurants, Aramburu in Buenos Aires is the best dining experience I've had so far. A closed-door restaurant hiding behind an apparently closed facade, Aramburu is located in the neighborhood of San Telmo. Your cab might find it suspicious that you are going to an apparently closed place, but just ring the bell and a lovely host will open the door and find you a seat. The door and windows are covered in dark curtains (or was it paper?) to preserve the intimacy and each table is carefully illuminated only at its center so you can concentrate on what you are eating, rather than the people around you. It could be an intimidating setting if you've never tried a multi-course only restaurant before.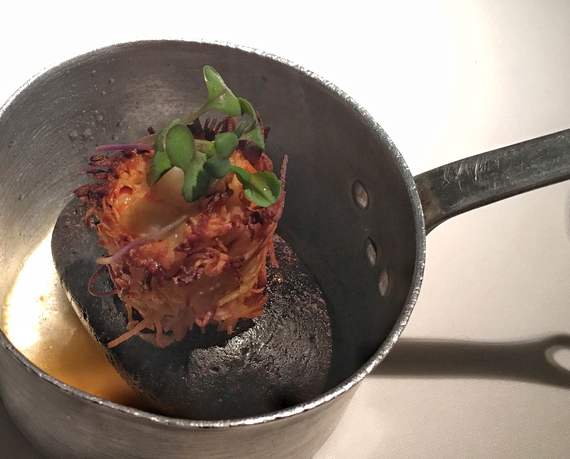 You are offered the option to accompany your meal with water, to order wine a la carte or to select the wine pairing option. We went for the latter: seven different kinds of wines for the night + nineteen different food courses. You might think this sounds overwhelming, but the portions and pourings are so well-planned that when you finish the meal, you are still sober and have the energy to finish off your night at another bar.
Coming to Aramburu is not for everyone. More than eating dinner, you come here to have a magical gastronomical experience. Bite by bite, the testing menu comes out to the rhythm that you want. There's no rush, no one picks up the plates if you haven't finished and even if you stand up to go to the bathroom, they wait for you to come back to continue the experience. It's definitely not the best setting to bring a client to close a deal, but it is THE place to bring someone you want to impress and don't mind being interrupted by the servers. Like a date, but a really worthy one.
If you take a look around, you can see how coordinated the employees are. From the sommelier to the server to the cooks, everyone knows exactly what to do and when to do so. It's a perfect choreography. The food is made to awaken your curiosity and all your senses. Each ingredient has been chosen carefully to provide a unique flavor or texture to the dish, and the wines, mostly of national selection, also make the perfect pair to the food. The dishes are a take on modern Argentine cuisine with molecular preparations. Some of them will greatly surprise you. At the end of the night, Head Chef and creator Gonzalo Aramburo comes out to thank each guest for being there.
If you find yourself in Buenos Aires, do yourself a favor and don't miss out the opportunity of enjoying this restaurant and having a completely different experience than a traditional Argentine parrilla. Prices, in January 2016, vary from $150 to $170usd per person. For more information, visit www.arambururesto.com.ar or email reserva@arambururesto.com.ar.