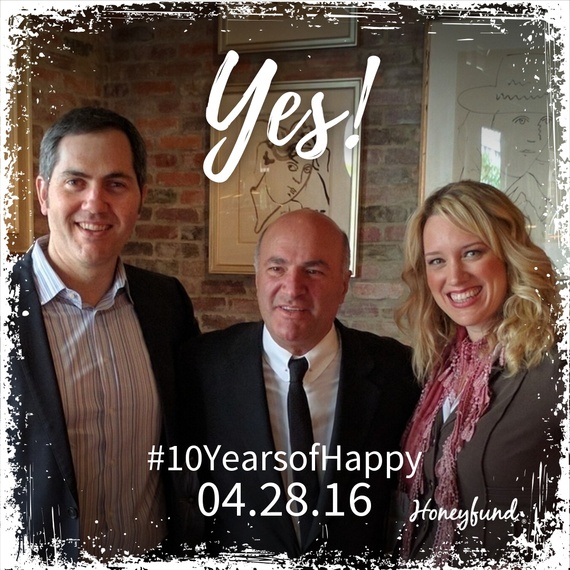 As Honeyfund turns ten, I'm often being asked to talk about how wedding traditions have changed over the last decade. Perhaps the most impactful change has been a demographic one—this year more than ever, members of the millennial generation are starting to get married. And readers, let me tell you, they are changing everything.
In the spring of 2006 Honeyfund launched a niche wedding registry where less than 5% of couples were registering for a honeymoon, and crowdfunding wasn't yet a word. Today more than 20% of US wedding couples register for their honeymoon (according to recent data from the XO Group). Even more are turning to Honeyfund as a universal registry solution, where wedding guests can crowdfund anything from a home down payment to a charity fund. After a 'Shark Tank' win in 2014 and investment from Kevin O'Leary, Honeyfund is now one the #1 universal wedding registry and one of the top seven wedding registries in the country.
Here's what we know after ten years helping wedding couples make their dreams come true: For this generation, it's all about simplicity.

The Simple Life
Today's brides and grooms strongly believe the simple things are essential to enjoying life—for example, that positive experiences are far more important to a happy life than accumulating things. What's more, their wedding guests of all generations continue to rave about the chance to give an once-in-a-lifetime experience to honor the young couple's monumental occasion. From spending time in nearby nature to exploring the globe, a chance to simply "be" in the world appeals to this generation of wedding couples.

Simple Tools
When we started Honeyfund, our vision was to provide a pleasing and easy-to-use website where friends and family could contribute to a couple's dream honeymoon. Today, we go further with pre-built honeymoon wish lists and easy-to-use universal registry tools. If our users want to add something from the web to your Honeyfund, they can do it with a few clicks of our simple browser tool. If they've also registered at another site, Honeyfund automatically matches registries from the nation's top retail registries to couples' pages, and seamlessly links givers out to those store registries to make a purchase. All the couple needs to do is click once to confirm. This year we launched the Honeyfund app, which brings the power of Honeyfund into the hands of our user, and allows them to set up and customize their honeyfund in a series of 1-2 minute tasks. As a tech provider, we work harder to make their lives easier.

Simply the Best - For Less
Today's couple is looking to create a fun and unique wedding -- on a realistic budget. Honeyfund's current and future customers are well connected and engaged with each other via social media, and hence they know more than ever about throwing a fantastic wedding for less. With a quick Pinterest search they instantly know the best DIY flower arrangements, the top money-saving strategies, and the wedding trends that are hot, and not. They are skeptical of the ballooning costs of weddings and of the possibility of being manipulated into blowing their tighter budget. This makes them smart consumers—and thoughtful about aligning their values with those of the companies they do business with.

With their eye on great experiences, not things; because they demand simple tools to make the complex task of planning a wedding easy; and because they know more than ever, ,millennials will change the wedding game by spending less on their weddings. The average cost of a wedding in the US today is about $31,000—watch that decline with a Gen Y mindset taking over.
The Next 10 Years
As the founders of Honeyfund, my husband Josh and I strive to be our couple's "friends in the wedding industry"—an easy-to-use honeymoon budget solution they can trust. In the coming months and years, we'll be pushed to go further: culling our ten years of wedding-planning experience to offer more resources, expanding our relationships with national travel providers and retailers to save them real money through exclusive offers. And we'll offer it as simply as we can with the goal to continue to make couples' once-in-a-lifetime wedding and honeymoon dreams come true.
About Sara Margulis and Honeyfund
Sara Margulis is the CEO and co-founder of Honeyfund and sister-site Plumfund. She writes about wedding gift etiquette, crowd gifting, entrepreneurship and women in leadership roles, as well as inspirational topics like financial freedom, corporate social responsibility and work-life balance. Sara and her husband Josh founded Honeyfund in 2006 after their wedding guests contributed more than $5,000 toward their honeymoon to Fiji. The couple launched Plumfund in 2013, expanding Honeyfund's crowd gifting technology beyond the wedding. Both sites offer 100 percent free options as well as the lowest third-party fees in the crowdfunding industry. With 10 years personal gifting and etiquette experience, Sara's mission is to ensure that giving feels good.