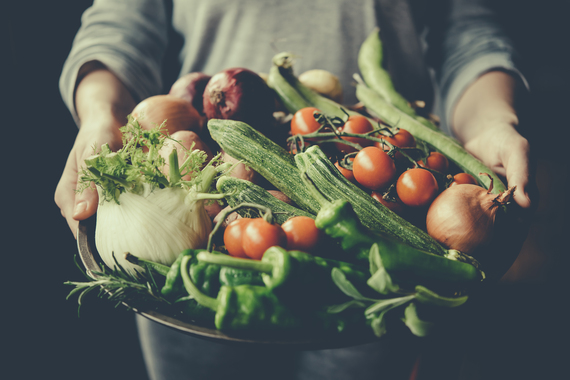 In 1983 I was living in Kentucky with a dream of opening a healthy fast-food restaurant. After learning to eat again from an eating disorder in high school and college, I was sure this was what I wanted to do. But in the land of KFC, no one was interested in the idea. My father suggested that the best way to learn more about it was to start working in one. So I moved to Los Angeles and got a job at the Good Earth Cafe on Hawthorne Boulevard in Torrance.
California was heaven on earth compared to Kentucky. I was living close to the ocean in Redondo Beach just south of Mrs. Gooch's, the then growing Natural Foods Market in Hermosa Beach. I was rollerblading in my bathing suit and learning the ropes of the healthy fast food business in anticipation of the restaurant I would soon open. I look back on those days and remember how happy I was eating nothing but great organic food, enjoying lots of good sunshine, and making great new friends, who were all like me, starting out in life with big dreams. Everything seemed to be going along perfectly until the restaurant closed.
My life had taken a turn as life does and instead of looking for another job in a healthy food restaurant I wound up getting a job in Public Relations using my college major which was writing and communications. Things started to change for me, marriage, children, but the one thing that has never changed is my love for fresh and organic food and my desire for everyone to have access to it, particularly when on the go. So no matter where I travel, I always have my eyes open for great healthy fast-food, like b.good.
I first discovered b.good last year when I was spending a lot of time in Cambridge, and it became one of my regular watering holes. Seeing a b.good sign on Greenwich Avenue in Connecticut on a rainy Sunday night after flying across the country this week was like finding an oasis in the middle of the desert.
b.good is the brainchild of Anthony Ackil and Jon Olinto who met in the sixth grade at Dexter School in Brookline, Massachusetts in 1987. They created their concept around the idea that fast-food could be healthy and "real," locally sourced and made by "people not factories." They both loved fast-food but hated the way it made them feel, and after watching Anthony balloon to 300 pounds while playing football at Harvard, they knew the toll unhealthy eating could take on the body. They opened their first location in 2004 with a mission to change the fast-food industry forever with "real.food.fast."
My favorite thing to order is the grilled spicy avocado bowl with quinoa, extra olive oil and chopped kale. I'm also partial to their super fruit juice and veggie drinks by Petal and their fantastic smoothies. They have all sorts of burgers including a veggie burger, and their fries are hand cut and air-fried in an oven without oil and grease.
Another thing I love about b.good is their decor. As with their food, this is not your typical fast-food restaurant. The decor is clean, slightly spartan and very appealing. It never looks cluttered or dirty. They have poster-size photos on the wall of the food they source, and there's always a chalkboard of the list of local farmers they get their produce from.
They're up to thirty-nine restaurants that can now be franchised, mostly in the Northeast although I did see one opened in Switzerland, so the concept is going global!

Since I first moved to LA many things have changed. Mrs. Gooch's was bought by Whole Foods. Healthy, organic food is not as hard to find as it once was. In fact "fast casual" is now a category. Restaurants like b.good exist. I didn't open a restaurant, but I did found Greenopia, and I now have three beautiful children. But the one thing that hasn't changed is what makes me happy; a good organic meal enjoyed with family and friends. This is what I call living with a green heart.

Calling all HuffPost superfans!
Sign up for membership to become a founding member and help shape HuffPost's next chapter