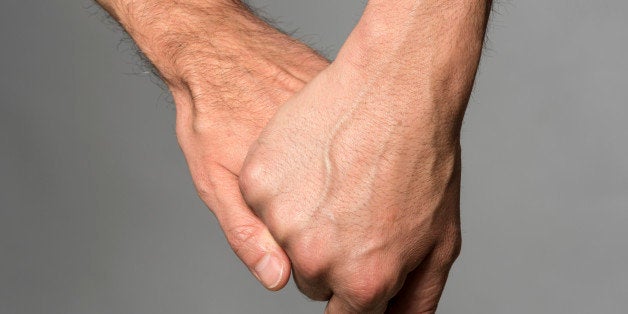 Spoleto, Italy: I had no idea that July day in 1974 that -- besides permanently shifting my perception of theatrical time -- I was seeing one of the great loves of my life on that opera house stage. Andy DeGroat: He's spinning downstage left, while a woman, his androgynous twin, spins downstage right. His hair is closely cropped. He is otherworldly in the absolute focus of his movement.
One of the perks of working for the festival is that I get to see rehearsals and performances on a daily basis. Among the theatre works is Robert Wilson's mesmerizing production of A Letter for Queen Victoria. Andy is both choreographer and performer.
New York City: Years later, I sit watching Andy on film as the prelude to a program of his dances, reconstructed in New York City for the first time in decades. Once again, I'm 23 and in love.
Andy was the first man I allowed myself to surrender to. It didn't feel like a choice. It simply had to be. That he was in a long-term relationship with Bob Wilson, that by the time it happened, I was working on one of Bob's pieces, The Dollar Value of Man, that I hadn't a clue what it meant to be in love -- no matter -- Andy felt like destiny.
In the summer of 1975, while Bob was in Europe, I spent almost every night of a month at their loft on Vestry Street, overlooking the Hudson. Austere, elegant, fantastical. The neighborhood was not chic 21st century Tribeca, but an almost abandoned nighttime landscape of homeless men sitting around fires burning in oil drums and refuse strewn industrial streets. It was La Boheme, New York '70s style.
There was the lovemaking, the passion, the whimsy. There were breakfasts at the diner and nights at the New York City Ballet. There were also other guys that Andy saw. He was free and easy and my heart broke the night I let myself in with the key he had given me -- and he didn't come home. I left. The next day he called and asked what I wanted for breakfast the following morning -- his way of inviting me back. And, I came. No shame allowed.
And then, the idyll ended. Bob returned. We would see each other irregularly and, occasionally, often. He traveled, as did I. At one point Bob asked me to be part of a tour to Iran and Lebanon. Then it was cancelled and only Andy was going with five or six dancers. I could come, but at my own cost. Instead, I went to Caracas for nine months to do Shakespeare with my Venezuelan lover Temistocles Lopez. When I returned, Andy and I continued out formless but for me, necessary, liaison.
1976: I was moving into my first solo apartment, affordable because it was in the then undesirable meatpacking neighborhood. I worked for a couple of weeks to clean and paint and get it ready, sleeping on my friend Nancy's couch in Chelsea. I decided to make my first night there December 25th -- my Christmas gift to my lapsed Jewish self.
I remember arriving at the apartment late that afternoon. Suddenly, it felt lonely. I decided to phone Andy at Vestry Street, something I had rarely dared to do. This was before either of us had answering machines. I let it ring for a while -- no answer -- and hung up. A moment later my phone rang. It was Andy. "I walked in and the phone was ringing, and I didn't get to it in time. I knew it was you... What would you like me to bring for breakfast?"
One of the most romantic nights of my life. Then the next day we walked downtown and went up to the observation level of the World Trade Tower. We watched the light change over the crisp Winter City. I knew joy...
A few days later, I hosted a brunch and Peter Hujar, the photographer, came and stayed until the next morning, the beginning of our two-year relationship. Later I found out that Andy had finally left Bob that very week. Although, I saw Andy romantically again, somehow the crucial moment had been missed. Neither of us had been single at the same time. I would never know...
Andy moved to Paris in the early '80s. AIDS began to change the tenor of life in the arts, life in the gay community. I had moved to Santa Fe in the late 80's where eventually, I became ill. In 1994, after a serious bout of pneumocistis pneumonia and relative recovery, I set off on a 'farewell tour' of Europe. One of the most important stops for me was Paris. I would see Andy, the man who got away. What would I feel when I saw him?
Andy had been having a vibrant career as a choreographer in France--recognition and funding were available. As was, medical care: He, too had HIV. The days I spent with him were lovely. However, we did not spend the nights. We were now old dear friends at a place in the journey where our romance was a memory and our lives were tentative, to say the least. I was glad to feel the connection and, even perhaps, relieved to not feel the heat or passion.
I have stayed in touch via letters and sporadic emails over the years, but mostly via reports from a mutual friend, the filmmaker Robyn Brentano. Andy came to the States once to work with Bob again but I didn't get to see him. I know he has had a stroke and his mobility is now limited.
To sit and watch his choreography the other day was perfect. I love his artistry. I love the beautiful young man in the archival footage, and I cherish the time we had together in our twenties. Now we are in our sixties. We are still creating. And, I am still in love with Andy and with the me who dared to feel so much. He continues to inspire me to chance love and to chance having my heart broken, because the alternative is a pale facsimile of being fully alive.
Calling all HuffPost superfans!
Sign up for membership to become a founding member and help shape HuffPost's next chapter