Arizona is known for a number of things: its scorching summer heat, unique plantlife and wildlife, and delicious Mexican food to name a few.
Most iconically however, the 48th state boasts one of the seven natural wonders of the world: the Grand Canyon. This unique landmark is a 227-mile gorge that has been carved out by the Colorado River for the past six million years. The canyon is ten miles wide and over a mile deep.
Witnessing the Grand Canyon is truly a breathtaking and special experience, which explains the over 5.5 million visitors who pay it a visit each year.
There are many ways that people experience the Grand Canyon. Some will hike it, some will raft it, some will simply view it from a variety of hotspots.
But if you're looking for a way to take your experience to new heights, why not go on a helicopter ride?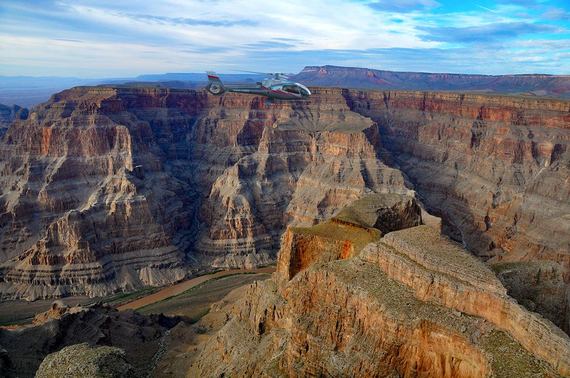 The company originally started in Las Vegas in 1995 as a new and fun way for guests to experience the entertainment capital of the world. What was originally one aircraft has grown over the past 20 years to become the world's largest and youngest fleet of Airbus EC130 ECO-Star aircraft. These aircraft fly out of four locations: Las Vegas, Maui, and the Grand Canyon - specifically, from the West Rim and South Rim of the canyon.
Over 200,000 guests have had the opportunity to board one of of their helicopters, some with names you may be familiar with. Leonardo DiCaprio, Sandra Bullock, Cindy Crawford, Tiesto, and Kim Kardashian are among a variety of celebrities who have participated in a Maverick Helicopters experience. Crawford even described the trip as a "perfect way to see the Grand Canyon."
A ride on a Maverick Helicopters craft is much more than just a flight. They have invested over $5 million to make their terminal in Las Vegas top-of-the-line. They can also pick you up from your hotel via limo coaches and will also provide champagne and snacks during your flight to create an upscale experience you won't find anywhere else. They also maintain the industry's top safety record, which is nice to know when you'll be descending 3,500 feet into the Grand Canyon.
When a helicopter enthusiast from Forbes was asked about his experience, he stated, "I had never experienced something so dramatic and exciting." The Daily Mirror described their journey with Maverick Helicopters as one that "is going to be with you for a lifetime." In addition, Maverick Helicopters has been named one of Travel Channel's "Top 10 Best Helicopter Thrills in the World" twice and recently received a "Certificate of Excellence" from TripAdvisor.
If you're looking for a one-of-a-kind adventure to a one-of-a-kind place, a helicopter ride above this beautiful canyon might just be what you are looking for.
Related