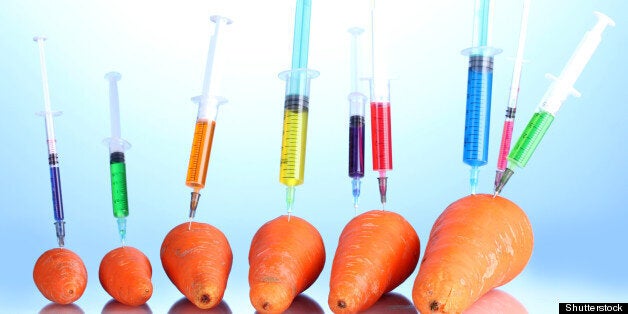 If we knew that there was epidemic among our children that would cause them to die at increasingly younger ages and if we also knew that this disease was entirely preventable, wouldn't we do everything in our power to eradicate it?
In fact, we do have an epidemic and it's largely driven by our reliance on highly processed, cheap convenience foods. The United States is hardly alone on this front, but our food culture is distinct from most other industrialized nations in a crucially important way -- we have virtually no regulation for advertising food and drink and we require very little in the way of labeling.
In a few weeks, Californians will decide if genetically modified foods (GMOs) should be labeled. Labeling GMOs will force greater transparency on the part of food producers and it represents a potential shift for consumers to regain a measure of control over their own food. But the US will still lag far behind many European countries, which not only have been labeling GMO foods for years but in some cases, also require warning labels for junk foods and have strict regulations on the types of foods and beverages advertised, particularly to children.
There is good reason for this. Studies show that Big Food corporations aggressively market unhealthy foods to children and in some cases children exhibit "brand recognition" and brand loyalty before they can even speak. A forthcoming study in the journal Social, Cognitive, and Affective Neuroscience, found that toddlers identify the golden arches for McDonald's before they even know the letter M. After looking at more than 100 brands, researchers at the University of Missouri-Kansas City and University of Kansas Medical Center study found that children are more likely to choose foods with familiar logos and that the majority of these foods are high in sugars, fat and sodium. Even more alarming, researchers found that seeing an advertised logo trips the pleasure and reward regions of children's brains -- areas of the brain that are also implicated in obesity and various types of addiction, including drug abuse, researcher Dr. Amanda Bruce said.
Another recent study suggests that highly processed foods are addictive. Researchers in the journal Current Biology report that when they fed M&M candies to hungry rats, their levels of enkephalin (an opiod with similar effects to other drugs in this class) increased. The more the rats' enkephalin went up, the faster they ate the M&Ms. The researchers reported that the rats would not stop eating the M&Ms until the candies were taken away.
But that's not all -- the food industry is actively shaping the palates of our children. While the food industry insists that it only advertises to children "to influence brand preference," a study published in the journal Appetite found that the industry works to "fundamentally change children's taste palates to increase their liking of highly processed and less nutritious foods." This study dovetails with Dr. Bruce's findings since researchers found that the awareness of fast food brands was a significant predictor of what they call the "Sugar-Fat-Salty" palate preference in children.
Data is also surfacing that obese children are less sensitive to taste. Researchers in Germany found that on the intensity scale, obese children rated all flavor concentrations lower than did those in the normal-weight group. They believe this may be due to the fact that leptin, the hormone that regulates appetite and makes us feel full, might also affect the sensitivity of taste buds. It is suspected that people who are obese or overweight are resistant to leptin, making them feel hungrier and driving them to eat more.
Not only does obesity or overweight affect taste, but it also affects memory and learning. A study in Pediatrics found that teenagers with metabolic syndrome (a precursor to diabetes, which includes having high blood levels of glucose, low levels of "good" cholesterol, high triglycerides, abdominal obesity and high blood pressure) had lower scores on tests of mental ability and significantly lower academic performance in reading and arithmetic. MRI scans of these children also showed reduced volume in the hippocampus, a part of the brain involved in forming and storing memories.
The picture emerging from these recent findings is that children are becoming hooked on highly processed foods at a very young age. This changes their palate preferences for salty, fatty, sweet foods, leads to weight gain and metabolic syndrome, affects brain processes -- and ultimately, perpetuates a vicious cycle.
So what is to be done? European countries, which have lower rates of obesity and diet-related disease, provide some answers. In 2007, the French government ordered all food advertisements to carry warning labels urging consumers to stop snacking, exercise, and eat more fruits and vegetables. The warning label also reads, "Consuming these foods may be harmful to your health." In Sweden and Norway, all food and beverage advertising to children is forbidden. In Ireland, there is a ban on TV ads for candy and fast food and the ban prohibits using celebrities to promote junk food to kids.
It's time for American politicians to address the lack of regulation for Big Food and the advertising industry. We now have the science to prove that the content of highly processed foods coupled with the marketing of them to children and toddlers is amounting to a national health crisis.
Over the past 15 years, the percentage of new cases of Type 2 diabetes, formerly known as adult-onset, has skyrocketed among children -- from three to 50 percent. Approximately 12.5 million of children and adolescents aged two to 9 years are obese and since 1980, obesity prevalence among children and adolescents has almost tripled.
Diabetes, along with high cholesterol, high blood pressure, and heart disease are becoming shockingly common in children and adolescents. We know these conditions arise primarily from poor diets and are driven by our consumption of ultra-processed foods.
A startling USDA report from 2006 states that since the percentage of children who are overweight has doubled and the percentage of adolescents who are overweight has more than tripled, "If we do not stem this tide, many children in this generation of children will not outlive their parents." To put that another way: If trends don't change, the surge in diet related disease among children means that many parents will watch their children die. That was the prediction from experts six years ago and we have yet to see any substantive action from Washington.
Our leaders must get tough on these corporations and stop insisting that it comes down to choice and personal responsibility. This is a myth perpetuated by the food and advertising industries so they can continue to harm our children and threaten the health of our nation with impunity. In what other circumstance would we allow an epidemic of such grave proportions debilitate our children unchecked? We've long been looking for the smoking gun -- it seems we've found it.
Related