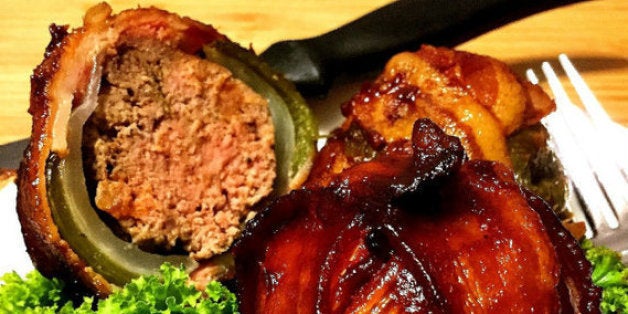 Imagine the outer layers of an onion, split, stuffed with a meatloaf-like mixture, wrapped in bacon, and smoke-roasted into an orb of meaty awesomeness. It's the onion bomb, which exploded on the Internet a few weeks ago. It was love at first sight and first bite.
Whoever invented it merits a medal--they're right up there with the man or woman who first dared to stand a chicken on a beer can. It appears to have its origins in the camping community where it was originally wrapped in foil and cooked directly in the embers of a campfire. (If you're the inventor, please identify yourself on the Barbecue Board.)
Well, we've decided to drop a few onion bombs of our own based on grilled meatballs around Planet Barbecue. Explosively flavorful? You bet. Here's our master recipe for Tuscan Onion Bombs. And use the following variations to fire up your creativity:
The Mexican: Substitute fresh chorizo for the pork sausage and Monterey Jack cheese for the Parmesan. For herbs, use chopped fresh cilantro and Mexican dried oregano. I wouldn't object to the inclusion of a diced jalapeño or a minced chipotle chile in adobo sauce. Smoke using mesquite chips or chunks.
Turkish Onion Bombs: Based on koftesi, Turkish "meatball" burgers (see Planet Barbecue!, page 312). Soak 6 slices of stale white bread in warm water, then drain. Wring out the water with your hands and place in a mixing bowl. After separating the onion layers, finely dice the smallest ones until you have 1/2 cup. Mix with 1-1/2 pounds ground sirloin or chuck along with 1 minced clove of garlic, 1-1/2 teaspoons coarse salt and 1/2 teaspoon pepper. Knead the meat mixture for 3 to 5 minutes; this gives it a spongy texture much prized by the Turks. Assemble the onion bombs as described above and skewer the onions on metal skewers and smoke-roast the onion bombs until the internal temperature of the meat is 160 degrees. Serve with lemon wedges and sliced pickled peppers.
The Greek: Substitute 12 ounces each of ground lamb and veal for the meats above and feta for the Parmesan. For herbs, use chopped fresh mint and dill. Assemble the onion bombs as described above. Skip the bacon and barbecue sauce. Serve with tzatziki sauce.
SIGN UP for Steven Raichlen's UP IN SMOKE newsletter to learn more about barbecue!
Steven Raichlen is the author of the Barbecue! Bible cookbook series and the host of Primal Grill on PBS. His web site is BarbecueBible.com.