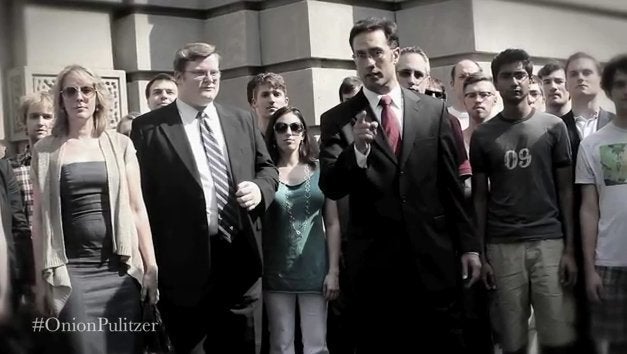 The Onion, America's Finest News Source, has just about had enough of not winning a Pulitzer.
On Monday, The Onion will release its 1,000th issue. Yes, that's 1,000 issues without winning a single Pulitzer Prize. And the nonprofit group Americans for Fairness in Awarding Journalism Prizes, or AFAJP, has taken a stand by encouraging the storied Pulitzer institution to award The Onion what is rightfully theirs.
While the Pulitzer committee has failed to recognize The Onion, the satirical newspaper has continued to stay more relevant than ever. The brand has had two TV offshoots, "Onion News Network" and "Onion SportsDome," and last week signed a first-look deal with CBS Studios. The print edition of the paper recently inspired the popular blog Literally Unbelievable, documenting Facebook reactions of those who take The Onion's stories seriously. Even The New York Times, the Pulitzer committee's favored media outlet, was embarrassed in April when they passed off an Onion magazine cover as the real deal.
The AFAJP has set up a site to spread awareness for their goal, which includes a petition, a form letter, a Twitter account and a PSA (included below). Additionally, the AFAJP encourages people to upload their own testimonials to YouTube so that they can join in shaming the Pulitzer committee into correcting their oversight.
As with most endeavors from The Onion, the campaign is obviously hinged on a joke fueled by a hint of truth. Although this campaign uses bombastic, over-the-top language (the form letter asks the Pulitzer committee to "disengage your sniveling faces from the tight confines of The New York Times's ass long enough to wipe Thomas Friedman's overrated shit from your eyes…."), few can deny that The Onion has been a barometer for both culture and humor since it launched in 1988 and reached mainstream popularity in the mid-90s. Although this campaign is intended to be humorous, the Pulitzer committee would be wise to take this Onion joke seriously.
Calling all HuffPost superfans!
Sign up for membership to become a founding member and help shape HuffPost's next chapter