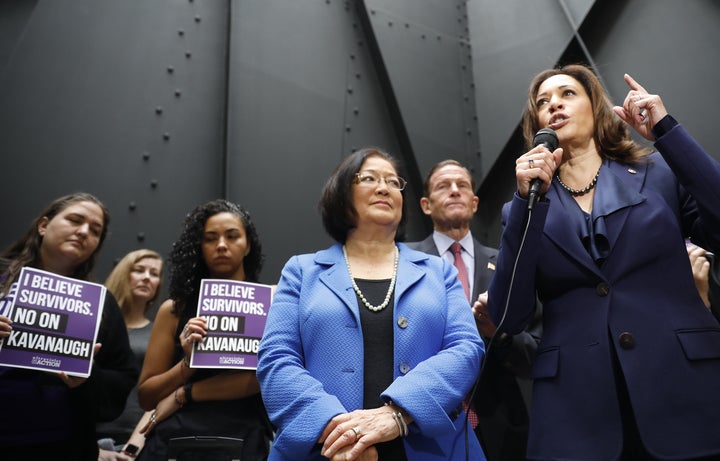 "Women have had to put up with this bullshit for way too long," Sen. Mazie Hirono (D-Hawaii) told New York magazine's blog The Cut as part of the publication's new Women and Power series. 
"I hope there will come a time when people like Dr. Ford can come forward, tell us their stories, and not be called a liar. Not be mocked by the president, no less," Hirono told The Cut. "But that requires a culture change. Notice that there's all this pushback now of men being so afraid, as though we women just sit around thinking up ways to accuse them of things." 
Harris added that conversations about sexual violence and rape culture need to be public, especially in the wake of the Me Too movement.  
"We should be having this conversation out in the open, in a way that gives dignity and safety to survivors. And frankly, I don't think this process gave Dr. Ford the respect she deserves," Harris said. 
Ford quickly became a target of online harassment after she came forward, with people posting her home address on social media. Death threats forced her and her family into hiding. Even after Kavanaugh was confirmed, Ford and her family have been unable to return home due to ongoing security issues. 
Feinstein said she believes survivors of sexual assault are being believed, but the culture still hasn't shifted enough. 
Women "are credible, they are believable, they are electable," said Feinstein, the ranking Democrat on the committee. "But I don't think the culture's changed to the point where women are respected for what they do to the extent they should be."
Klobuchar had a more hopeful view of what's to come for sexual assault survivors despite Kavanaugh's confirmation. 
"In politics, power is when you get something done for the people you represent," she said.
"Sometimes the result is a bill gets passed; sometimes it's getting something done for a constituent," Klobuchar continued. "But sometimes it's just making people know that you have their back and that you're a voice for them, which is what I think happened at the hearing."
Clarification: This article has been updated to clarify certain language around Sen. Klobuchar's comments on Kavanaugh's confirmation. 
Head over to The Cut to see New York magazine's full Women and Power series. 
HuffPost's "Her Stories" newsletter brings you even more reporting from around the world on the important issues affecting women. Sign up for it here.
Calling all HuffPost superfans!
Sign up for membership to become a founding member and help shape HuffPost's next chapter