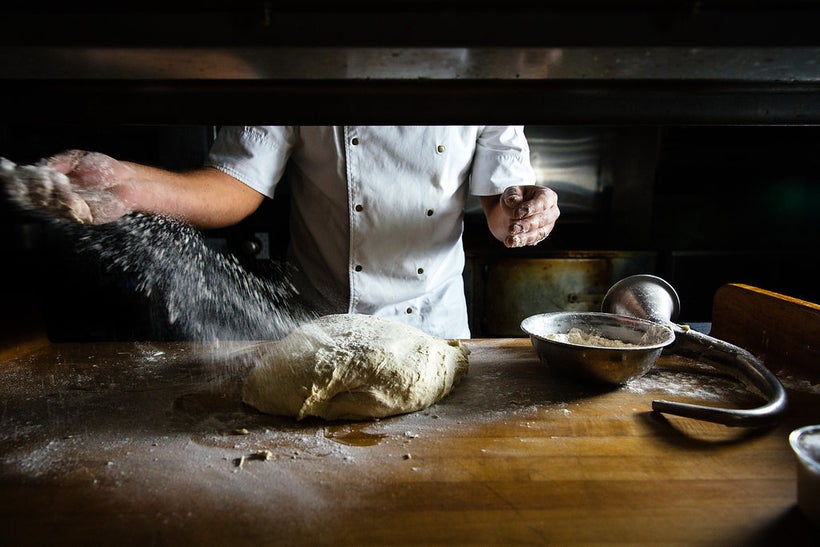 Now the menu, starting with the small plates.
Our waitress Nina (from Paris) informed us, "there isn't anything off on this menu." Granted, any server would say the same, but the trope is perhaps most true for WKB, which won the James Beard award for restaurant design in 2014. Lebanese architect Michel Abboud created the space, tucked inside the historic El Paseo complex in uptown Palm Springs.
We began with several small plates: a beet salad and fries. The fries were shoestring thin and tucked with braised pork cheek, smoked Brussels sprouts and pickled radish, shaved translucently thin. The dish got our attention.
The pork cheek fries are purportedly Beckman's homage to Geneva's Chez Bouby Bistro, and they're a nice addition to the Coachella Valley.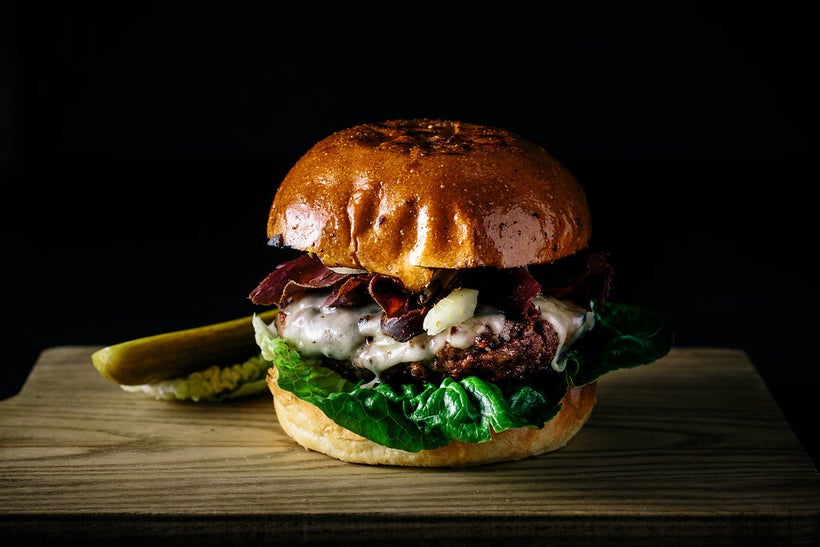 The beet salad was our favorite. The dish was expertly blended with market-fresh arugula, carrots, goat cheese, dill crème fraiche, rye croutons and the surprise of strawberries––which made the salad a clear standout. Sweet, with the freshest tang.
One other small plate: wagyu beef Carpaccio with a nice artichoke cream, and thinly shaved pecorino––all with intriguing hints of lemon. The meal was nicely paired with a pinot noir: Roar, Santa Lucia Highlands.
Backing up a bit, the cocktail menu was also imaginative. Dave Castillo and Michelle Bearden have studied under the best, including Jason Schiffer, owner of Seal Beach's 320 Main. Schiffer's origins date back to the Voodoo Lounge in Las Vegas, circa the late 1990s.
Seasonal cocktails included a Mai Tai, with "no orange juice, no pineapple, no grenadine, the way it was intended to be enjoyed." We loved the audacious taunt, so we tried one. It will be hard to go back to sweeter varieties. The Bee's Knees––a prohibition-era cocktail with Ransom Old Tom gin, honey, and lemon juice––was another favorite.
Other inventive cocktails on the menu: Hemingway Especial, Cablegram, Ward 8, M-80, Ancho Libre, and the Palm Springer.
Diver scallops swam in a 5-saveurs sauce (turmeric, cumin, lemongrass, garlic . . . ) and were populated with potatoes, carrots and grilled ramps, adding a pungent note. The scallops were delectable, and the sauce was deep with flavor.
The beef burger included the eatery's own pastrami, melted fennel, onion, mustard and hopscotch cheddar. The cheese threatened to overwhelm––but it didn't. A guest, in fact, said that each bite unraveled a new revelatory flavor, like some culinary unveiling.
Pork chops arrived with roasted Brussels sprouts and plump pickled cherries––all done up in a shallot bacon marmalade. Delicious. All the meat was expertly prepared.
Dessert: homemade pistachio, served up in two snail-shaped scoops. No complaints. All of WKB's ice creams are made on the premises.
Read the main introduction to Workshop Kitchen + Bar.
info@workshoppalmsprings.com
Calling all HuffPost superfans!
Sign up for membership to become a founding member and help shape HuffPost's next chapter
This post was published on the now-closed HuffPost Contributor platform. Contributors control their own work and posted freely to our site. If you need to flag this entry as abusive,
send us an email
.