The greatest truth of motherhood: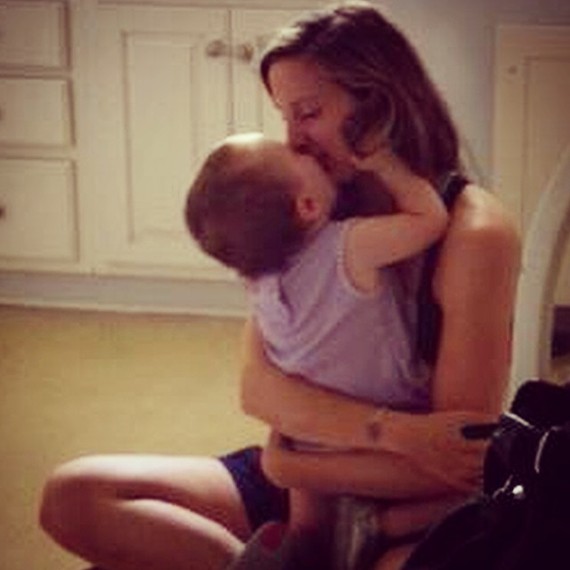 The bus stops across the street to let our neighbor's kids off, and it's late enough that I'm already thinking about what we'll have for dinner. Next year, my daughter will be on that bus.
Transitioning a child to full-day school is something that I haven't done yet. Instead, I lie on the cusp--seeing this huge shift waiting ahead for us, and coming at vicious speed. (I imagine myself spread across train tracks in an old-timey movie.)
The difference is that, in real life, there are no villains. None. My daughter will, almost assuredly, love school. (She already shows signs of readiness this year, like how she's often bored at home with me and her little sister during our afternoons.)
I still don't want to let her go.
I try to remain present in this limited time that I share with her. I remind myself of logical things, like that it's not even March. Regardless, I'm transported back to those days with her as a baby, when she was my only child.
She makes these faces sometimes, and they look exactly the same as when she was tinier. I see--almost over-top of her face as in a double image--her baby-self, making the same shape with her mouth, or the look in her eye catches me by surprise, and--for a moment!--it could be a few years ago, when she was newer to this Earth.
I'm nearly positive that I'll have a similar experience with her baby sister. I can't help looking at my youngest differently than I did my oldest when she was that age, because now I know better. I know to study a few of her expressions, and to chisel them onto my heart, and to pause and just take in her babyhood before it's over.
I'm not a crier, and I've cried or teared up multiple times in these last two days, thinking of my daughter going to kindergarten. I remember, too, a yoga-studio friend sitting on her mat next to mine in class three years ago, and she was crying in the dimly lit light because it was her youngest's first day of kindergarten. I felt sympathy for her, but that ache felt far off for me. (How foolish.)
One day, I'll be a mother, like these sweet ones I talk to now, that tell me how they remember, and that they understand the emotions, and that it will be okay.
I can never go backwards, and I don't want to. I love watching my children grow, but it's just that I observe my own parents' faces each week when they visit, and I know that one day I will relate to their awareness that life doesn't last for forever, that these years with our brand-new, little families are never long enough, and that taking this time to pause and appreciate giggles, and all of the "firsts" is more important than anything else in the world.
I know that this ache will soften. Probably similar to the start of this pre-school year, when I would wave to her getting on the bus, with a fake, happy grin, and then sob as soon as she couldn't see me. Those tears would fall as I walked up the sidewalk to our house. Somewhere, however, in a few months, that smile for her became genuine--and I became okay.
I will be okay. But I do need to pause more, among these notorious little-kid difficulties of toileting, and the tiresomeness of getting kids in and out of booster seats, and car seats, and juggling texting someone back with the baby simultaneously whining to be held, or my oldest handing me a book to read for the three-millionth time that hour.
I need to find the romance of these sometimes long days, because there's never been a greater truth of being a mother than that these years are short.