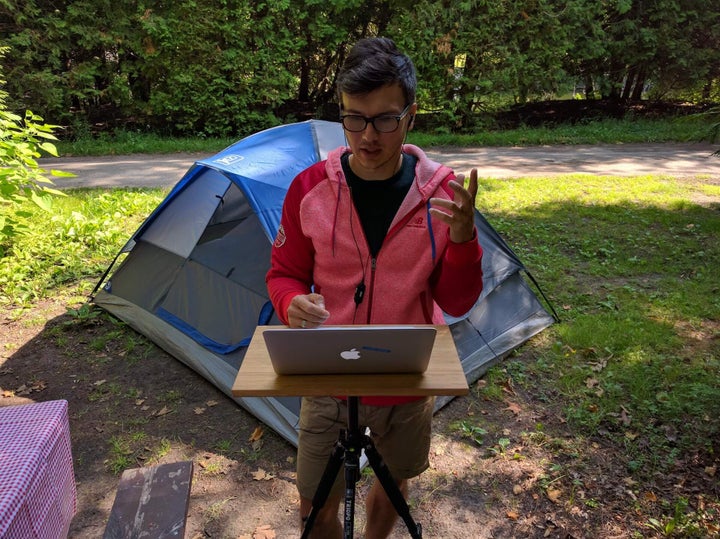 Starting out in business, we wanted to be awesome but hated being desk jockeys. (Is there anything more soul-crushing than a cubicle? I don't think so.) Surely you remember those first few jobs as an intern or being trapped in the rat maze that made up most work areas. You remember how claustrophobic it felt and how often you poked your head out of your little cell, hoping to see another person. Then you were promoted or changed positions. Middle-management wasn't glamorous, but it got you out of the pigeon hole. Maybe, even, you got your own office.
If you're like us, that still wasn't enough. You still felt like you were being held back, and you couldn't explain why. Many business people, entrepreneurs, and business owners even find that life at the top of the food chain is still too restrictive. - Honestly, location free entrepreneurship sounds like a dream for many aspiring business folks.
Melanie Duncan pioneered the idea of constructing a business which allows the owner to #WorkFromWherever. Her philosophy is that there are better things in life to strive for than balance. She claims there's no need for separation of home and work life, and that abolishing this forced division is the first step entrepreneurs can make toward pursuing their dream life by their own rules. (If you know much about Bizness Rebels at all, you know that's right up our alley.)
Nathalie Lussier says the secret to living and working anywhere (and staying on the move while you do it) is to build your online business foundation around a "work from anywhere" model and mindset. She attributes much of her success to technology and by taking this approach in her own business.
Natalie Sisson the "Suitcase Entrepreneur" (SuitcaseEntrepreneur.com) has structured her entire business around helping entrepreneurs free up their time, increase revenue, and work from anywhere they want. She regards working on her business as a choice - she made the choice to move her business to an online model which would allow her to work when and where she wanted.
The best part of all these entrepreneurial success stories? You can build your own!
Make it happen
Although many entrepreneurs love the thought of being location-free, they don't know how to get started or what tools can help them get there. We've made a list of 5 essential things every entrepreneur can utilize to get them that much closer to achieving location-free awesomeness
This may seem like a no-brainer and it is probably something you already have. However, special care needs to be given when your entire business is operated remotely. You'll need to have a reliable machine and give a lot of thought to how you'll stay connected when you're on the go. You won't be able to switch to the desktop if the processor is running too slow or if you run out of hard drive space. Whether you're a PC person or an Apple fan, it's essential that you have a reliable, mobile computer which meets all of your software and hardware requirements. Don't forget to consider things like processing speed, storage capacity, the number of USB ports (or other connectors) you'll need when making your decision (the new Macbook Pro can be a bit of a pain as they removed all the USB ports).
2. Online meeting solutions
Speaking of tech requirements, Skype, FB Messenger, WhatsApp, Google Voice are going to be your best friends. As a mobile entrepreneur, it is vital that you stay in contact with your clients and potential clients. These software tools will allow you ease of communication which couldn't have been imagined just a few years ago. The best part? They are easily accessible, can be taken anywhere, and (in many cases) are free to use! All you need is a reliable internet or data connection on a mobile device or computer. That way you have a professional line that follows you anywhere. You can also use appear.in to run your online meetings or zoom.us to easily meet online and record your meetings. Before you meet online, the meeting has to be scheduled, right? Finding good time to meet can be a hustle. Try Calendly, ScheduleOnce or AcuityScheduling to easily find a free slot in your busy calendar and ask your client to book time with you.
The Rebel's Agenda is something that might seem less in your face obvious as an essential piece of your location-free toolkit. The Rebel's Agenda is a business planner designed with entrepreneurs in mind who need more space to log their thoughts, goals, and priorities than the three spaces most day planners give you. In addition to the added space, we recommend using this paper planner rather than an electronic one so you can cash in on the benefits of writing by hand. An added bonus is that the Rebel's Agenda will keep you from the distractions that come with using electronic devices to keep up with your schedule. (Plus, you don't have to worry about syncing anything, backing up your data, or being connected to the internet to access everything!) You should also know that our planners have business planning, business development, and meeting note sheets among other documents - so you have even less to carry and keep up with, no matter where your travels take you. (There's nothing quite like trying to juggle multiple books, folders, and notebooks when getting to a client meeting or heading out for a shift at the local coffee shop.)
If you're making calls from the computer or a cell phone it is a good idea to consider having your calls recorded, both from a liability standpoint and to act as a back up of client needs and wants before documents and contracts are finalized. Recordings can also be useful if you need to make transcripts of your calls for your records. You will have to verify the laws and requirements in your city/state/country for recording before adding any software which records calls to your device, though. Some jurisdictions put more restriction on call recording than others, and even Bizness Rebels need to follow the laws. ;) Assuming you are able to record your communications, our favorite software for recording Skype calls is Audio Hijack Pro for Mac and Evaer for PC. To record phone calls you may either use the call recording feature offered by Google Voice OR automatically record calls using an app like Call Recorder (Android) or Call Recorder - IntCall (iPhone). Speaking of calls - we love the Fongo app that allows you to have a local cell phone number and receive calls when on WiFi.
5. Portable Standing Desk
The entrepreneur who wants to truly take their show on the road needs to be able to take everything they need for their business with them everywhere they might want to work from. For us, that means accounting for writing surfaces and tabletops in a variety of settings. That led us to create a solution for the ever-traveling business folks we worked with and for. The Renegade Desk is a standing desk which can be taken literally anywhere. The best part about our desk is that when you're finished you can literally fold it away into your brief case, suitcase, or backpack.
Want more ideas for what type of tools you can use to live the dream and ditch your cubicle? Let me know!
Mike is the co-founder of Bizness Rebels - an agency helping other Rebelpreneurs like you BOOK clients & GROW their badass businesses by unleashing the potential of Sales Funnels and Facebook Ads. One of his greatest joys is being able to support people who are making the difficult transition from corporate job to entrepreneurship. In addition to these roles, he is also the co-creator of two physical products. Renegade Desk - a portable and lightweight desk designed to have you greet the health and productivity benefits of standing desks while maintaining the capability to work anywhere. Renegade Desk design means that your desk can get up and go with you, whenever you need it to. Rebel's Agenda - a business planner designed to help biz owners, entrepreneurs get a leg up by implementing some of his proven organization and strategy methods.
Every entrepreneur worth their salt is a bit of a rebel.
Related
Popular in the Community