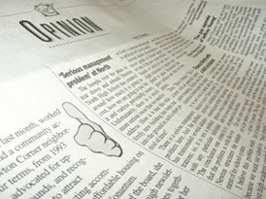 Women have opinions. But did you know that only about 10 to 20 percent of newspaper opinion pieces are written by women? Turn to the op-ed pages of any major newspaper, and you'll see what I am talking about.
I know, you are probably thinking that newspapers are on their way out and today we have Facebook, Twitter, YouTube, blogs and our websites to share our opinions and voices, so why do op-ed pieces matter?
"They matter for a lot of reasons. For one, they heed all other media. They drive thought leadership in America. It's where ideas become policies and where people get tapped to be leaders," says Catherine Orenstein, founder of The OpEd Project.
The OpEd Project is an initiative to expand the range of voices we hear in the media, with a specific focus on increasing the number of women thought leaders participating and leading the public discussion.
Ms. Orenstein explained in an interview with NPR: "If you look at the statistics, in fact, they are remarkably the same across all platforms. So if you look at op-ed pages, which run about 85 percent male, and then you took at television, political talk shows on Sunday morning, about 84 percent of the pundits are male, and then you look at Congress, that's 83 percent male, and that's not a coincidence. That's a spectrum of thought leadership."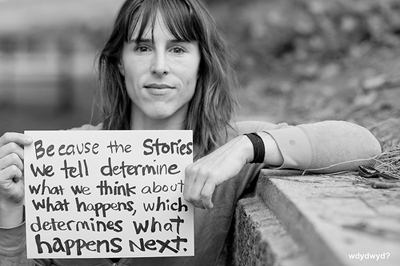 Catherine Orenstein, founder of The OpEd Project
When we offer our opinion as women, we offer a new perspective -- and in many cases, one that is sorely missing.
Take Arianna Huffington, for example. She is one woman who is not afraid to express her opinion. She shares her opinion on a daily basis on politics, business, people and power. The result? She is changing the public dialogue.
There are so many brilliant women with superb ideas and strong opinions, yet the op-ed numbers remain low. Why is this? It turns out that it's not because women are getting rejected from the op-ed pages, it's that they are not submitting as frequently as men.
Check out this byline survey conducted by the The OpEd Project for the week of November 12 - 18.

Source: The OpEd Project

I spoke with Tracey Trottenberg, feminine leadership and communications strategist, about what she sees as the most common reasons women are hold themselves back from expressing themselves. Here is what she told me:
"A lot of women have a fear of bragging, so they play it small or shrink themselves. They don't want to be 'too much'. They've actually gotten used to playing small and believing the reasons they created to stay small. There is also a fear about how others will respond to them and possibly judge them."
Then she added, "I feel also that women hold back because they're afraid of their own strength and brilliance."
This is something we need to get over. The fact is that the world needs our voices. With one in six females undergoing rape or attempted rape at some point in her life, two million girls disappearing worldwide each year because of gender discrimination, 70 percent of the world's poor being women, and women worldwide owning only one percent of the property -- we need to speak up.
So what will it take to get women to express their viewpoint, ideas and opinions in major news sources?
The OpEd Project has a solution for this.
Catherine Orenstein and her team at The OpEd Project travel around the country to teach women how to write and submit op-ed pieces for publication at media outlets such as the New York Times, the Los Angeles Times, the Chicago Tribune and the Washington Post.

Catherine explained in an interview with the New York Times: "It's not like writing Hemingway. You show people the basics of a good argument, what constitutes good evidence, what's a news hook, what's the etiquette of a pitch."
The OpEd Project is working with a range of women from top universities like Yale and Stanford, to women who work with homeless shelters and prison re-entry programs, to women who work at nonprofit organizations, think tanks, corporations, and community organizations. Fifty percent of their participants are low income.
"The more women show up as leaders, the more global change we will see on the environment, education, politics, and business -- the quality of life in general."
-- Tracey Trottenberg, founder of Amazing Women International

So can the power of a woman's voice really change the world?
When the voices on the op-ed pages aren't reflecting the diversity of our country, it becomes just a small percentage of the population who is feeding the national (and global) conversation. If women share their perspective, we can tap into other ideas that may not have yet been part of the public conversation -- and ultimately help solve some of our country's and the world's most pressing problems.
Here are two other great resources helping women become more visible and powerful in the media:
The Women's Media Center works with the media to ensure that women's stories are told and women's voices are heard. They do this through media advocacy campaigns; by creating their own media; and by training women to participate directly in media.
SheSource closes the gender gap in news coverage by making it easy for journalists, producers and bookers to connect with women experts across the country in a variety of fields. SheSource is a program of the Women's Media Center, and is also affiliated with The OpEd Project.