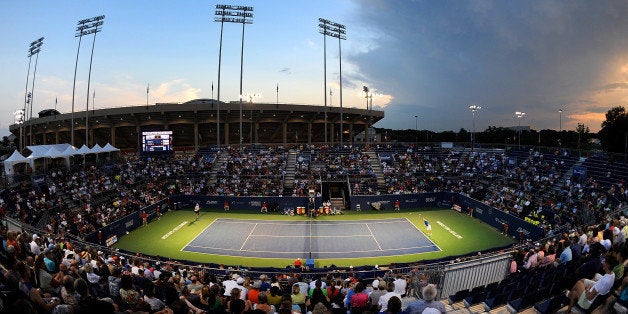 The give and the take, the ebb and the flow. These were the macro concepts I learned as a student of history and literature. These are also in some ways the premises of the sport
I love most, tennis: the back and forth of the ball, of opponents creating something together while at the same time seeking to destroy one another - all along building a relationship that in large part transcends language.
Soon enough I'll be immersed in my Tennis Channel work at the US Open, deep in the thick of the draw and matchups, quotes and stories, interviews and more. Woven through all of it will be the memory of my own season of gain and pain, of the joyful creation of love and opportunities and the anguish of loss and sadness.
That so much has happened around the US Open is only fitting. My late wife, Joan Edwards, often observed that the "Open" was the only one of tennis' four majors that described a state of being. Stay open, she advised, and good things will happen. She was correct.
And I will show you something different from either
Your shadow at morning striding behind you
Or your shadow at evening rising to meet you;
I will show you fear in a handful of dust.
- T.S. Eliot, The Wasteland
August 22, 1992: The death of my dad, Alan, on a Saturday night as he lay in a hospital bed recovering from prostate cancer surgery. How to begin, end, understand?
August 24, 1982: The first kiss for me and Joan. To think that we'd met at, of all places, a tennis magazine.
August 26, 2010: As I walk off a tennis court after hitting with a friend, a call comes from Joan's doctor: "The antibiotics aren't working." In other words, start the vigil.
August 27, 1990: At the time I was working for a public relations firm in San Francisco, tennis generating less than one percent of my income. Joan that year urged me to attend the Open. That day I randomly bumped into someone who would dramatically propel the creation of my first book, Jimmy Connors Saved My Life.
August 31, 1982: For $69, Joan bought a 12-inch black-and-white TV so we could spend our first US Open together in her studio apartment in downtown Oakland. At 11:30 p.m. each night, we watch the CBS highlight show. There's all-time great Tony Trabert, the man I'd spent six summers with as a camper and instructor at his tennis camp. Tony's flanked by another legend, John Newcombe. Trabert and Newcombe wax on all the current stars - Jimmy Connors and Chris Evert, Martina Navratilova and John McEnroe, Ivan Lendl and Tracy Austin. I tell Joan: "I want to be a part of that world." Says Joan: "Don't you see? You already are."
September 1, 1973: My older brother Ken and I watch a US Open match between my first tennis idol, fellow lefty Rod Laver, and Vijay Amritraj. Tony's calling the action. It's powerful to hear him offer the same pointers about Laver that he'd just told me a month earlier - hit the wide slice serve in the ad court, get to net, drive the backhand with topspin on passing shots. Immediately after the match, massively inspired, Ken and I go out to play. We do the same thing the next weekend when one of my other tennis heroes, Newcombe, wins the title with a fiery display of serve-volley tennis.
September 1, 1978: The summer after graduating high school, I drove from Los Angeles to New York with my closest tennis friend, Mike Anderson. At the US Open I visited Tony - by now Davis Cup captain - at the CBS broadcast booth. He tells me about an upcoming trip to Chile and his curiosity about McEnroe's Davis Cup debut.
September 2, 2010: Joan's death, tragically and beautifully on Connors' birthday. Words fail. But a few words I learned from Connors inspired an idea Joan and I practiced: If you're lucky you will meet a soulmate. And you will follow each other's hearts to the ends of the earth.
September 8, 1984: Super Saturday, a day of great matches played by Lendl and Pat Cash, Evert and Navratilova, Connors and McEnroe - wall-to-wall coverage on CBS. That same day I'm also playing a tournament; two matches, five sets. That evening Joan and I attend a party at a new home we'd helped build. She fully understands why I must go to another room to watch the end of the Connors-McEnroe match.
September 10, 1995: Newcombe and I shake hands. The next month I'll be attending his fantasy camp in Texas, playing for a week with fellow recreational campers under the eyes of Newcombe and a slew of tennis legends.
September 12, 1976: Ken and I watch the US Open final between Connors and Bjorn Borg. Here's Tony again, impressed by Connors' forward movement at key stages. Afterwards, Ken and I play, but he appears disturbed, preoccupied, his mind engaged in a whole other place. This turns out to be the day of his first schizophrenic break.
September 12, 1982: Within 10 minutes of Connors winning the US Open title, I tell Joan, "One day I will write a book about him that will tell people what tennis is really all about." At the time I was 22 years old, out of work and less than three months out of college. Said Joan: "You will." She was right. It took another 22 years to bring it to life, but all along, doubt meant little when matched against Joan's premier asset: faith.
August 2014: Delighted to learn that Tony will be inducted into the US Open Court of Champions - fittingly enough, during CBS' last year at the US Open. My training continues for my 18th trip to Newcombe's camp.
But the pain of loss endures. I continue to seek more sources of faith. Here too, inspiration from Joan. Often when I'd thank her for having such faith in me, for helping me create so much good, she would cite an example from The Wizard of Oz. "Dorothy," she said, "You had it in you all along." I hope she's right this time too.
_______
Joel Drucker has been writing about tennis since 1982, most recently working as story editor for Tennis Channel at all of the majors.
Calling all HuffPost superfans!
Sign up for membership to become a founding member and help shape HuffPost's next chapter