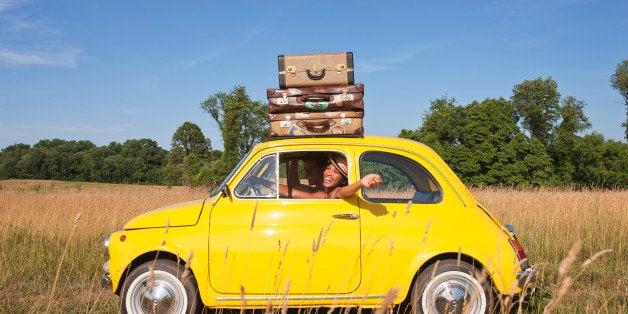 A drive from Lisbon, Portugal to Seville, Spain is one of the best ways to experience the landscape and culture of the Iberian Peninsula, with many noteworthy stops along the way.
Travelers to Europe often rave about how great it is getting around via trains. Though there is no doubt that this is one the fastest and most efficient ways to travel the continent, my preference is keeping it old school with a nice, laid-back road trip.
Start in Lisbon, but tour this beautiful city like a local, by foot and tram. Lisbon is all about the hills (think San Francisco) and those trams are the best ways to get over them. One of the most popular tram 28, which takes you through popular neighborhoods such as Alfama, the oldest district in Lisbon, and other tourist destinations. Also, tram 15 follows a route along the River Tagus River, which offers beautiful views.
Don't leave Lisbon without trying the sardine pâté and grabbing a bottle of Port. Artichoke is another local favorite and you will easily find it included in many recipes. Visit Pastéis de Belém, where warm cream pastries that have been a part of the general Lisbon culinary culture since 1837 are served. And definitely make sure to take in an evening of Fado where your love for Portuguese culture will be sealed.
Sintra, only 30 minutes from Lisbon, is a wonderful place to spend the day. A visit to this UNESCO Heritage Site is like taking walking into a fairytale with its small shops and winding limestone covered streets. The Moorish Castle and the National Palace of Sintra are must-sees.
Evora gained its popularity among Portuguese royalty after an earthquake in 1755 left Lisbon in ruins. It is noted for its architectural beauty and its many museums.
Things to do a short drive from Lisbon, include a day trip to the beautiful village of Monsaraz and an afternoon sail along the Guadiana River, enclosed by the largest (man-made) dam in Portugal, separating the country from Spain.
Seville is a perfect way to end your trip. I would allot a few days to discover this beautiful city. From the architectural influences of the Moors to the lush parks and museums providing an escape from the city bustle, to the scent of 30,000 orange trees that decorate the streets and gardens, there is no doubt you will have plenty to enjoy.
If I had to narrow down my visit to one perfect day in Seville, it would consist of porros (or churros) and hot chocolate at a local cafe, followed by a day at Cordoba touring the Mosque and admiring the painters who flock to the area, and ending with a night of Flamenco while sipping on a cold glass of sangria.
If you like the idea of road tripping through Iberia, but don't really want to take on driving yourself, a luxury tour with Insight Vacations will take you to all these destinations and more. In addition to getting you there, they arrange your accommodations, tours, and meal and leave room for time to explore on your own.

With so much to see and do from Lisbon to Seville, I would say about two weeks is a nice amount of time where you won't feel too rushed and take in all the beauty.
Related