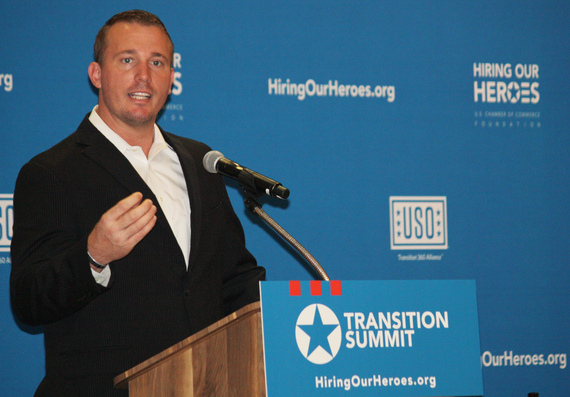 The new year is a time of change, resolutions, trying new things, and building good new habits (as well as casting off the less desirable old ones). Some changes stick, some don't, but in many ways it's a period of transition.
It's probably no surprise that since I left the military six years ago, the beginning of each new year has reminded me of my transition from active duty service in the Marine Corps to civilian life. I joined the Corps right out of high school and trained first as an infantryman then later as a sniper. I loved being a Marine, and while basic training wasn't exactly a walk in the park, deep down I knew from day one that I was in the right place. The decision to join remains one of the best choices I've made in my life.
Getting out was an entirely different experience. I had no idea what I was going to do when I took off the uniform. I remember thinking, "What employer is out there looking for a sniper?"
I see now that I was looking at it wrong. I was limiting my options to only the things I had already accomplished, the "hard" skills I had developed during my time as a Marine - and missing a lot of potential career opportunities in the process. Sure, the Corps had trained me in marksmanship and navigation, but at the same time my instructors had taught me to assess complex situations, devise thorough plans to achieve objectives, anticipate obstacles and implement solutions, and advise and lead teams, all in high pressure environments. When you think about it that way, what employer isn't looking for those skills?
My transition out of the Marines was tougher than it needed to be because I didn't initially recognize the opportunity in transition. It's why I now travel around the country talking to service members about preparing for that transition, and why I worked with Hiring Our Heroes and Toyota to develop Resume Engine, a free tool that helps service members find the words to communicate their "soft" skills. Those soft skills, which include things like leadership, problem solving, and the ability to learn, are readily found in veterans and are valuable to employers in nearly every industry.
The opportunity in transition is the chance to take the skills you've honed through years of training and hard work and put them to use in a career field you're passionate about - even if it isn't an exact match for your MOS. This is the year to take advantage of all the opportunities that lie before you. Make the most of your resources and find out what your career can look like outside the military.
Want to learn more about defining your personal brand and communicating your prospective value to employers? Visit ResumeEngine.org to get started and build a professional resume in minutes using thousands of pre-written, customizable descriptions of your skills, military and civilian work experience, even volunteer work.

REAL LIFE. REAL NEWS. REAL VOICES.
Help us tell more of the stories that matter from voices that too often remain unheard.