Who would have thought that a simple act of kindness could win me a once-in-a-lifetime opportunity? Well, I certainly know this now!
At a young age, my sister and I started our own nonprofit, Lil' Hearts of Love. We made heart-shaped pillows and donated them to hospitals and orphanages. When given the opportunity to enter a service project contest to win a trip to the London 2012 Olympics, I was immediately intrigued. Not knowing that I would actually emerge victorious, I submitted "Lil' Hearts of Love: Pillows and Pages Edition." With the help of my family and a grant from the Julie Foudy Sports Leadership Academy (JSFLA), I made 175 rectangular pillows with handles and a pouch that held a board book and a message of encouragement. These were donated to four different children's
hospitals in my hometown.
On March 6, news came that I won the competition and the countdown began for my arrival at the Olympics. Once August hit, all of the excitement and everything I had been dreaming about was becoming real. Finally, the time came for my mom and I to hop on the plane to London and our adventure began!
Since the trip was so packed with tons of activities, I'll touch on my three most memorable events. The first is the Women's gold-medal soccer match. Here I met Julie Foudy and got my first glimpse of how amazing the Olympics are. The spirited atmosphere of the thousands of people in Wembley Stadium was something that you just couldn't get in your living room at home. It was amazing to see people of all different nationalities and backgrounds come together in a positive manner. It was also a great bonus that Team USA won!
Second was meeting Gabby Douglas at McDonald's. She was well-spoken and very friendly. This two-time gold medalist is such an inspiration to me and many others. I never would have dreamed that I would get the chance to meet her.
The London Eye, the iconic giant ferris wheel that provides an amazing view for miles, was my third favorite thing we did. I was able to see famous landmarks such as Big Ben, the Houses of Parliament, and Buckingham Palace.
This trip was one of the greatest opportunities that I have ever had! I will treasure this experience and all the new friendships I made forever. I am so grateful for everyone that helped me cross one more thing off of my bucket list. JSFLA, McDonald's, The Century Council, Girl Talk, and Puma have made one of my dreams come true and I would like to give them a huge thank you from the bottom of my heart!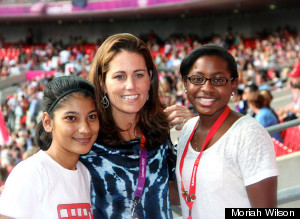 Popular in the Community