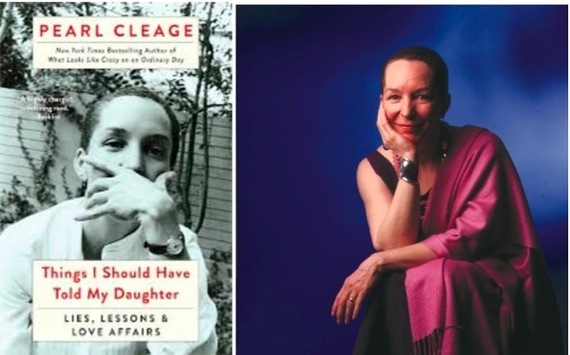 I don't want to be
an anecdote
a truth serum
a refuge
a sanctuary.
I wanna be
a choice
a fact
a reality
a paradise.
Poet, author, playwright, activist Pearl Cleage in her delicious deeply personal new memoir, "Things I Should Have Told My Daughter" shares diaries and letters of her life as a young mother to Deignan, divorcee, speechwriter for Atlanta's first black Mayor Maynard Jackson and aspiring writer. Along the way she gives her take on "The Feminine Mystique", Bruce Springsteen, films, Angela Davis et al with her candid wit and spirit. Just like the characters in her bestselling novels ("What Looks Like Crazy On An Ordinary Day", "I Wish I Had A Red Dress", Some Things I Never Thought I'd Do") and award-winning plays ("Flyin' West", "Blues for an Alabama Sky", "Bourbon at the Border", "A Song For Coretta") Pearl's personal history is infused with tempestuous love affairs, work/life dilemmas, politics, deep faith and strong female friendships. The book ends when she meets her loving life partner and sometime collaborator writer Zaron W. Burnett Jr. ("We Speak Your Names"). Pearl shares," I think the most important lesson to take from the book is that life is messy and full of opportunities to make choices, good and bad. The thing that struck me reading my old journals was how much I was struggling to tell the truth. It was hard for me to discard all the reasons I had allowed myself to lie because once those reasons were tossed out, I had no choice but to dedicate myself to telling the truth, the whole truth and nothing but the truth. It seems daunting until you realize how much time you waste making up all those lies and evasions. So I think the message is that even when life is messy, your assignment is to keep pushing toward the truth."

Pearl will continue the journey of self-discovery in another memoir, "I will probably write another memoir, but not necessarily one that draws directly from my journal entries. I love writing plays and fiction, but I enjoy writing in my own voice, too. There are so many things going on all around me that I want to talk about without the distance that fictional characters impose. I want to write more about my relationship with my mother. Using her letters in the book and thinking about our relationship made me want to look at her life and how her choices impacted my own." Thankfully for us Pearl Cleage dares to ask the hard questions of life and rises to the challenge of answering them.
REAL LIFE. REAL NEWS. REAL VOICES.
Help us tell more of the stories that matter from voices that too often remain unheard.