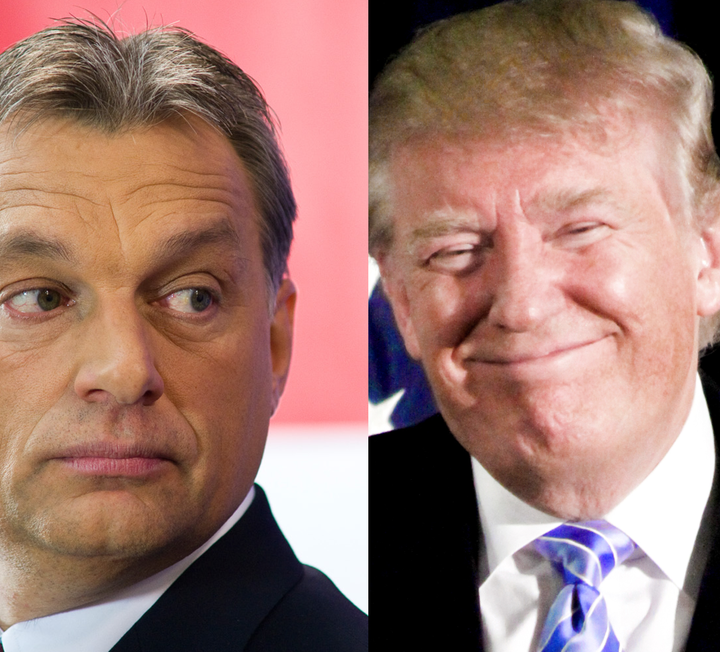 The crush set in early. Back in July Hungarian Prime Minister Viktor Orban became the first leader of an E.U. or NATO country to formally endorse Donald Trump's presidential campaign, describing the candidate as "outstanding." "Trump would be better for Europe and for Hungary," he said
"I have to tell you that he made three proposals to halt terrorism, and as a European, I could have hardly expressed what is best for Europe any better than he did," Orban gushed, explaining that the three elements of Trump's policies he most agreed with were that migrants pose a security risk, that national security apparatuses must be expanded, and that the West must stop trying to export democracy to other parts of the world.
Orban welcomed President Trump's inauguration as the "end of multilateralism," and praised Trump's inaugural statement as a "big change" that would usher in an era of "bilateralism." "We have received permission from, if you like, the highest position in the world so we can now also put ourselves in first place. This is a big thing, a great freedom, a great gift," he enthused.
The Trump Administration seems to be warming to Orban's cheerleading. In a sign of closer ties, Hungarian Foreign Minister Peter Szijjarto spoke by phone with Secretary of State Rex Tillerson last month in a significant departure from recent U.S. policy, where the Hungarian government had largely been starved of such senior-level engagement with Washington officials.
"A political alliance between Trump and Orban should be alarming for human rights activists and defenders of democratic institutions in both countries."
According to local press reports of the call, Szijjarto told Tillerson that the Trump Administration has such more in common with Hungary's political aspirations than with American Democrats. He was duly invited to visit Washington, D.C. a couple of weeks later to attend a gathering of foreign ministers focused on countering the Islamic State.
A political alliance between Trump and Orban should be alarming for human rights activists and defenders of democratic institutions in both countries. In September 2016, the top U.N. human rights official, High Commissioner Zeid Ra'ad al-Hussein, bracketed Trump and Orban with other radical right-wing European politicians who breed "an atmosphere thick with hate," which "may descend into violence."
Meanwhile, former Hungarian government official and Orban advisor Sebastian Gorka has now become Trump's top White House advisor on counterterrorism. Gorka's links to Hungarian extremist and antisemitic groups have come under increasing scrutiny, raising alarming questions about how far the Hungarian far right reaches into the Trump White House.
In mid-March, the story broke in Budapest that the Hungarian group "Historical Vitézi Rend," which seeks to glorify the rule of Hungary's antisemitic, Nazi-aligned Regent Miklos Horthy, claims Gorka as a formal member.
The U.S. State Department has designated the original Vitézi Rend group as collaborators with Nazi Germany during World War II. As incoming Deputy Assistant to the President, Gorka wore a Vitézi Rend medal to Trump's inaugural ball, explaining that he wore it to honor his late father.
As the U.S. administration creeps closer to the Hungarian right, civil society figures in the country fear that support from the U.S. embassy will disappear under the Trump Administration. "Trump being in office has changed the dynamic. Moving against NGOs here now is much easier since the election of Trump," said Budapest-based journalist Lili Bayer.
But internal dissatisfaction with the Orban government seems to be growing, with many resisting the attacks on dissent. Tens of thousands of people protested in Budapest on Sunday against the closing of the Central European University, known for its academic independence. It was the largest anti-government demonstration in Hungary for years. New legislation designed to attack NGOs has also been introduced.
The deepening Orban-Trump bromance is a dangerous one for the United States, and members of Congress should worry at how Washington is facilitating the return of soft authoritarianism in Hungary the United States fought to overcome during the Cold War.
Popular in the Community